MFA invites Native American musicians and dancers to celebrate Indigenous Peoples Day
October 16, 2019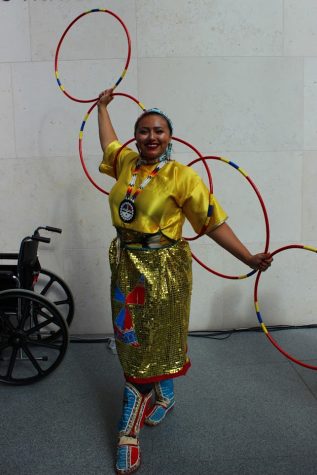 Indigenous Peoples' Day, observed on Oct. 14 in lieu of Columbus Day, celebrates the culture of indigenous populations, honors their ancestors and brings awareness to the issues they have faced in both a historical and modern-day context. The Museum of Fine Arts (MFA) joined in this celebration with free admission and a variety of events in collaboration with Akomawt Educational Initiative, a Passamaquoddy group dedicated to educating others about Native American history, culture and current events.
The MFA introduced the day's events with a welcome and blessing ceremony featuring the museum's director, Matthew Teitelbaum, Jonathan James-Perry, a Tribal Citizen of the Aquinnah Wampanoag Nation that helped organize the proceedings, and Chris Newell, a Passamaquoddy Indian and the Director of Education for the Akomawt Educational Initiative.
The opening ceremony also included music from the four-member group Iron River Singers, who had multiple shows throughout the day where they performed modern powwow songs. It was described by the musicians as "round dance singing," a type of intertribal singing from Canada that would typically be performed in the wintertime to celebrate the past year. Though some of the songs included lyrics and others only featured vocal melodies, they were all accompanied by hand drums played by three of the members.
Hector, a Taíno and Afro-Indigenous (Yoruba) 37-year-old from Boston, was able to attend one of the performances by the Iron River Singers.
"It's music that speaks to everybody," Hector said referencing how the drums mimic the beating of a heart. He said his favorite part of the music is that listeners "feel relieved at the end of it."
Hector said the museum's celebration of Indigenous Peoples' Day was beautiful and hopes that the MFA continues hosting similar events and expanding on them more in the future.
There were also two hoop dancing performances by Henu Josephine Tarrant and Lisa Odjig (Objibwe), who has been named the World Hoop Dance Champion twice. These intricate dances consisted of numerous hoops that were twisted around the body as the dancer moved to create different designs. The show was accompanied by music from Chris Newell who also served as the performances' presenter.
In an interview with The Suffolk Journal, Newell explained how he grew up surrounded by indigenous culture and music, which helped him master playing native music. He was taught how to sing and play instruments by his father, among others.
Newell said non-Native Americans "think we're all dead and gone" due to pop culture, current teachings of history and the focus on colonialism throughout Boston that ignores Native  American lives and history. He hopes that the MFA's partnership with Akomawt during Monday's events leads to more awareness of indigenous populations and the inclusion of modern Native American art in the MFA in the future.
"There's no way to undo the loss of people that we have, but we can preserve ourselves," Newell said. "We can keep our existence alive."
Other events included tours and discussions about the Native American art exhibit, various opportunities to make art, like pottery with Kerri Helme (Mashpee Wampanoag) and wampum jewelry with Elizabeth James-Perry (Aquinnah Wampanoag), multiple performances by Kingfisher Theater, a New England Native American group of singers and dancers, and two performances from singer Jennifer Kreisberg (Tuscarora).
Patrons were also invited to view Cyrus Dallin's sculpture "Appeal to the Great Spirit," which stands in front of the MFA's Huntington Avenue entrance. Visitors were asked to give their opinions on the piece and read others' thoughts on it in hopes that the museum could use those insights in the future to help them better interpret the sculpture.
Indigenous Peoples' Day was well-received by many patrons, especially those of Native American descent.
In another interview with The Journal, a patron name Debra who did not wish to provide her last name, said she felt she had "to be witness to such an event because it's about time" for indigenous people to be recognized and honored.
Debra, a woman originally from Florida of Cherokee and Seminole descent, now lives in Boston. She practices Cherokee dance, song, drumming and meditation. Debra said she hopes the MFA will support Native Americans further by allowing them to display more of their art and teach art at their school affiliated with Tufts because it is important to give them money and recognition like they do with Europeans.
She also said they should "have more events, not just one day a year, for all cultures" so that people can experience these cultures "in a natural, raw way" to really learn about them.