MFA reveals forgotten history of Ancient Nubia in new exhibit
October 9, 2019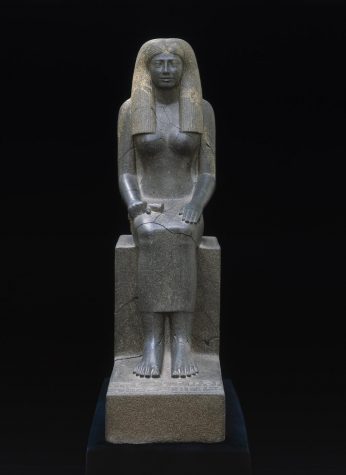 Most people probably don't know about the early civilization of Nubia, which bordered and was obscured by Egypt. This civilization has been misrepresented for thousands of years, and the Museum of Fine Arts (MFA) is trying to shed light on what this culture was truly about.
The MFA's "Ancient Nubia Now" exhibit focuses on the forgotten kingdom, now located in modern-day Sudan, will open on Oct. 13.
The museum has over 400 objects on display from Ancient Nubia, boasting the largest and most important collection from this civilization next to Sudan itself. The exhibit contains plenty of pottery, jewelry, statues of Nubian kings and queens and metal works, which they were known for producing.
Pottery was an important mark for the Nubians, and as seen in the exhibit, they have an excellent sense of color.
"Many people are unaware of the artistry that flourished during the Nubian era," Ann and Graham Gund Director Matthew Teitelbaum said during the opening remarks at the press preview.
The word "Nubia," which translates to gold, is fitting as they also had a wide range of jewelry and amulets on display. Jewelry was particularly important to the Nubians in death, as much of the jewelry was found in ancient queen's tombs. Coffins of Nubian royals were covered in gold foil, inlaid with colorful stones and given eyes made of alabaster and obsidian. There were also numerous statues of kings and queens on display, showing just how important they were in this ancient culture.
Nubia was home to a series of kingdoms in the Nile valley that prospered for more than 3,000 years. There are currently no written records from this time about the Nubians, though curators have discovered that they had their own written, and later spoken language. As of today, scholars are still trying to translate and understand their native tongue.
This civilization has been misrepresented and overlooked for centuries, part of this due to their rivalry with ancient Egypt, which the exhibit states that Nubia was considered one of Egypt's enemies.
Many of ancient Nubia's artifacts were originally mistaken for Egyptian artifacts. A large portion of this exhibit is dedicated to separating these two civilizations and correcting the misrepresentation of Nubia.
Some claim Egyptians and archaeologists have obscured Nubia's history, and the exhibit aims to reexamine their past. The Nubians offered great contributions to other civilizations along the Nile, and the MFA offers a chance to look at the heritage of this civilization in depth.
The MFA partnered with Harvard University to perform some of the first Nubian excavation processes, which took place from 1913 to 1932 in Sudan. Visitors will find that the exhibit has a whole room dedicated highlighting the excavation processes with exact time lines, field journals, cigarette boxes and books.
The "Ancient Nubia Now" exhibit will be on display from Oct. 13 to Jan. 20 in the Ann and Graham Gund gallery. General admission to the MFA is free with a valid Suffolk student ID.