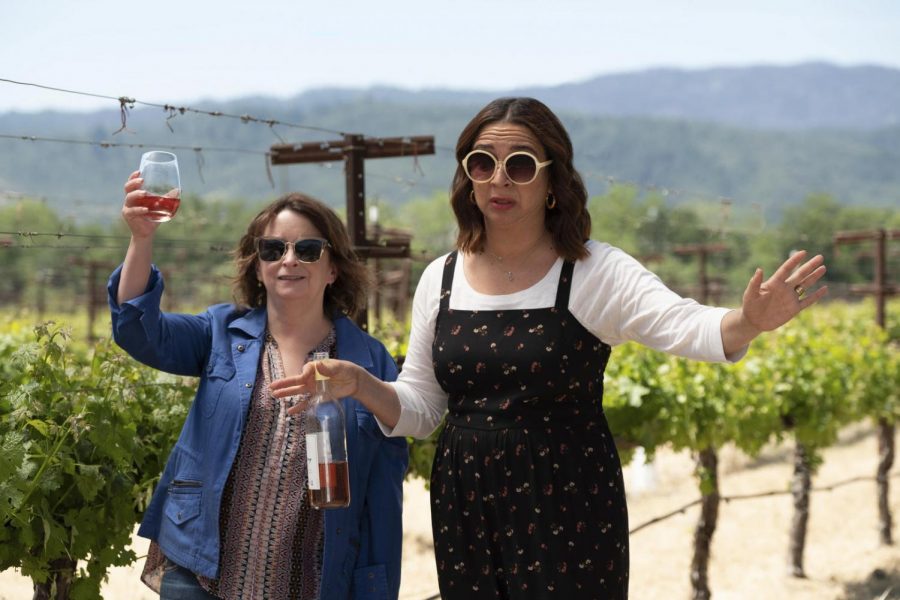 Star-studded cast and comical screenplay in 'Wine Country' will leave viewers chuckling
June 3, 2019
Whether it's Pinot Grigio or Merlot, this group of six lifelong best friends always have a glass of wine within reach as they embark on the ultimate girls-only weekend in the hilarious Netflix original film, "Wine Country."
The movie follows a tight knit circle of middle-aged women who met each other while waitressing at a pizza shop in Chicago when they were younger. As they grew older, they took different paths in life as some settled down to start a family while others threw themselves into their careers. But in celebration of Rebecca, played by Rachel Dratch, turning 50, they find the time to rent a house in California's Napa Valley to reunite for a boozy vacation.
The comedy features a star-studded cast, including Amy Poehler, Tina Fey, Maya Rudolph and Ana Gasteyer, who were each cast members on the TV series "Saturday Night Live." Each actress effortlessly made her character her own by bringing out distinct personalities and individual styles of humor. The actresses' long history of working together radiates on screen as they all share incredible chemistry with each other. It feels like the viewer is part of the friend group and included in all their inside jokes, instead of just watching from the outside. From their quick humor to their exceedingly honest conversations, everything seemed natural because they share a friendship in real life as well as in the film.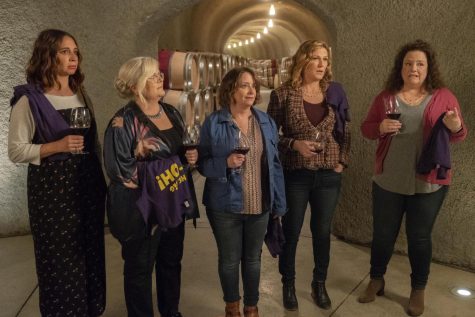 Uproarious one-liners that were timed perfectly were thrown in throughout the film, such as when house owner Tammy, played by Fey, bluntly reminds the group to remember that "whatever gets said, it's probably what the person has always felt and the alcohol just let it out." The witty sense of humor is comparable to movies like "Grown Ups" and "Bridesmaids."
Most scenes depicted a hilarious and relatable situation, like when the women broke off into pairs to drunkenly whisper about how the other friends are acting annoying while visiting a vineyard. One of the best scenes was at the end of the film when Rebecca accidentally falls down a steep slope at one of the vineyards after throwing out her back, quite literally making her way "over the hill."
However, there is also a handful of darker moments, like Naomi, played by Rudolph, being too afraid to receive her test results after being tested for cancer, or Abby, played by Poehler, struggling with losing her job. No matter how silly or serious the trip becomes, by the end, the women finally open up about the secrets they've been holding in and leave the wine country realizing that their bond is unshakable.
The majority of the jokes in the film relate more to an older generation, such as the scenes where the women repeat their catchphrase "things we say now," which they say whenever they mention something they would have never said when they were younger, like complaining about their medication or raising their kids. However, younger viewers will still find themselves chuckling at the women trying to have meaningful conversations when they've had too many glasses of rosé or the fact that their age never stops them from having a wild night out on the town.
The reason why their jokes were so funny and dialogue so engaging is no mystery. The same ladies featured on screen were also the ones working behind the scenes. Former "Saturday Night Live" writers Emily Spivey and Liz Cackowski, who played Jenny and Lisa, wrote the brilliant screenplay while Poehler directed the film. Even after years of writing and acting, these experienced performers have never lost their sense of humor or amusement.
"Wine Country" is now available for streaming on Netflix.