Students partake in Smile Train triathlon
Alex Mellion
Journal Staff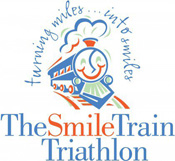 I'm sure everyone has seen those commercials with the children from third-world countries that need cleft palate surgery.  All the commercials say that with a small donation, you are able to help a child get the surgery that could save their lives.
With that in mind, a Suffolk student decided to do something about it, and in turn brought the organization that provides those surgeries to children in need to the school.
Senior John McDonnell brought Smile Train, the organization that has helped over 600,000 children to date get the surgery they need, to Suffolk in 2008, and its membership has steadily increased in its two years on campus.
"I brought Smile Train to Suffolk with my friend Brody, after we watched a documentary called 'Smile Pinki'," said McDonnell. "And we started with about eight or so members."
Smile Pinki is a short documentary about a 5-year-old girl named Pinki Sonkar, who lived with a cleft palate in one of the poorest parts of India.  Pinki eventually got the surgery she needed to correct the palate, and the film won an Academy Award for Best Documentary for Short Subject.
McDonnell decided to try and raise even more money for the Smile Train and more awareness for cleft palates by choosing to run in a "sprint-style" triathlon with two of his good friends [seniors Chris Gray and Luke Auen] who are also part of the Suffolk chapter of Smile Train.
"Sprint-style triathlon vary a little from regular triathlon," McDonnell explained. "I'll be doing the cycling, Chris is going to be doing the swimming, and Luke is going to be doing the running." The trio is going to be participating in is the Brickman triathlon, which is taking place in Lawrence this Sunday.
"I've been training for the past four months and I've been constantly in motion," he said.This will be McDonnell's second triathlon, and he says he is "not nervous" and is looking forward to doing even more triathlon in the years to come.
The Suffolk Smile Train has become much larger since it first came to Suffolk, boasting over 40 members and a full E-Board.  McDonnell is the President; senior Ryan Berry is the Vice-President; senior Russell Dukett is the secretary; junior Jaleesa Irizarry is the treasurer; senior Nick Holt is the advertising chair and senior Brody Dodd is the fund raising chair.
"We've been going strong since the first day," McDonnell explained. "The key is to surround yourself with people who are smarter than you."
The club has been responsible for about five surgeries since 2008.  Each surgery costs $250, which covers the medications and other materials the doctors need to perform the delicate procedure.
McDonnell and other members of the Suffolk Smile Train will be tabling in the Donahue lobby on Sept. 29 from 10 a.m. to 5 p.m.  They will be taking donations and providing information to those interested about the Smile Train and what to do to help.  Meetings are held bi-weekly on Tuesdays during activities period in Donahue 321, and if anyone has additional questions or is interested in donating, they should either go to Donahue 424 or log on to www.smiletrain.org for more information.
"I applaud the efforts of everyone in the club, especially my E-board," said McDonnell. "There's no cooler feeling than giving a child a second chance at life."
Due to excessive spam comments, commenting on this article has been disabled by the discretion of the Web Editor.
View Comments (1)