Student protestors rally against SGA endorsement to arm Suffolk University Police Department
April 18, 2019
On Thursday afternoon, a group of student protesters gathered on Suffolk's Roemer Plaza to protest the Student Government Association (SGA) vote a week prior to endorse the arming of the Suffolk University Police Department (SUPD).
"We believe that SGA didn't look at a holistic campus and all the students when making this decision. We actually went to a few forums and we were very, very adamant as the few people of color there that were very, very against it," said junior sociology major Queen-Cheyenne Wade, who was one of the four students who organized the protest. "We are protesting because we feel that our concerns have not been heard."
The demonstration began in the Roemer Plaza at the start of activities period before heading to the lobby of the 73 Tremont building. Wade explained that they had chosen this specific location in hopes of their concerns reaching members of Suffolk's administration.
Daryl Satterwhite, a junior psychology major, worked with Wade to organize the protest. He is against the arming of SUPD, citing concerns about the way police interact with people of color in the U.S.
"In general, the relationship between law enforcement and Black and brown people is just too deep rooted," said Satterwhite in an interview with The Journal. "The power dynamic even without them being armed is way too dangerous, way too crucial already. I feel like adding guns to the mix would only make it worse and it's probably a band aid solution to what probably the bigger problem is."
SUPD Chief of Police and Security Gerard Coletta came to the protest to hear the students' concerns and answer any questions the protesters had.
"We want to make sure [SUPD] is providing a service to the whole community," said Coletta to the protesters.
During their interaction, Wade noted that there are alternative solutions that could be looked into that do not involve guns, including services that are already in place.
"It is really important that we address some of the current things that can be used to reinforce the idea of safety, rather than just bringing in something entirely new that actually scares a lot of students," said Wade in an interview with The Suffolk Journal on Thursday.
Wade also cited students' complaints that SUPD does not consistently answer calls for a police escort.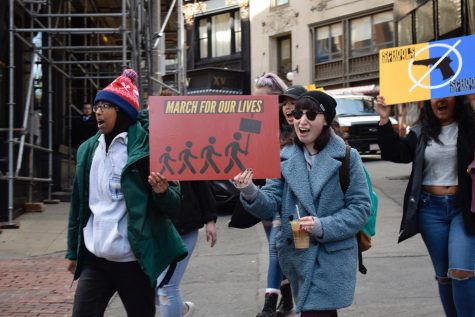 Coletta responded by thanking the protesters for bringing these issues to his attention, and noted that the numerous forums that have been held throughout the year have been beneficial to the department, as they have given him the opportunity to hear and address concerns that SUPD may have not been aware of prior, citing the escort complaint as an example.
"If you're calling for an escort, and you're not getting that service, I need to know that so I can address that, because that is one of the most important services that we offer," said Coletta to the protesters.
Wade went on to question why SUPD needed to be armed when there are other local police departments in the area.
"We also already have a huge police community surrounding us; Boston Police, the statehouse security, we also have Suffolk police still here. The main question is what do we need guns for?" said Wade.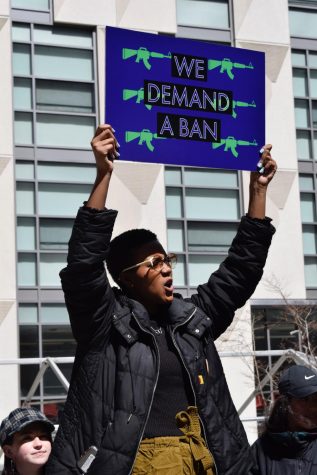 Coletta explained that the Boston Police Department is limited in terms of resources and manpower, which can impact their response time in case of emergencies.
"They have a huge geographic area that includes this campus, and they don't always have the manpower to respond to our calls for services in a timely manner," said Coletta. "That is why we feel that in order to protect the community, we need to have all the resources we can, especially during the times of day and night where there is a higher chance of violence around campus."
Regardless, Satterwhite advocated for SGA to take into consideration the opinions and concerns from all across campus when voting on an issue that could impact the entire Suffolk community.
"They need to involve students more often, and if they're going to … represent all students, they need to actually to do that, and not just be their own little club by themselves and only get us involved after the fact, which is kind of what happened today," said Satterwhite.