Find your Happy Place: Pop-up exhibit is ready for your Instagram close-up
April 10, 2019
The interactive and immersive pop-up exhibit, "Happy Place," is a picture heaven with larger-than-life installations and 12 multi-sensory themed rooms on a mission to spread happiness and positivity during its two-month run in Boston.
The exhibit has had successful stops in Los Angeles, Toronto and Chicago. Half a million people have visited the innovative experience so far.
"Happy Place," which occupies the former space of Marshall's on Boylston Street, is 13,000 square feet of whimsical areas and Instagram-worthy rooms including a cookie room that smells like freshly baked cookies, 6-foot tall X's and O's covered in thousands of mirrored squares, a confetti dome, a giant rainbow with a "pot of happiness" ball pit, a room filled with 40,000 handmade gold flowers, an upside down room and several other rooms that will spark joy.
For a local spin, "Happy Place" features the hand painted work of Coco Roy, a Boston filmmaker, musician and painter. A floor installation of candy hearts also features the lyrics of Boston's beloved musical icons like Marky Mark and the Funky Bunch and New Edition.
"Boston is one of my favorite cities in the whole world," Jared Paul, founder of "Happy Place," said in an interview with The Suffolk Journal. "I like that everyone from Boston is proud to be from Boston…it's a city where living here means something."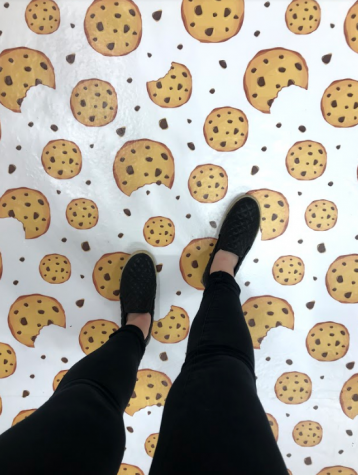 Paul, a Los Angeles-based talent manager and producer who manages New Kids on the Block and other performers, is a father of three children and enjoys going to immersive places with his kids to play and interact. Paul wanted to go a step further and create his own interactive exhibit.
"I wanted to do something with my skills that was positive and so I realized that the world is unfortunately challenged," Paul said in an interview with The Journal. "What I want people to experience is joy and make that our goal and not be shy about it."
This joy is reflected in the playful rooms with vibrant coloring, professional lighting and even the food – M&M's and a cookie from Boston Baking – that you can snack on along the way.
"Happy Place" is expecting tens of thousands of visitors over the course of the two months that the exhibit is in Boston, for. With timed entry and "Happy Place" being opened six days a week there is plenty of opportunity for people to buy tickets.
"It's just a time of year where it's getting a little warmer and people want to do things so I'm very hopeful," Paul said. "It does appear that the city of Boston is embracing us."
"Happy Place" also features a lemonade stand where the net proceeds will benefit two local non-profits. In April they will be benefiting Action for Boston Community Development and their partner for the month of May will be announced at a later date.
Of course, the Instagram-worthy walls and interactive rooms draw in loads of celebrities and social media influencers, with many high-profile names Instagramming their time at the exhibit such as Kourtney Kardashian, Olivia Wilde and Hilary Duff. Boston's "Happy Place" already had musician and former Fifth Harmony member, Ally Brooke, visit the exhibit during its preview days.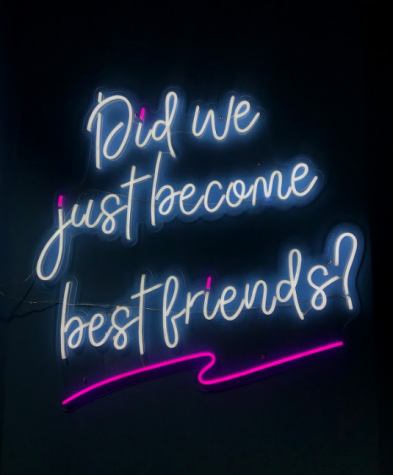 "I expect to have people who are well known in Boston as it has become something that seems like a must visit," the creator said.
Paul is always thinking ahead to the next great thing to feature in the exhibit and he plans to add more elements to the Boston exhibit along the way.
"I got a list a mile long of things we haven't gotten to yet," Paul said. "One of the things we've been doing is making sure we have a little bit of a local flavor."
Paul and his team also plan to take this show around the world, and introduced it to all kinds of cities across America that typically don't see exhibits like this.
"It's amazing to be in such a huge city like Boston, but there are a lot of other cities that don't get anything like this," the veteran manager and founder said.  "I don't see why this wouldn't be well received everywhere."
If you need to escape from the hustle of final projects, put your best smile on and come visit "Happy Place" at 500 Boylston St. to immerse yourself in a creative and lively environment.
"I don't think I can cure anyone's problems or the world's problems, but if maybe they leave out the back door just a little bit happier than when they walked in the front door maybe on a small level that can make the world a little bit better," Paul said.
A general admission ticket to the exhibit starts at $30 and will be spreading happiness to Bostonians until June 2.