Feeling blue, seeing red
April 11, 2018
Deep within the heart of theater lies a cavernous mine filled to the brim with boundless opportunity to poke fun at the world we live in. Dramatic and poetic irony are so deeply embedded within society that it's become almost ritualistic to ensure the dramatics and antics of the modern world are forever sealed onto the stage. Ancient worlds used the stage to tell stories in a way that made sure tales of tragedy and comedy would remain everlasting – both as entertainment and life lessons.
This kind of twisted tradition surges forward in Suffolk University's latest musical, "One State, Two State, Red State, Blue State," written and directed by Professor Wesley Savick.
In a crosshatched combination of romance, morality, politics and a seasoning of song – the musically-inclined cast gave a rousing rendition of the 2016 presidential election, as well as an eye-opening look into a potential dystopian future-United States.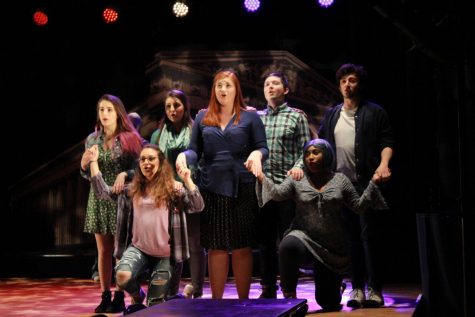 Jam-packed with talent, the students of the stage portrayed a multitude of god-fearing civilians and politicians. From high-school students at a lively debate – complete with a rap battle, of course – to junior theater major Justin Peavey and sophomore theater major Courtney Bouchard as the spirited Trumpian duo, Sean Spicer and Kellyanne Conway, the cast was a non-stop train of entertainment and delight.
Beginning with an emotional duet between junior theater major Liam Grimaldi and Senior sociology and theater double major Olivia Lowe, both of whom toted a ukulele and guitar respectively, the pair set the scene with regard to political ideals and living in a world where people are regularly frustrated when they feel as though their opinions are not heard.
In a melancholy solo, Lowe croons, "my heart is in a red state but I'm feeling mighty blue."
Following the stories of past and present "Blue" Bill, played by Grimaldi and "Red" Betty, played by Lowe, their story seems to be a metaphor for how a nation so divided can still allow for the appreciation of different ideas. After Bill and Betty are split apart after Bill goes off to serve in the military in 1981, in a saddening flashback scene of the two sharing a moment on a swing set in the moonlight, they split and develop different political ideologies, only to realize they can coexist peacefully in a distressing phone call Bill bestows upon Betty in the very last scene of the show.
There was no singular plotline thread, rather it was more like various storylines woven together to create an overarching immersion into a depiction of classic American chaos.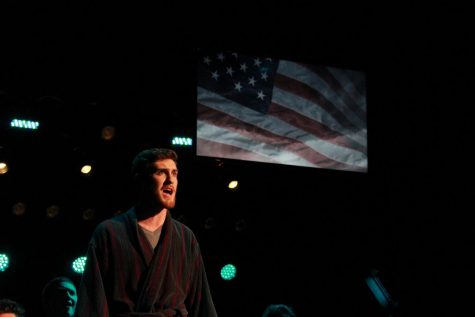 Cut to Ancient Greece – where the model for modern democracy began. Seven Grecians and senior theater major Erica Wisor gave an uplifting comedic performance of the original song, "Drama and Democracy," showing just how invested people are in the dramatics, rather than seemingly logical Greek-democracy.
Perhaps one of the more stand-out performances were the red and blue ensembles. Comprised of seven students on each side, the two sides engaged in an outstanding rap battle voicing emotions and concerns for the opposing side's candidates.
Though what was the most entertaining was the "Saturday Night Live" (SNL)-like depictions of "traditional" Democrats and Republicans. Senior government major Peter Firek, representing Team Blue said it best when he declared, "we love everyone, we just despise ignorance."
This of course forced the entire ensemble, both red and blue, to repeat with buoyancy and charm, "they're not the one we'd ideally choose, it's the end of the world if we lose." This would be the representation of those who chose to not back the candidate of their respective party, but more so they hated the opposing sides candidate.
Sophomore theater major Courtney Bouchard can only be described as a marvelous addition to this particular performance. From a soulful lament from a Red's perspective, to her gaudy and hilarious Conway impersonation, her talents were remarkable and admirable.
Paired with Justin Peavey as her original counterpart, Sean Spicer – Peavey did a phenomenal job as the sour Spicer. In relation to such chaos and ignorance from the Red side, White House aides continued to literally dance around the issues at hand. Including a tweet submitted from President Donald Trump, protesters who lined the streets and the press fighting for their rights to cover an aggressive amount of content with little to no help from the White House itself.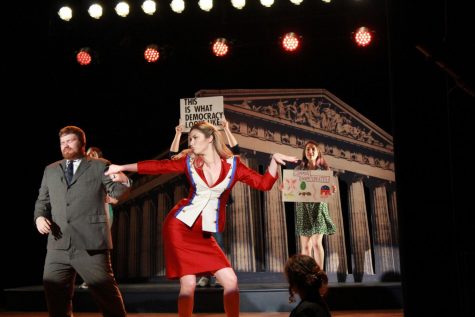 A retrospective introspective on both the past and potential future of America, with a flawless score composition, stage and general set are all innovative and immersive, the show was a marvelous display of color, song and dance. Some parts of the show force a reflection, such as "wow as an American, I can't believe I've been afforded the opportunity to see this show," and then simultaneously, "shit I live here."
While the show itself was mesmerizingly chaotic and brimming with talent, the largest takeaway is that while the country may be headed toward a doomsday beyond our wildest dreams, it's important to remember the people. People and their hearts are what will continue to drive the country toward success and greatness. By trying to sway the minds of people, nothing will get accomplished – but if it comes down to a matter of the heart, there is more room for change.
All told, the show conveyed this message: despite our differences in political ideologies, we all want to protect liberty and fight for what we believe is best. As an all-around enjoyable and educational experience, the production of "One State, Two State," did not disappoint. Hopefully one day there will be ample opportunity to sit back and laugh at what could be considered an "almost" reality – though conversely, we may just be looking into a glimpse of a very real future. Only time will tell.