85 candidates applied: Suffolk's president to be named in 2018
February 7, 2018
Neither Presidential Search Chair John Brooks or university spokesperson Greg Gatlin would confirm logistics Brooks had previously detailed on the ongoing process during a Student Government Association meeting on Nov. 30, 2017 as current, during recent email correspondences.
During this Nov. 30 pubic meeting, Brooks spoke about the presidential search, which had scheduled a Nov. 20 stop for accepting applications, but he said the Committee would keep the deadline open "a little longer," according to the meeting minutes.
SGA general meetings' minutes are recorded and typically posted online. The minutes from this meeting that Brooks had attended were officially sent to The Suffolk Journal on Monday.
"We are close to 85 top-notch individuals that are qualified to become president," said Brooks in the meeting, according to the transcript, who then reiterated the number and explained there would be "no benefit of releasing [the applicants] names."
Brooks said during the SGA meeting that interviews with semi-finalists will be conducted in "about January or February," to which candidates would then be distilled down to "about two or three."
He continued his response in the Nov. 30 meeting to a question posed by a member of SGA, regarding when a contract would be signed with a new president. The university's website has indicated that a new president is expected to assume office in 2018.
"Most people are contracted for the academic year, there is no absolute deadline," said Brooks, as recorded by the minutes. "If I speculate we could have those finalists by March, and we make our recommendation around April, and they would work with the Committee to negotiate an employment contract."
Brooks did not disclose the timeline of when the Committee would make a recommendation for the next permanent president to the university in the message sent on Tuesday and neither Brooks or Gatlin would confirm.
Journal reporters were directed to messages posted on the university's website in January. In recent email correspondences on Tuesday afternoon, Gatlin continued to refer Journal reporters to a message sent by Brooks, one that was  released Tuesday afternoon.
Brooks had outlined in the message to the Suffolk community sent on Tuesday that the interviews with finalists will be underway "after detailed reference checking and due diligence" was completed.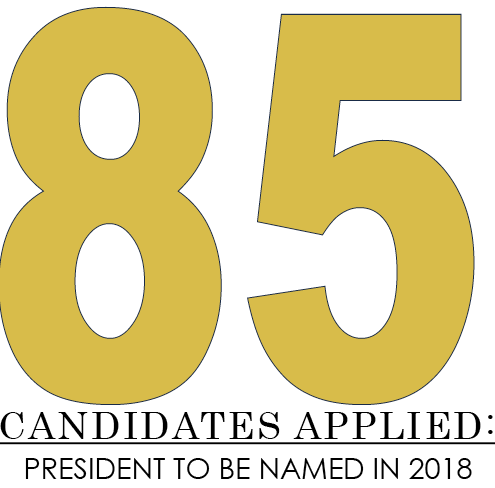 In the Nov. 30 SGA meeting Brooks said semi-finalists would be invited to Boston after references have been checked. He also said that a number of candidates already have jobs or are current presidents at other universities.
"Search Committee Chair John Brooks provided the Suffolk Community with an update on the search today. As he stated [Tuesday] and in December, the Presidential Search Committee has agreed that it is in the best interests of the University that the search remains closed to protect the confidentiality of the candidates and the integrity of the process," said Gatlin in an email correspondence to The Journal on Tuesday evening.
The number of total applicants or a current timeline toward a hiring was not confirmed to Journal reporters as being up to date or differentiated from Brooks' comments in the Nov. 30 SGA meeting during recent correspondences.
In years past, semi-finalist presidential candidates were brought on campus for a tour and a "day at Suffolk." Recently, multiple sources have told Journal reporters that protocol will be different this year. A candidate will eventually be chosen and allegedly will not be announced until after a contract is signed.
Gatlin continued to refer The Journal to the message sent to the Suffolk community on Tuesday and said, "the Committee does not have any information to add beyond that communication at this time."
Brooks did not respond to multiple inquiries to comment.