State of the Union: Democrats have watershed moment, Trump looks for unity in push of GOP message
January 31, 2018
President Donald Trump had snatched the stage of his first State of the Union Speech in a venture to reset his presidency. With a deeply divided nation tuning in and split Congress filing in the Chamber, Trump attempted the deploy of a number of instigative phrases that would soften the rhetoric around his first year in office.
In the context of plummeting approval ratings and the charge of new voices challenging his message in the upcoming midterm elections, Trump stuck to the script and had ushered in a "new American moment" as he issued a call for unity.
The speech had looped through some of Trump's favorite policy areas, erratically moving from foreign policy subject to a domestic issue, and back; ranging from slashing business regulations, a jump in economic growth and cited his recent tax cut legislation.
For Suffolk University sophomore Politics, Philosophy and Economics [PPE] major and Trump supporter Geoffrey Scales, the president's messages included issues that Scales backed the leader on such as the economic boost, but critiqued his delivery.
"[Trump] hit most of the points he needed," said Scales. "But a lot of the rhetoric fell flat. The big moments were clear but did not deliver the way it was intended to."
Trump's tone throughout his speech had directly contradicted his typical, off-the-cuff comments, typically seen on his Twitter page, that had not only been credited to his election win, but also made enemies within his own party.
However, Trump was not the only politician in the spotlight Tuesday night. Strategically positioned in a vocational high school in Fall River, MA, the young Congressman Joe Kennedy III made a rebuttal speech for the Democrats and may have spoken to the voters that felt left behind in Trump's speech.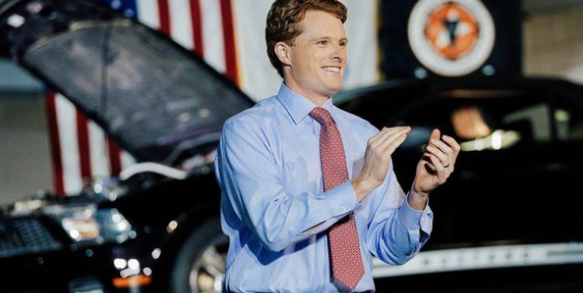 "Our vision for this union is guided by a simple belief that equality and economic dignity should be afforded to every American," said Kennedy in a press release.
In a time when the Democratic base may have a chance to seize back more seats in Congress after the special and municipal elections of 2017, Scales said the Democrats may have "struck gold" with choosing Kennedy.
"[Kennedy's rebuttal] was a watershed moment for the Democratic party," said Scales, who voted for Trump in the 2016 presidential election. "In a way, Kennedy is a democratic 'throwback.' He is progressive but relates more to the common working man."
"This was the missing link that the Democrats did not have in 2016," said Scales.
While Trump somewhat steered from discussing the Deferred Action for Childhood Arrivals [DACA] program when he left the vague statement of "Americans are dreamers, too," Kennedy spoke in Spanish.
"And to all the Dreamers watching tonight, let me be clear: Ustedes son parte de nuestra historia.Vamos a luchar por ustedes y no nos vamos alejar," said Kennedy. "You are a part of our story. We will fight for you. We will not walk away."
At last year's inaugural address that had strictly been centered around "American carnage," Trump had worked Tuesday night to convince his uncertain public, and Congress, that he could unify the mangled nation.
As Trump pushed the GOP agenda in a call for unity, Kennedy told the nation that Democrats had the answer. Kennedy, who had cheering students from the Fall River technical school in front of him, had painted the picture of America in the past year, brimmed with mass shootings, civil rights pushed back, far-right rhetoric and even hinted at the Russian probe.
"Russia [is] knee-deep in our democracy," said Kennedy.
Sophomore PPE and History major and former Republican turned Democrat Matt O'Brien questioned if some of Trump's key points of victory were aftermath effects of former President Barack Obama's administration such as the African-American unemployment rate, that had began its decline in 2010, according to a Washington Post fact checker during the speech.
O'Brien, who said he compared Trump's unusually long speech to a listicle that could have been headlined, "17 things to make America great again," is pleased that the president did not mention "crooked Hillary," or make stabs at Senator Chuck Schumer (D-NY). Though the former Trump supporter rated the president address well, O'Brien said that Kennedy was "more relatable" and spoke to the younger generation.
"The idea he holds of America is the idea I hold," said O'Brien.