Walsh clinches mayor's race for second term
Four more years with Walsh
November 8, 2017
Mayor Marty Walsh trounced into a second term in office on Tuesday night and outplayed his challenger, City Councilor Tito Jackson. By more than 31 percentage points, the incumbent easily took the mayor's race by storm after already four years of leading with a firm and capable attitude as he fought for all residents of the city of Boston.
After a string of endorsements from Massachusetts officials, Walsh bolstered his campaign from speaking out against the disorder in Washington and was able to avert Jackson, who fought to become Boston's first black mayor.
"Tonight, we commit once again to be a city for all of us, to bring opportunity to everyone," said Walsh to press and supporters at the Fairmont Copley Plaza Hotel on Tuesday night after the Associated Press called the votes.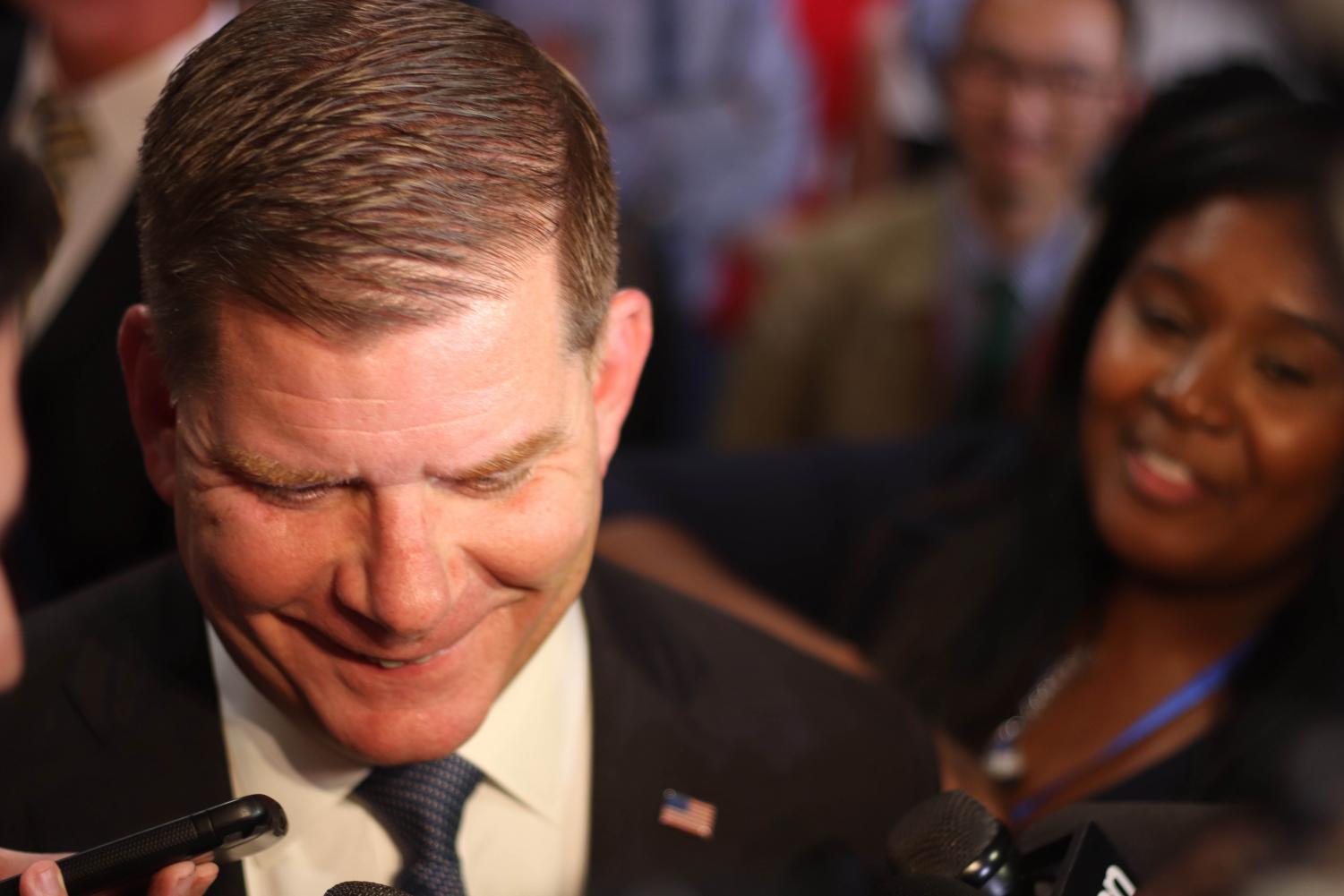 Suffolk University sophomore, Student Government Association (SGA) Senator, Republican and campaign intern for Mike Kelley for City Council for District 2, Matt O'Brien told a Journal reporter that this election would serve as a referendum to Walsh's job performance.
"Mayor Walsh has proven capable in standing up for all residents of Boston," said O'Brien as he explained that Walsh has demonstrated himself as a reformer. "He has stood up for working families, immigrant families and to the Trump administration. His speaking out on issues such as the Paris Climate Agreement and DACA have put both himself and the City of Boston on the map."
The lopsided race is said to have exposed some of the city's most imperative issues as well as stimulated debate over Walsh's priorities as mayor, with Jackson leading the conversation.
"I believe Jackson [ran] a campaign to hold the mayor accountable," said O'Brien.
The District 7 councilor, who lagged in a recent Suffolk University/ Boston Globe poll by 35 points, had announced his candidacy in January and had immediately plagued Walsh for his potential big business ventures instead of focusing on the city's most vulnerable.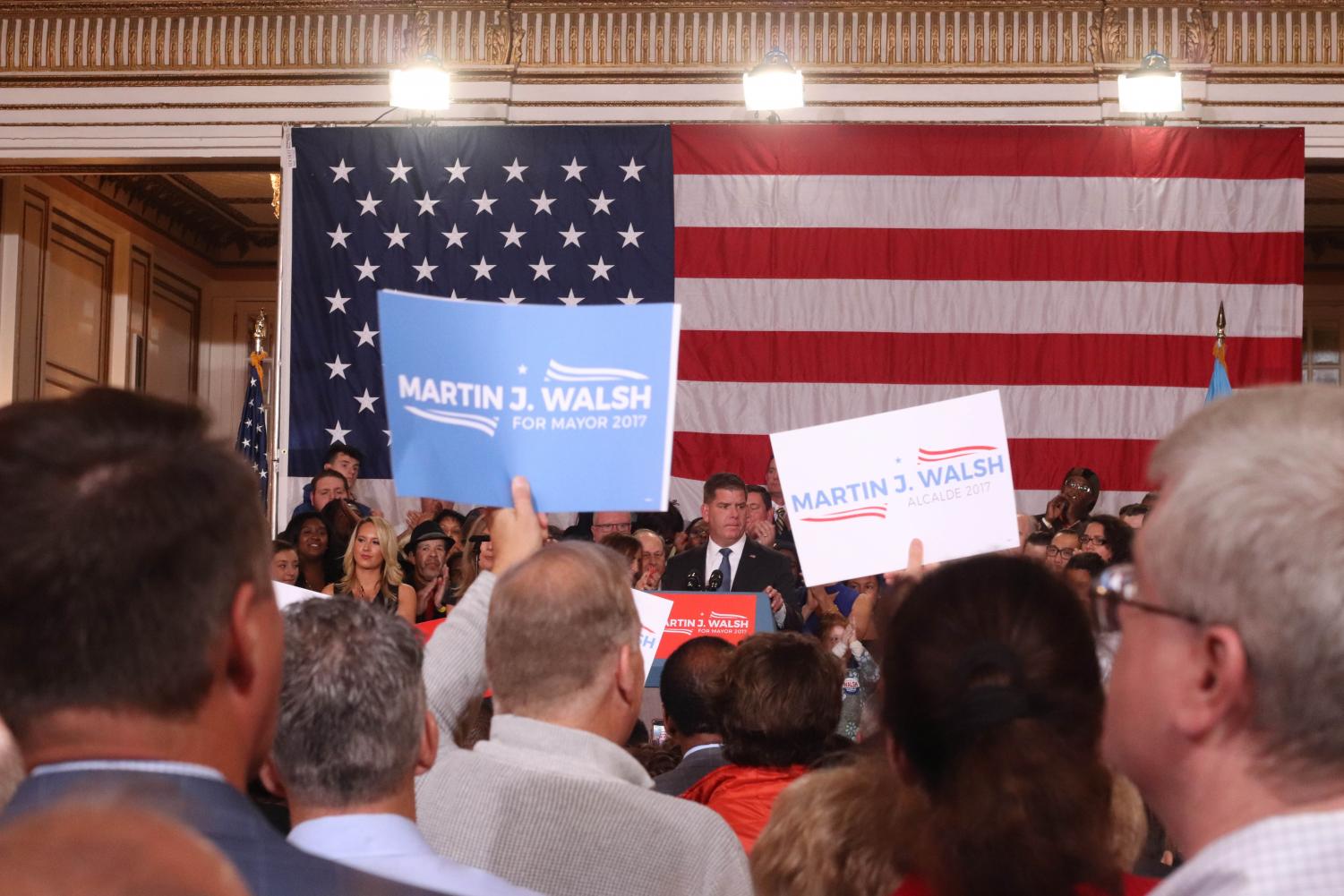 "The poll is a powerful validation of Mayor Walsh's first term in office," said Director of the Suffolk's Political Research Center David Paleologos.
After the defeat for Jackson's campaign was announced, he vowed to his supporters to continue to push his message for more spending on schools instead of "giving away" tax incentives to big companies, such as Amazon.
Walsh, surrounded by reporters at his celebration in Copley Square, swore to continue to fight for his free community college plan, housing opportunities across the city, to end the surge in homelessness, help immigrant families, among his original campaign promises.
"Four years ago, my dream came true: you chose this son of immigrants to serve the city we love," said Walsh in a statement to The Journal late Tuesday night. "I said then: we are in this together. Every neighborhood. Every race and religion."
Sophomore SGA Senator Sophia Romeo said she saw proof of Walsh's strong re-election campaign early on; with his name "plastered everywhere" from Hubway bikes to garbage cans as a reflection of his efforts on the city's economy and efforts for small business owners.
"He's taking Boston in a direction where it is competitive with other progressive and innovative cities," said Romeo. "The push to have Amazon headquarters in Boston is also important to me as a students since it will open up job opportunities and boost the culture coming to Boston."
SGA Vice President Yasir Batalvi supported the Walsh political machine throughout his campaign to strive for another four years in office.
"Under his leadership, Boston has continued down the path of growth, progress, and development that we, as residents, deserve and the rest of the country expects," said Batalvi. "He's an aid to our community, a help to students and graduates, and a mayor that's willing to take risks to push our city toward the best possible future."
The Boston Globe, U.S. Senior Senator Elizabeth Warren (D-MA), U.S. Junior Senator Ed Markey (D-MA), former 2013 Mayoral challenger John Connolly, Planned Parenthood of Massachusetts, Attorney General Maura Healey, among others all endorsed Walsh.
"After four years of hard work, I believe it more deeply than ever: when we come together, Boston, anything is possible," said Walsh in a statement to The Journal. "The choices we make for Boston are not just on election day. The choices we make every day are what bring us together as a city. Across all our differences, we vote with our feet to come here, and we vote with our hearts to stay."