Seniors say goodbye: The historic class that has 'seen it all' turns to next chapter
June 1, 2017
For four years, the undergraduate students of Suffolk University have questioned their institutions' stability in regards to maintaining consistent leadership in upper administration and the decisions that each reign conducted in each of their short tenure.
This class, the class of 2017, had seen a change in leadership each year they attended Suffolk and much like the presidential turnovers in the corner office of 73 Tremont, they endured the ousting of former Board of Trustees Chairman Andrew Meyer, the sale of both the Fenton building and Temple Street properties, the New England School of Art & Design's feeling of disconnect from the rest of campus, saw the cut of the Beacon Hill Institute, lived through the loss of a main theatre and the addition of the 20 Somerset building and witnessed the deep divide that was wedged between both the campus and the rest of the nation after election night.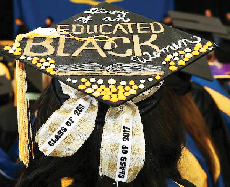 However, this class was also the class that held three-straight Men's Baseball Championships, rallied together and behind former President Margaret McKenna, marched in more than one Boston championship parade and stood in defiance at the one-year anniversary of the Boston Marathon bombing on Boylston Street. The class of 2017 not only observed the changes in and around Suffolk over their first three years, but also the successes and consequences that occurred during their final year.
On May 21, the undergraduate senior classes of the Sawyer Business School (SBS) and College of Arts & Sciences (CAS) poured into the Blue Hills Bank Pavilion, beginning early in the morning, decked in blue and gold with diverse flags and cords bearing around their necks.
After four presidential changes in as many years, Acting President Marisa Kelly, however, gave a promising note to those who bore cap and gown at the 2017 Commencement on their readiness to turn to the next chapter in their lives.
"The Suffolk Experience is a powerful thing. I suspect the experience that you gained during your time at Suffolk has changed your lives forever," said Kelly at the College of Arts & Sciences Commencement. "And the experiential learning that you embraced –- both inside and outside of the classroom — will make a world of difference in your futures."
This same angst that these students sometimes felt over the reputation of Suffolk, some now face the challenge of today's turbulent political climate that this diverse class faces. CAS speaker and Political Scientist Robert D. Putnam said that America has failed as a "we" society, and has very much turned into an "I" society. However, Putnam said this arts and sciences class of 653 graduates could possibly change America's new selfish stigma around.
"I'm actually optimistic that your generation can turn these trends around, because Americans just like you and just in this place have done so before," said Putnam to CAS graduates that afternoon. "If our country today faces polarization, political polarization and economic inequality and social fragmentation, you, collaborating with one another, you can reverse those trends. Your generation can lead the way to a more diverse, more tolerant, more cohesive, more equal society, a society in which, rather than shout at one another, we listen to one another, actually, listen to one another."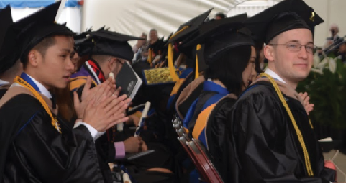 Just hours before, now graduate Thinh La gave a riveting and dynamic speech on how his very life could be used as the very reason for the American dream. La, whose family climbed out of the grips of Vietnam's poverty level, where his parents would consistently refuse food in order to feed La and his sister and lived for just under two dollars a day, would eventually be standing in front of his graduating class of business students in a commencement ceremony. La spoke about the power of overcoming adversity, much like many of the 535 graduating business class of 2017 has had to do, instead of growing up with privilege.
"Suffolk was founded to open access to higher education to immigrants and working people who could not otherwise afford it," said La. "Suffolk has given us a place to advance our education, to succeed, and we must pay it forward. Tomorrow, we may pursue different careers and have different paths, but don't forget where we came from."
Putnam, who mirrored La's experiences later that day from an political scientists' point of view said that the new graduates could be the ones to transform the politically and economically polarized America. He proposed graduates to become reformers of the generation
"You are the heirs of those Americans, including young immigrants, and your generation faces exactly the same challenges they did a century ago," said Putnam. "Raise your voices, to be sure, but talk is not enough. Your lives will speak more loudly than your voices."
For the graduating class of 2017, who has seen "it all" here at Suffolk, in addition to the aftermath of these decisions and events their senior year, now face another obstacle: the divided state of the world in which they live in.