Who then am I?
Suffolk University Theatre Department's "Orlando" shatters conventional concepts of gender identity.
April 11, 2017
For more photos from "Orlando," visit Uncovered with Flash.
Organized chaos. Perhaps one of the more ironically used oxymorons in the english language, is widely used to describe cluttered bedrooms or office desks for those who thrive off of instability. From a place of dismantled common constructs which may act as a source of inspiration, comes an outpouring of clarity. With this is mind, Suffolk University Theatre Department's "Orlando" attempts to personify organized chaos through a tumultuous glance at a life through the eyes of someone who seems to thrive within the depths of constant upheaval.
Originally written as a novel in 1928 by British writer Virginia Woolf, "Orlando" shatters conventional concepts of gender identity and has continued to do so for the last century. Following protagonist Orlando and how gender constructs can affect the life of anyone in any given time period. Starting in the 16th century, the play shows Orlando as part of Queen Elizabeth's court and how the raging hormones of a 16-year-old boy affect his imminent future relationships.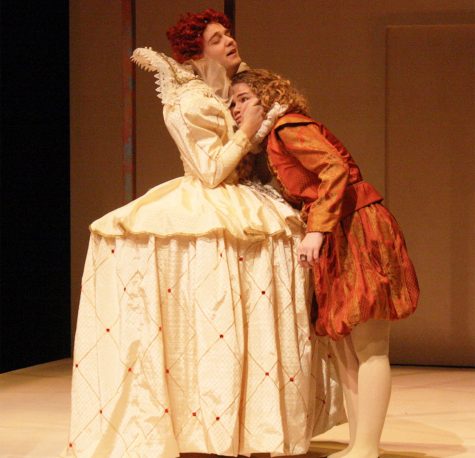 The play itself is almost entirely delivered in third-person narrative. Each character would quickly announce the upcoming action that was about to occur on stage, similar to that of an action scene from a Robert Downey Junior "Sherlock Holmes" film.
From this ongoing narration stemmed humor and witty asides from all characters, effectively breaking the fourth wall. Working with the small stage set-up within the Modern Theatre, the entire cast of "Orlando" created a sense of time and space by simply walking around the stage to create the illusion of a larger living space.
To portray the ebb and flow of time, characters would meander through the posts of a large metal frame used to represent the framework of a house and would cast out billowing bed sheets to create a dream-like wave effect.
In a musical setting, the chorus of a production would narrate the ongoing action. In "Orlando," the chorus used spoken word and nimbly navigated the set to assist with the story telling. Often times the chorus members would dress in beige, only adorned with hats and scarves when it seemed to fit with the scheme of the scene.
Freshman Mickey Rogers took on the incredible challenge of portraying the lead role of Orlando. Faced with the task of portraying a male role, only to transition into a female role and maintain the same personality traits halfway through the performance without ever fully leaving the stage, save for an odd soliloquy from a few cast members, was a feat all on its own.
Yet while she did leave the stage if only for the briefest of moments, Rogers captivated the audience with her innate ability to transcend not only both sexes, but time itself. A freshman theatre major, Rogers seemed to display talent far beyond a presumed beginner-level status.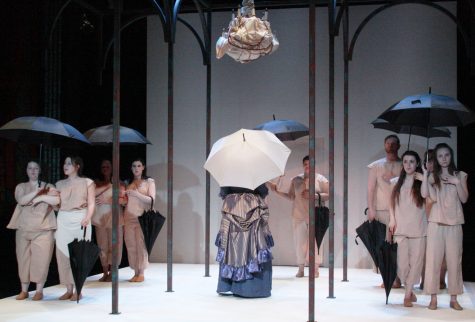 First playing a male role, Rogers was able to deliver a spectacular performance as 16-year-old Orlando in the 16th century. In a typical outfit worn by a man of stature in the English court, Rogers, complete with frilled collar, was incredible to watch. She delivered Orlando's lines in what seemed like a lower register fit for a male part, but as she transitioned into the female depiction of Orlando, it seemed as though she decided to maintain that same register. Poking fun at the lower tones of her voice only once during her early moments as a woman on stage while conversing with a male counterpart. She tested the octaves of her woman vocal chords as a means of practice by carrying herself through a world in which she had just become accustomed to as a young man.
This feminine side resembled the performance done by actress Julia Stiles in "The Prince and Me." Rogers was witty and charming and exuded confidence in her role as a woman. Perhaps this kind of outlook stemmed from the overarching concept of gender fluidity and over-arching theme of a personal acceptance of the different sexes.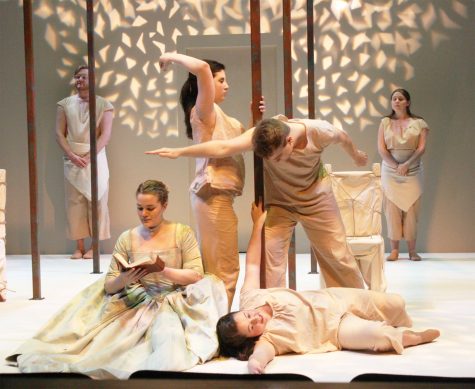 Rogers portrayed this kind of internalized organized chaos with every fibre of her being, and to that extent was the perfect fit for such a complex role. To take on such a strong part and so early on in her career is a feat all on its own, but to step into the role of Orlando and to do so with wild abandon was nothing short of excellent.
The hour-long play tackled complicated concepts like gender fluidity and social constructs regarding sex and relationships, leaving the audience to turn inwards to reflect on morality and the ethics behind judging one's character based on their biological gender.