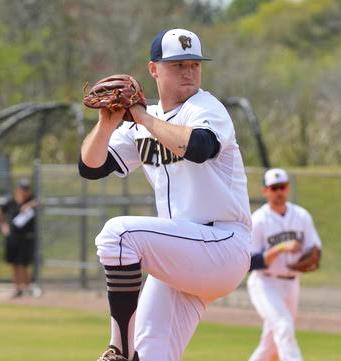 Gibson leads team, continues Rams dynasty
Senior Chuck Gibson and first time captain is hoping to continue the "dynasty" that is Suffolk Baseball.
Gibson, a pitcher for the Rams  from Malden, Mass., is entering his fourth year on the team and hopes to be the team's number one starter this season. He aims to end his senior year on a high note by leading his team and winning their third GNAC in a row. The pitcher said that he was honored to be voted captain of such a successful team.
"Hopefully we will leave our mark there and hopefully leave a culture that follows in our footsteps," said Gibson in a recent interview with The Suffolk Journal.
When it comes to his teammates, Gibson utilizes his no-nonsense leadership style.
"I feel like our jobs as captains is just to keep everyone in check," said Gibson, "I think part of our success last year, that was our best season in a long time and I think that's because there weren't any egos, we all just came together."
The entrepreneurship major hopes to lead his teammates on the field, but also noted the importance of his teammates performance off the field. As a captain, he makes sure that everyone is staying on top of their grades and overall doing well in their classes.
"Most of us aren't going to be playing baseball after [college]" said Gibson.
However, Gibson is ready to transition from pre-season and lead his team to success.
"We all just get consumed by the season," said Gibson. "We're a lot more responsive when it actually means something.