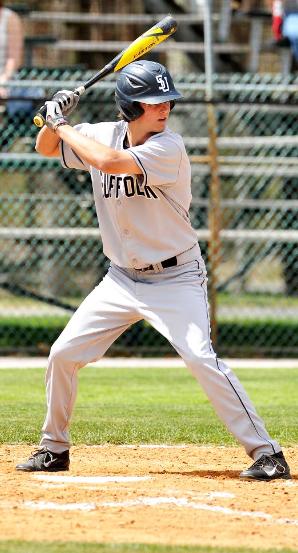 Chant looks for consistency, strikes for NCAA run
While Brady Chant is more soft-spoken than his teammates, he is a leader in his athletic performance and demeanor.
"You just set an example. We kind of just set a tone. We try to relay that to the guys who haven't seen it before," said Chant in a recent interview with The Suffolk Journal.
Chant, junior and centerfielder, is the youngest among the four captains on this year's baseball team, and was not expecting to be chosen as a captain, as it is typically a responsibility awarded to a senior.
"Brady's an amazing baseball player, but is still one of the hardest working players on the team," said senior second-baseman BJ Neil in an interview with The Journal on Thursday. "Even though he is only a junior on the team, it was an easy decision to vote for Brady to be one of our captains."
Chant, of Warwick RI, wants to start the season strong by bringing the team further in regionals.
"We've been to regionals two years and haven't won a game, hopefully we'll make a little run in that,' said Chant.
Chant is proud of how far his team has come and is looking forward to leading them to success, and sees his role as captain to keep his teammates motivated and focused throughout the season.
"There's ups and downs during the season, sometimes you win a game you weren't supposed to win, sometimes you lose a game you weren't supposed to lose, so you [got to] respond to that," said Chant. "Every team is [going to] slump, in every team [there are] good weeks and bad weeks."