Spell it out for me
In a rip-roaring performance of "The 25th Annual Putnam County Spelling Bee," Suffolk University Students earned a well-deserved standing ovation at the Modern Theater Friday night.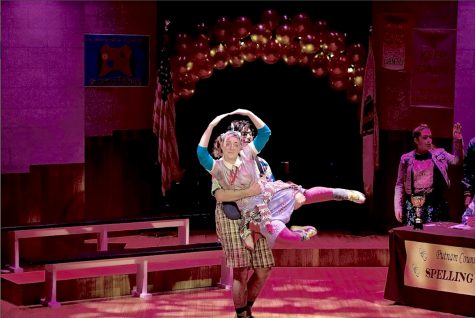 Complete with special guests picked from the audience, amongst them was the Assistant Dean of Students at Suffolk, John Silveria. He was pulled up on stage with two other students as well as audience member and wife of Performing Arts Office Office Coordinator Antoine Gagnon, Irene Daly. Silveria was gracious, yet had some difficulty controlling his giggles while trying to spell his assigned word, "cow." The audience erupted into fits of hysteria when Silveria asked the mediator to use his word in a sentence.
The show itself is a unique one-act long performance which came into existence on Broadway in 2005. Set in an ambiguous Putnam Valley Middle School, six pre-pubescent students come together to compete for the champion title and the coveted opportunity to attend the national spelling bee competition in Washington D.C. 
The Bee is comprised of four guest spellers and  six middle school contestants, Charlito "Chip" Tolentino played by Peter Firek, Logainne SchwartzandGrubenierre played by Julianna Fields, Leaf Coneybear played by Ma'Chel Martin, William Boris Barfeé played by Michael Greene, Marcy Park played by Olivia Lowe and Olive Ostrovsky played by Jenna Locke.
With each individual character more funny and entertaining than the next, the Suffolk performers did not disappoint.
As the show progressed, the audience was introduced to each participant's personal histories. Beginning with a peppy and cheerful opening number of, "The 25th Annual Putnam County Spelling Bee," the company set the tone for the evening with a set of choreographed dances and gentle harmonies. Complete with the quirks and ticks of every preteen, the students created an air of amusement to quickly captivate and hold the audience's attention.
By far, the most memorable performances included Greene's character, Lowe's character, Locke's character, Fields character and Martin's character. Green's character, a boy with an aggressive allergy problem, has a "magic foot," which he claims helps him to visualize the words he has to spell. Greene, with an impeccable stuffy and whiny voice, was perfect for this role. He sports extremely high-waisted shorts held up by suspenders and is continuously upset when his name is routinely mispronounced throughout the show.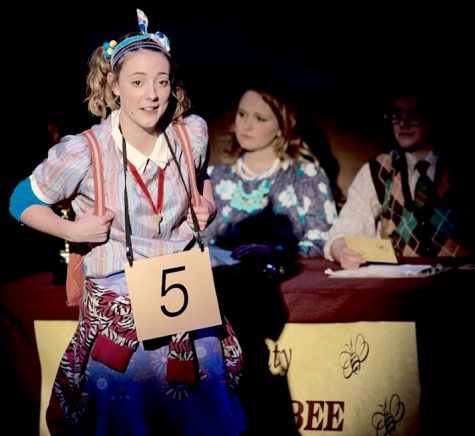 Lowe's character is portrayed as an overachiever who performs an entire song regarding her hobby, winning. She discusses her ability to speak six languages, her undeniable athleticism and overall boredom with her continued success. Lowe does an excellent job conveying that disinterest and manages to perform almost the entire show with a grim and unamused expression.
Ostrovsky quickly earns the heart of the audience when she earnestly convinces the judges to let her compete sans entry fee after she assures them that her father will be attending the competition because he promised her that he would be there to support. Throughout the production, she reveals that her mother has been gone for months on an excursion in India, while her father never seems to be around despite his promises to support his daughter.
She claims she took the bus by herself to get to the spelling bee and that her only friend is the worn out dictionary that she keeps in her bathroom. Dedicating an entire song to her parents, she laments over the relationship she has with them and wishes that she could do something to mend it. Out of the entire group of participants, only Olive and William become friends.
Arguably the most intriguing character was Coneybear, Martin's character. Sporting a helmet on his head, goggles, a tie-dye cape and a sock puppet, Coneybear is the most bizarre out of all the personalities on stage. Claiming he knows no words, his character is overcome, rather possessed, by this sock puppet who uncannily spells out every word correctly. Almost as though he is in a trance, Coneybear quickly shakes off the possession and resumes wearing a toothy grin and gentle personality. Dedicating an entire song to his family claiming he is not that smart, he accepts that fact and claims that he would rather focus on being a good person.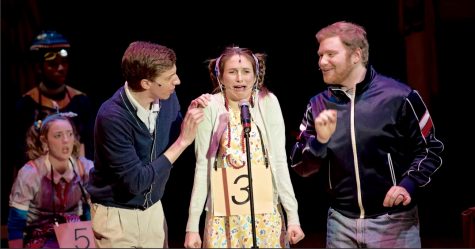 The youngest of the group, SchwartzandGrubenierre, Fields character, is a scrawny stereotypical nerd complete with headgear and a speech impediment. Shrill and shrewd, Fields does the character justice with gawky posture and deliverance of speech. Almost puppeteered by her two gay fathers whom have an incredible toll on their daughter regarding an unhealthy obsession with winning, "Schwarzy" suffers a devastating loss after she overthinks a seemingly simple word. Fields did a remarkable job selling the image of an awkward, yet undeniably passionate, schoolgirl.
The performers did an unquestionably fantastic job. The level of work put into a production such as this one was extensive and did not go unnoticed. Every dance step, every lyric, every rehearsed line of dialogue was impeccable and impressive.