Search for next leader still at starting gate
Next steps for the Presidential Search Committee to find the university's next commander could serve as the ultimate test for Suffolk
February 15, 2017
In the search for the seventh leader of Suffolk University since 2010, the university launched an official global Presidential Search Committee last summer without a deadline or timeline to the project led by Board of Trustees member and Chair of the Presidential Search Committee John Brooks. As of early this week, however, they are still conflicted whether or not they want to hire a search firm to begin the process.
On Feb. 1, Brooks sent an email to the members of the Suffolk community, which said: "we will be moving forward to select a search firm with which to partner on this process."
Yet, on Tuesday morning, just two weeks after the email was sent, Brooks said in an interview with The Suffolk Journal that the Committee later in the day would be discussing if they wanted to move forward with that plan or not. The information that was deliberated on Tuesday night would be discussed with upper administration and sent to the community later this month, according to Brooks.
"We will probably use a search firm," said Board of Trustees Chairman Robert Lamb in an interview late Tuesday night. "Until we find one though, it's not definite."
Lamb went on to say that the Committee did not make the decision on Tuesday night of what firm to choose, however, they did discuss the process.
"It makes sense to spend the money to do the job right," said Lamb Tuesday night and  said that he looked to find a candidate that would stay at Suffolk for a substantial amount of time. "I look at it as an investment."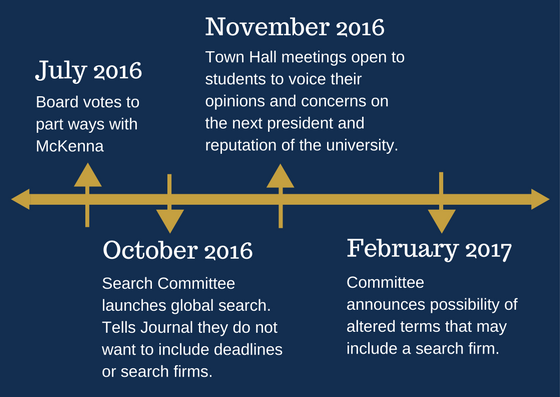 The email that was sent on the first of the month continued and outlined feedback that students, alumni, faculty, staff and trustees provided in nearly 60 meetings throughout what Brooks called the "listening" phase of the search. In what has followed a turbulent past six months surrounding former President Margaret McKenna and former Chairman of the Board of Trustees Andrew Meyer, the Committee said they collaborated with the Suffolk community to define the ideal position profile to ensure the redirection of the public image of the university in the email. The description of the ideal candidate is said to be public in the coming weeks.
Some within the Suffolk community believe that partnering with a search firm will ultimately result in the hiring of a president that is not completely for the Suffolk brand. Brooks, however, defended the Committee's decision if it was decided to partner with a firm. He said that the Committee would be in control of the firm and is only there to aid the search as most of those members on the Committee have full-time jobs themselves.
"At the end of the day it's really the Committee that is responsible to set the stage for what a search firm would do under our direction," said Brooks. "What we didn't want [before] was to get a search firm that was just going to go through the motions."
Brooks explained that the Committee would be looking for the firm to help with putting out advertisements of which candidates would eventually respond to, such as in the Chronicle of Higher Education.
"We're looking into having a group that can help us  be efficient in our process," said Brooks.
Brooks defined the six key themes that the next president should possess, according to the feedback the Committee has received: vision, trust, financial stability, collaboration (internal and external), brand building, best practices and transparency.
Brooks said that the Committee is looking to create a timeline in which they would accomplish items, but do not have any "hard, stopped deadlines."
"As we go forward, we want to make sure that we do this in the best possible way and follow through with what people call 'best practices,'" said Brooks. "We'll get there when we get there. It's not like we have to get it done by some deadline because I think that it can easily get you into trouble as it may force compromise. We have no interest in that."
Acting President Marisa Kelly was appointed last summer when McKenna was ousted after a vote was conducted by the Board. Some sources within the university's upper administration said in an interview on Tuesday night that Kelly could be considered. Brooks, however, said on Tuesday morning that the Committee has not received any resumés since there is not a description to apply to as of yet.
Suffolk has been slandered by some for having seven presidents in as many years, but Brooks said he is ready to put a stop to it.
"When we finally get to the point when we're giving an offer to someone, we will have a level of commitment that they would have to be on board for," said Brooks who explained that the incoming president will be expected to stay for a minimum of five years, but ideally will be in Suffolk's top office for ten years.
"We all believe in this institution and we all believe this is a critical position. This institution cannot afford any mishaps or missteps," said Brooks.