Boston officials, Suffolk community push back against executive order on immigration
February 1, 2017
The most recent executive order from the Oval Office on immigration has sent shockwaves throughout college campuses. At Suffolk University where the international student population bears at 23 percent, some have expressed their private outrage.
Demonstrations erupted in Boston and across the country throughout the weekend after the order was signed Friday. Newly inaugurated President Donald Trump's ban was on seven predominantly Muslim nations from entering the United States for 90 days: Iran, Iraq, Syria, Somalia, Yemen, Libya and Sudan.
Despite the support that citizens from these affected countries have received in recent days, some live in fear. One Suffolk student from one of the seven affected countries, although known to be privately distraught over the order, declined to be interviewed with The Suffolk Journal due to their name becoming public.
Fellow students such as Student Government Association Vice President Daniel Gazzani, a Venezuelan native, explained in a Tuesday night interview with The Journal that it's not just those from the seven nations that are fearful.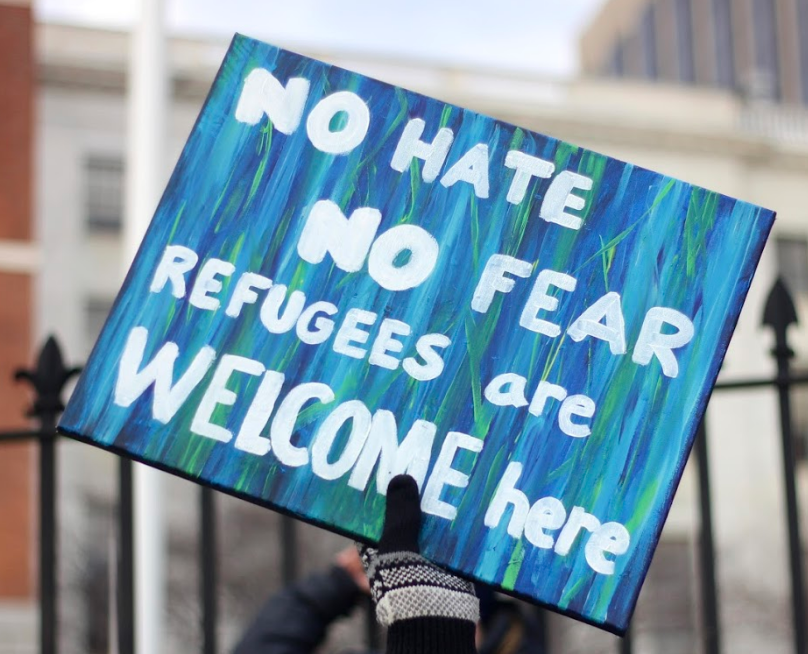 "I read an article today that said Trump might extend that ban to countries that are a safe haven for terrorists, and Venezuela was included on the list because the Venezuelan government actually issues passports for members of terrorist organizations," said Gazzani. "If he does ban Venezuelan citizens on any kind of visa, to enter the country, I'm going to see myself affected with that and that's something that concerns me and my family."
Suffolk's Acting President Marisa Kelly offered comments to the Suffolk community that was sent in an email on Sunday afternoon regarding the executive order.
Kelly assured that upper administration has been in contact with students who could be directly impacted by this order and said that those students from the seven countries are in Boston and are safe. She said that there have not been reports of Suffolk students being detained in trying to enter the U.S.
"I want to assure members of our community that the leadership of Suffolk University supports you all," wrote Kelly. "Suffolk is a diverse, inclusive, and global institution, and we put the highest value on welcoming individuals from all over the world."
Gazzani wrote on his public Facebook page shortly after Kelly's email was sent that he was proud of the acting president's statement.
"At SGA we will continue to do our part to ensure all students at Suffolk feel safe in their campus," said Gazzani. "We have a very diverse community which will always count with our support."
Assistant Provost of the Division of Student Success Kathy Sparaco said that Suffolk has nine students from the affected countries.
"Six of the students are on campus and three are on a post-program work experience that is available for international students," said Sparaco to The Suffolk Journal on Sunday night.
Sparaco said that the Division has worked with all international students on their immigration questions and will continue to "advise the best [they] can in any situation."
Protests on Friday at Boston's Logan International Airport rallied against Trump's travel ban. Boston government officials such as Senator Elizabeth Warren, Mayor Marty Walsh and City Councilor and Mayoral candidate Tito Jackson were stationed at various terminals and spoke to demonstrators on the ban.
"It is illegal. It is unconstitutional and it will be overturned," said Warren through a megaphone as protesters echoed her words. "An attack on anyone for their religious beliefs is an attack on the very foundation of democracy."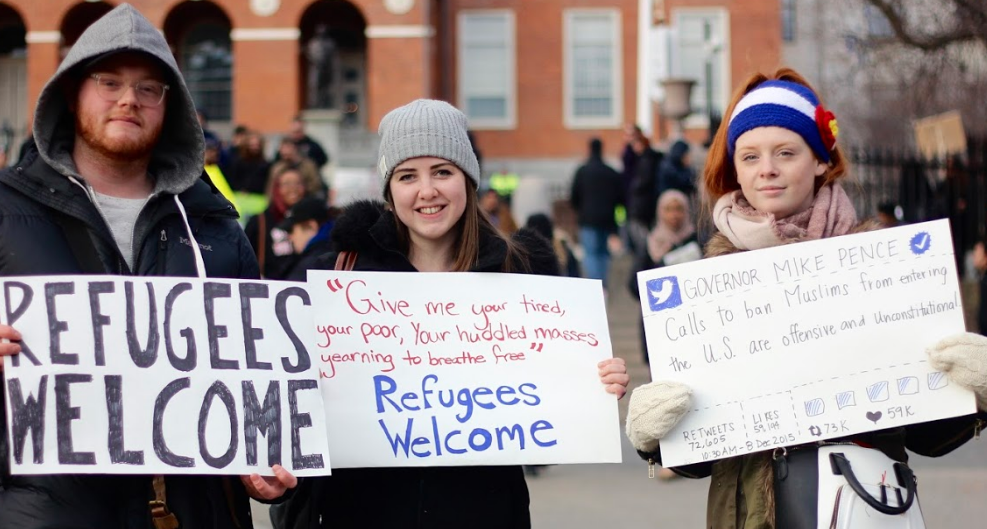 Former presidential candidate Hillary Clinton tweeted on Saturday night where she spoke out against the travel ban.
"I stand with the people gathered across the country tonight defending our values and our Constitution," tweeted Clinton. "This is not who we are."
A statement from Mayor Walsh was sent to The Journal over the weekend that condemned Trump's order.
"Preventing people from entering this country based solely on faith runs counter to everything we stand for as Americans. Let's be clear: this is not an effective way to combat terrorism and increase homeland security," said Walsh. "It is a reckless policy that is rooted in fear, not substance, and further divides us as a nation and a world."
"It is simply morally wrong," said Walsh.
Mayoral candidate and city councilor Tito Jackson provided his remarks to this executive order in a late night interview with The Journal.
"The ban flies in the face of the U.S. Constitution," said Jackson. "It's against in which the U.S. was founded on, especially religious freedom, and will be detrimental to the Boston area economy. Boston is an international center of learning and medical treatment, two fields that depend on the free flow of talented individuals coming in and out of our city. It's reckless, it targets Muslims and we will not stand idly by and allow Donald Trump to hijack our city and government."
Jackson explained that he has put forth legislation to protect sanctuary campuses so that Immigration and Customs Enforcement (ICE) cannot enter public schools without authorized permission. He also said that he will oppose further restrictions and alienation of Muslims.
"We will resist any Muslim registration in any form and we will protect the residents and citizens of the city of Boston," said Jackson
Walsh and Jackson both joined a rally hosted by the Council of American-Islamic Relations and the Islamic Society of Boston Cultural Center (ISBCC) on Sunday afternoon in Copley Square.
Protests erupted nationwide on Sunday in Boston, New York City, Minneapolis, Washington D.C., Los Angeles, Atlanta and in Dulles Airport in Virginia
Attorney General Maura Healey announced that her office is joining a lawsuit challenging Trump's executive order on immigration.
"Harm to our institutions, our citizens, and our businesses is harm to the Commonwealth of Massachusetts," said Healey according to a press release on Tuesday afternoon. "The President's executive order is a threat to our Constitution. On behalf of the Commonwealth, my office is challenging the immigration ban to hold this administration accountable for its un-American, discriminatory, and reckless decision-making."
Healey took to Twitter to outline her frustration throughout the weekend: "Donald Trump has taken a wrecking ball to the Statue of Liberty."
The Chapter Chair of the New England Chapter of the American Immigration Lawyers Association (AILA), Susan Church, sent a press release to The Journal on Sunday.
"These policies will do little to improve national security and will create enormous delays for people coming to the U.S.," said Church.  "In Massachusetts and across the nation, these policies will put discrimination based on faith or national origin on the books. We cannot stand idly by and let this happen.
Church urged Warren, Senator Ed Markey and Massachusetts representatives in Washington D.C. to stand up against these such orders and said that there will be a negative impact on families, business and the reputation of the U.S. rooted by this executive order.
"The recent executive action taken by President Trump is both severely disturbing and alarming," said SGA President Sean Walsh in a statement to The Journal on Monday night. "The Student Government Association's purpose is to serve as the voice of all students, and advocate directly for their interests. This will continue to be the case because now more than ever, we as students need to look out for one another."
Trump sent out a statement through his Facebook page on Sunday night that explained that the U.S. will continue to show compassion to those who look to flee oppression but will only do so while protecting U.S. citizens and the border.
"This is not about religion – this is about terror and keeping our country safe. There are over 40 different countries worldwide that are majority Muslim that are not affected by this order," said Trump. "We will again be issuing visas to all countries once we are sure we have reviewed and implemented the most secure policies over the next 90 days."