The 45th inauguration: Nation remains divided over Trump
January 21, 2017
Editor's Note: Nick Viveiros was the reporter on the scene in Washington D.C. and contributed to some of the content of this article.
Donald J. Trump was sworn in as the 45th president of the United States on Friday afternoon. The now president took the oath of office on a day with smaller crowds, lower approval ratings and a more solemn ceremony than other inaugurations in the past.
Surveys conducted before the inauguration showed that 37 percent of Americans approved Donald Trump while the majority did not, according to multiple news sources.
Former President Barack Obama and former First Lady Michelle Obama stood next to Chief Justice John G. Roberts Jr., who administered the swearing in, and Trump's wife Melania stood on Trump's right side. The oath was given with two bibles- one from former President Abraham Lincoln's inauguration and then the other was given to Trump from his mother in 1955, according to multiple news sources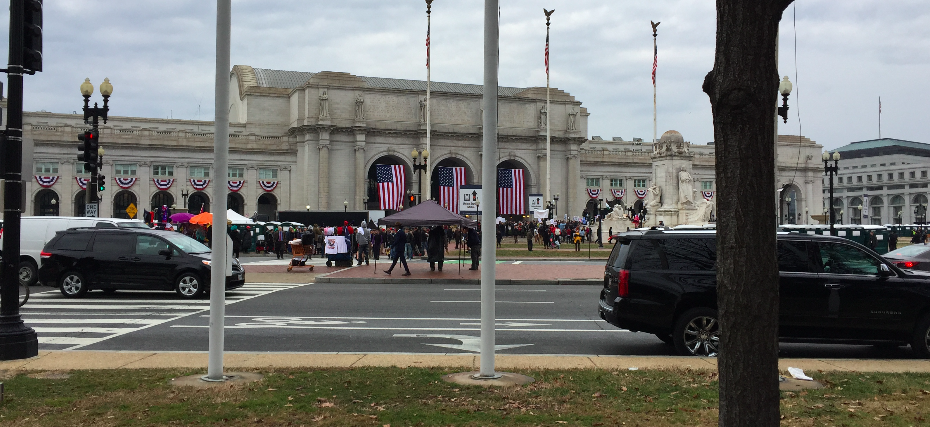 After a fierce election season that was fueled by controversy and polar opposite tones to each candidate's message, the nation resulted in a divide. This such division was displayed throughout Inauguration Day when early morning protests in Washington D.C. on the outskirts of the National Mall began. Before the inauguration began, the Washington Post reported that teargas was used on a Black Lives Matter protest that occurred in Franklin Square, just around the corner from where the new president was sworn in.
Reuben Rodriguez was among the protesters in Washington and said to a Journal reporter on Friday that he will protest at the march hosted by Boston Women's March for America on Saturday. Rodriguez said that he has stayed in Washington as an intern with the House Democratic Caucus through the University of California Washington Program, a program which he said helped him find his internship. Rodriguez said that he is saddened by the inauguration of Trump and said the Russian government should be investigated on behalf of the hacking accusations.
"I wish it would have been different results," said Rodriguez. "As a Democrat myself we've got to do better next time for the 2018 midterms and the 2020 presidential election to connect more with the people, listen to them and hear what they have to say because we clearly missed the vote of this election year."
By Friday afternoon, news teams from across the country were back in Franklin Square as larger protests demonstrated their frustration as they broke windows of storefronts and waved the red and black Anarchist flag. Although many protesters remained nonviolent throughout both Washington and other major cities in the U.S. such as Boston and New York City, some groups left a trail of damage throughout the Washington area.
Taunts from some protesters in the front row of the inauguration wore shirts that read "R-E-S-I-S-T" and had chanted "We're for an America for all of us," reported the Washington Post.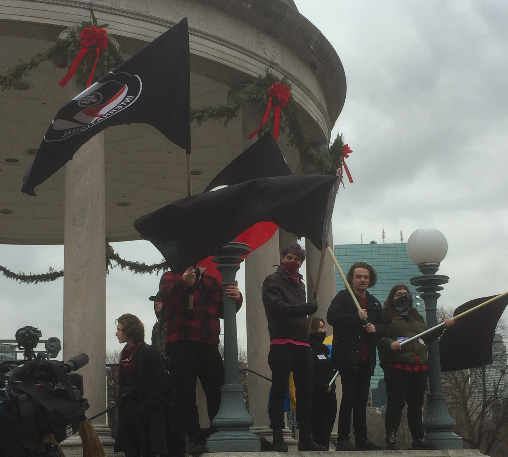 "Every four years, we gather on these steps to carry out the orderly and peaceful transfer of power, and we are grateful to President Obama and First Lady Michelle Obama for their gracious aid throughout this transition," said Trump in the beginning of his speech.
Trump's speech began with a gracious tone as he had thanked the Obama family as well as the former presidents in attendance that were standing on the same balcony. However the language the president chose took a dark and almost call-to-arms approach, as many critics said after the short speech concluded. Many former speech writers of former presidents were on CBSN and critiqued how the speech did not unite the nation through words as they said it should have.
Trump continued to challenge his own party and those who continue to remain in power in Congress.
"For too long, a small group in our nation's Capital has reaped the rewards of government while the people have borne the cost," said Trump. "Washington flourished– but the people did not share in its wealth. Politicians prospered– but the jobs left, and the factories closed."
"The establishment protected itself, but not the citizens of our country."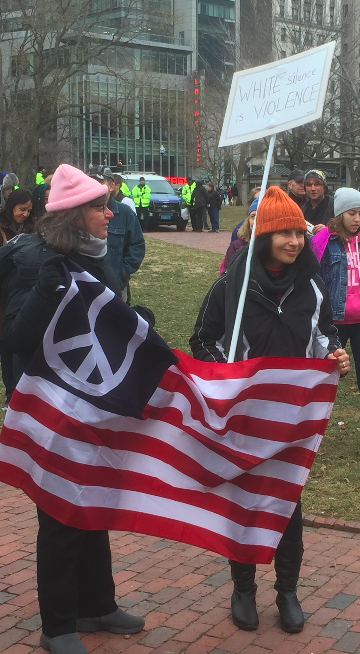 Self-proclaimed Constitutionalist from West Chester, Pa., Ryan Yanoviak is not new to campaigning and protesting. Yanoviak told a Journal reporter at the Washington protests on Friday morning that while he has affiliated himself as a republican, he is not a "neo-conservative" or a "rhino" but said he has stood for freedom, opportunity and hard work. Yanoviak said that he was trained by Morton Blackwell, an institute that "prepares conservatives for success in politics," according to the institute's official website. Yanoviak said that he had worked at every Trump rally in his home state, as well as one in New Jersey, and that his involvement in campaigning for the conservative message has extended back to the elections of former presidents George W. Bush and Ronald Reagan.
Yanoviak said to a Journal reporter that he believed that Trump's support was rooted in the "silent majority" throughout the election season.
"People [supported Trump] but they didn't want to put a bumper sticker on their car and have it vandalized," said Yanoviak.
Campaign signs were exhibited in front of a store or home displayed support during election season, but some people feared vandalism or theft would be the result of them, said Yanoviak.
Yanoviak reflected on a time when a customer entered his business and had asked one of his employees 'when are you going to take down that hateful sign?'
Yanoviak said that this person proceeded to attack him verbally, and said "I hope you go bankrupt"
As a business owner and someone who claimed to have been around many successful people who squandered their wealth, Yanoviak said that Trump's ability to multiply his wealth into the billions is impressive. Yanoviak explained how he had not met many people in the business community that opposed Trump.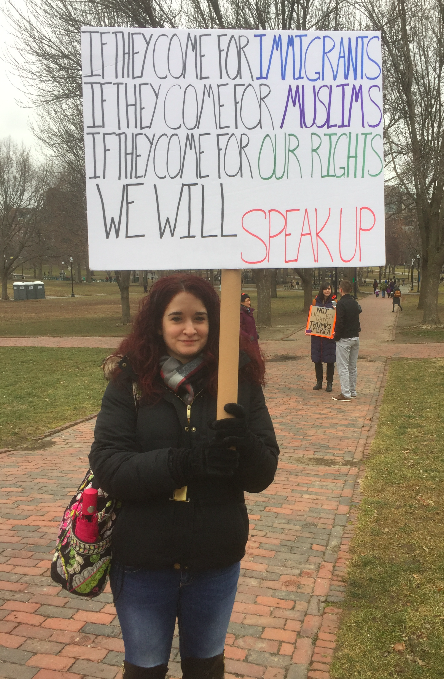 "I'm tired of politicians and attorneys promising and not delivering, and as a business owner, [Trump] understands the hardships and determination that take place to make a business successful and I am hopeful that he'll bring that same energy to the white house," said Yanoviak.
Trump did not make mention of his democratic opponent, former Secretary of State Hillary Rodham Clinton, who only stood a few feet away from him during the inaugural speech. However, Trump honored Clinton during the Congressional Luncheon in front of members of the House of Representatives and the United States Senate and she received a standing ovation from a room filled with allies and opposers. Trump said during the inaugural address that both of the major political parties had lost their ways. He said the Washington elite only took care of their own rather than the needs of the public.
Clinton wore an all-white outfit to the inauguration ceremonies, which some commented was to symbolize women's suffrage. Politico reported that when Clinton had entered onto the Capital's balcony, someone from the crowd had shouted out, "Hillary, we're here for you!"
Former President George W. Bush and his wife and former First Lady Laura Bush stood beside the Clintons throughout the entirety of the inauguration.
The self-declared multi-millionaire discussed the hardships of the struggling citizens and vowed that the nation now belonged to the people.
"January 20th 2017, will be remembered as the day the people became the rulers of this nation again," said Trump. "The forgotten men and women of our country will be forgotten no longer."
After a turbulent campaign season against the polished politician Hillary Clinton, Trump transitioned from former real estate powerhouse to an inexperienced politician. In his speech, Trump assured the nation that the obstacles he spoke out on during his campaign would be the same subjects that would be his priorities as president.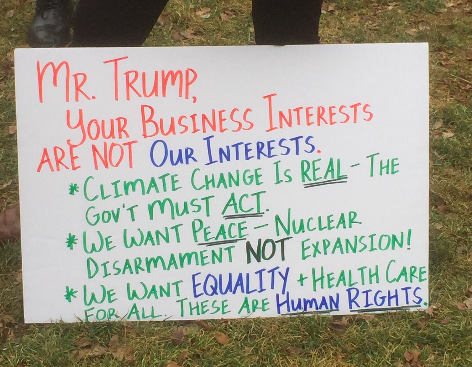 "Mothers and children trapped in poverty in our inner cities; rusted-out factories scattered like tombstones across the landscape of our nation; an education system, flush with cash, but which leaves our young and beautiful students deprived of knowledge; and the crime and gangs and drugs that have stolen too many lives and robbed our country of so much unrealized potential," said Trump. "This American carnage stops right here and stops right now."
Following the closing of the inauguration ceremony, the traditional Congressional Luncheon welcomed members of Congress, among others, to dine with the new president and first lady. Outside of the nation's capital building, however, a bitter tone took place on the outskirts of the National Mall that included an estimated 95 arrests as of late Friday night, according to the New York Times. CBSN reported Friday night that police units barricaded five times as many roads in Washington as they normally do for the inaugural parade in order to ensure security surrounding the new administration and their families.
In Boston, several small groups from across New England joined together for a 75-100 person protest on Boston Common. Some stood on the gazebo on the Tremont Street side of the Common where a group of people wore all black and waved anarchy flags. Others on the grass waved Rainbow Pride and American Peace flags and shouted out periodically with homemade signs. Boston police officers surrounded the outskirts of the protestors from afar in groups of units that had stretched out to the edge of the Common and upward toward the Massachusetts State House. Units of officers had spread out sporadically throughout the downtown and Beacon Hill area from Ashburton Place to Boylston Street.
Lauren Bonilla, a researcher from the Boston area who was apart of the protest told a Journal reporter that she hoped more people rise up to assemble and speak out against the new president. Bonilla, who worked in London, England missed the primaries and said she felt as if she is getting reaquainted to the country.
"Just coming back and seeing what it's like here in America now- it's surreal," said Bonilla.
One Boston police officer told a Journal reporter on Friday mid-afternoon that the reason for so many police officers in the area was in case of a group that supported the new president came to taunt the group that was already present on the Common at that time.
"We are here just in case," said the officer. "We don't want violence here in Boston."
A march hosted by Boston Women's March for America is scheduled to take place in Boston on Saturday in response to Trump's inauguration.
After the ceremonies ended, some politicians took to social media in order to voice their extended concern on the new administration. Representative Adam Schiff (D-California), a member of the House Intelligence Committee, tweeted after Trump was sworn into office.
"President Trump's dark portrait of America, crime ridden and weak, makes me long for Obama. Miss his optimism and hope and it's only been an hour," wrote Schiff.
On Friday evening, Schiff turned to Twitter once again.
"Today, we heard President Trump's dystopian message for America. Tomorrow, we march to show him we will not be silent," wrote Schiff. "Let's get to work."