Un-veiling new show, new talent: SU's "Margo Veil" is hilarious, emotional, raw and a must-see
November 16, 2016
Amidst a swirl of lights and color, Suffolk University's latest production "Margo Veil," held its final week of rehearsal before opening Thursday Nov. 17. at the Modern Theater.
Margo  Veil, Sarah Vasilevsky,  is an aspiring actress who is in the midst of a tour of a terrible play. Coached through her life decisions by two narrators, Andrea Royo and Erica Lundin, acting as her verbal conscience and/or little voice inside her head, she becomes romantically involved with playwright Arthur Vine, Ma'Chel Martin,  who is a huge proponent of using the service Big Betty, Annalise Fosnight, which enables people to switch bodies with another human being on the earth.
Both Margo and Arthur partake in the event after they commit a murder and want to escape the police. Margo inhabits a blind girl from Lithuania,  Ruta, Erica Wisor, and Arthur becomes famed actor Edgar LeStrange, Matt Bittner, who suffers from memory loss but seems to take on his critically acclaimed role of poisoner.
What is interesting about this performance is that its 36-member strong cast has the ability to showcase multiple different characters in a single show. Each cast member is given the opportunity to shine as someone else besides their main character.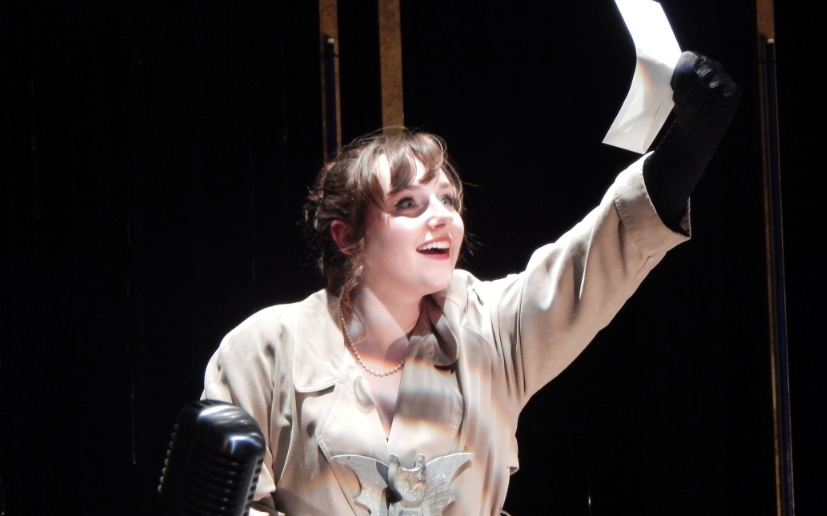 Vasilevsky played on Margo's naivety and innocence and truly brought another level to the performance, doing exceptionally well along side of Martin's Arthur. The pair had a great stage presence and demanded attention when delivering the plot.
The narrator's Royo and Lundin were perfect with their onstage flirting and giggling between each other. Their meddling within the plot line generated laughs with dark and dry humor. Matt Bittner's performance as Edgar LeStrange was captivating from start to finish. His portrayal of LeStrange and his interactions amongst the rest of the cast was mesmerizing. The entire performance was entirely well done and flawless.   
With such a complicated and intense plot line, the characters truly sold the nature of the story. A Len Jenkin play, the performance shows just how messy life can get in the blink of a dream sequence. The interweavings of the numerous stories within stories mixes in with the overarching story, establishing the idea of illusion mingling with reality. Ultimately serving an incredibly detailed and complex tale of mischief, magic and managing to get through it all unscathed.
Director Wesley Savick hopes that the show acts as an escape for Suffolk students who are still reeling from the antics provided by the most recent election. Margo Veil is Savick's third Len Jenkin production.
"It's a celebratory play," Savick told The Suffolk Journal in a post-show interview. "Imagination, theatricality, and wonder. Those forces are rejuvenating for a partially broken spirit. Suffolk students have certain feelings regarding the election."
"[This show] is a sense of wonder, which is a great environment to be welcomed into," said Savick.
Production manager Jim Bernhardt acknowledged that the show is unique and challenging. "It's an ambitious piece, it only runs 75 minutes and the majority of the 36 performers are playing multiple roles," he said. "We're very excited."