Eyes on America: Campaigns cause discourse within Suffolk's international community
September 29, 2016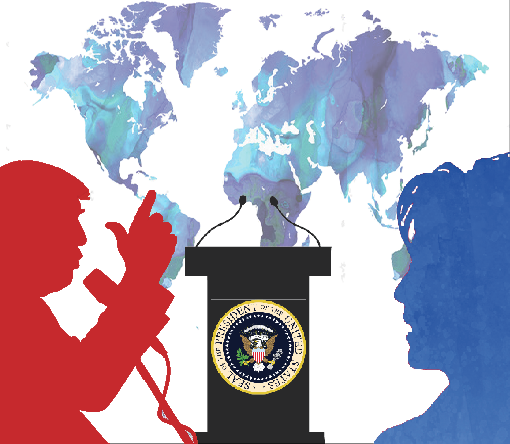 The fanfare surrounding the 2016 election has stirred up a media frenzy that has magnified the United States' partisan personality. American citizens have vocalized their election opinions vehemently, but a conversation within the global community has been provoked as well. This is the first presidential election that most international students, embedded in the U.S., have experienced. Living in the country during such a polarizing time has made a strong impression on the international student population, calling into question western politics and the U.S. democratic system as well.
"As an international student, this is my first time witnessing the election process," said Rana Tarabzouni, a junior International Economics major from Saudi Arabia. "I didn't expect the presidential debates to be the way they are; I expected candidates to present their policies and persuade voters to vote for them. A big part of this election has been all about ridiculing the candidates of the opposing political party."
An aspect of the election that has been particularly eye-opening to these first time spectators is the slew of primaries and caucuses that slashed more than twenty presidential candidates down to a field of virtually two contenders. The amount of independence that each state has, as well as the delegate point system, heavily contrasts the majority of international electoral processes.
"I thought the voting process would be fairer during this phase. In multiple cities across the U.S., voters were denied their rights to vote for the silliest reasons," said Tarabzouni. "I think it would be more democratic if 'superdelegates' didn't exist. They each hold equal value because each county only gets one superdelegate, even though one county clearly might have a lot more people than the other."
Both candidates are disliked to an unprecedented degree; a recent Gallup poll registered that 25 percent of Americans have a negative view of both candidates. This, combined with their data that only between six percent to eight percent of Americans remain undecided on their candidate, paints a divided country. A palpable tension has built up in the wake of a national schism that has been felt by the international community.
"I feel like the rest of the world is looking at this as an IQ test and I pray for the American people everyday," said Fatema Mohamedah from Kenya, a senior Global Business and Marketing major. "Holding them accountable isn't as easy as it looks. It's like picking the lesser of two evils."
The brass rhetoric of the election has also proven surprising to many foreign students who are not accustomed to such a theatrical political process. For some, the election has been headlined by mudslinging and increasingly quarrelsome jargon that goes above and beyond the usual melodramatics of American politics.
"The corrosive impact of the discourse, name calling is upsetting," said Rachael Cobb, Suffolk Associate Professor and Chair of the government department. "It's hard to understand the American system. A lot of students who I've talked to are trying to make sense of it and trying to figure it out."
The alienating language and questionable behavior of the candidates has confused international students about how Secretary of State Hillary Clinton and businessman Donald Trump became the party nominees.
"It feels to me that they're doing everything they can not to win the election, but to tear down the other candidate," said Charles Tang, an undeclared sophomore from Hong Kong. "To them it's like winning is more important than governing."
Donald Trump, the non-establishment Republican candidate and entrepreneur, has faced scrutiny from the international community due to his campaign centered around a strict, jingoistic foreign policy. His supercilious nature and patriotic message is something that appeals almost strictly to a specific demographic of white men, according to a number of polls, while alienating many other audiences.
"Where Trump comes from is a, more biased, form of American exceptionalism. It's a routine centered around being number one," said Associate Professor Robert Rosenthal and Chair of the department of Advertising, Public Relations and Digital Media. "A lot of international students have come up to me and asked why we're so concerned being number one."
Comments that Trump has made about China, Mexico and Muslim Americans have resonated with an apprehensive American public that is looking for answers, but they have not landed so well with students who have come to Suffolk with student visas.
"I wouldn't vote for Trump because I think he hates foreigners," said Cheikh Diop, a senior Biochemistry major from Senegal. "I was quite surprised when Trump got this popular."
Clinton's foreign policy, compounded with her involvement in overseas conflict, has not scored her many points with young international students. Those who have witnessed a U.S. presence in other countries, have been turned off by Clinton as well.
"As a Muslim and Arab student, Trump scares me," said Tarabzouni. "He wants to ban Muslims, but Clinton scares me because she has a record of supporting wars and bombing regions in the Middle East."
Although the disdain for Trump's larger-than-life personality is present, there is also a clear sense of distrust in Clinton within the international community. This skepticism mirrors the statistical reaction that many American-born voters have had toward the Democratic candidate.
"I would probably vote for Hillary because people need to not go for Trump," said Tang. "I love Barack Obama, and I feel like Hillary is just a less competent version of Obama and I'm okay with that."
Despite the fact that these students don't have the ability to vote in this election due to their international student visas, a sizeable portion have taken a side. In contrast, there are international students who would refrain from voting due to a lack of viable candidates, an act of civil disobedience often ridiculed by the American public.
"I don't like any of the candidates," said Farouk Abdelmoniem, an undecided freshman from Egypt. "I wouldn't vote at all if I could. Both of them are using their own strategies to win, but I don't think they'll do what they say"
Only time will tell how the political saga will unravel and who will be the next commander-in-chief. Calls of concern and confusion have been echoing through Suffolk's global community and spurred political discourse across campus.