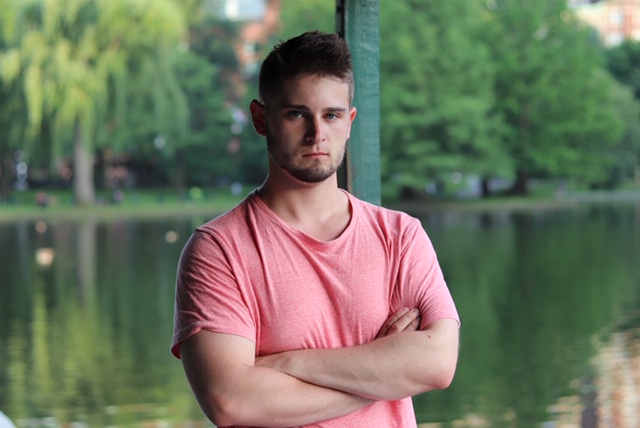 Vermont native Ryan Arel is a junior, a former Arts Editor and former Opinion Editor for The Suffolk Journal. A print journalism major and economics minor, Ryan aspires to become a versatile writer who can cover any story of any topic that is worth telling.
Passionate about sports, photography, and history, Ryan also hopes to write and research in a way that makes complex issues easier for readers, and himself, to understand.
After leaving Suffolk, he hopes to work in the media field and stay in Boston, but he does not duck away at the idea of maybe traveling someday for work. When he isn't in the office, he can be found scream-typing homework assignments and stories, at the gym, watching "The Office" reruns or The Red Sox, his favorite sports team.
Follow Ryan on Twitter @ryanarel.
Ryan Arel, Senior Staff
Nov 13, 2019

CAS faculty vote against arming SUPD

(Story)

Nov 06, 2019

"The customer is always right" says more about us than we think

(Story)

Oct 23, 2019

Chief of police leaves Suffolk, accepts position at Tufts

(Media)

Oct 02, 2019

No vote for arming campus police officers— yet

(Story)

Apr 24, 2019

SUPD dispatcher removed from duty after arrest

(Story)

Apr 10, 2019

Artists' work must stop going unappreciated

(Story)

Apr 10, 2019

SGA votes to endorse arming of Suffolk University police, awaiting Board of Trustees for final say

(Story)

Apr 04, 2019

Student Government Association votes to endorse arming of Suffolk University police

(Story)

Mar 06, 2019

Spreading the wealth: Business professionals share how to capitalize on early career years

(Story)

Feb 27, 2019

Level the proposed tackling bill before it gets reviewed

(Story)

Feb 20, 2019

SUPD officials say officers should be armed

(Story)

Feb 06, 2019

Suffolk looks to revisit SUPD arming question

(Story)

Nov 14, 2018

Healthy Minds Alliance and Photography Club offer platform for students to share their stories

(Story/Media)

Nov 14, 2018

Suffolk Professor Feature: Trabold reflects on experience in post-apartheid Africa

(Story)

Nov 14, 2018

Suffolk professor's original play "Loss of Breath: The Unfinished Life and Death of Edgar Allan Poe" debuts Thursday at Modern Theatre

(Story)

Nov 07, 2018

Mental Health Awareness

(Story)

Oct 24, 2018
Oct 10, 2018

"Oceans Ventured: Winning the Cold War at Sea"

(Story)

Oct 10, 2018

Mexican playwright merges conflict with theatre in play 'The Crossing'

(Story)

Oct 03, 2018

Economics and the environment: Finding the balance

(Story)

Sep 27, 2018

How dare you, Nike?

(Story)

Sep 27, 2018

Human Flow: A deeper look at refugee suffering

(Story)

Jun 01, 2018

Calling all artists: Annual music festival Boston Calling brings artists of all genres including the "Rap God" Eminem and alternative rock legends "The Killers."

(Story)

Apr 18, 2018

Run Boston Strong

(Story)

Apr 18, 2018

Commentary: Baseball brawls are part of the game

(Story)

Apr 17, 2018

Attempting change: State by state, how effective is gun reform?

(Story)

Apr 06, 2018

Democracy vs. Drama, withstanding the tests of time

(Story)

Apr 05, 2018

Suffolk Dance Company leaves it all on the stage in latest performance, "Sincerely Yours"

(Story)

Mar 27, 2018

Rams senior captains lead legacy

(Story)

Mar 27, 2018
Mar 27, 2018
Mar 27, 2018

Greg Speliotis, #22

(Story)

Feb 27, 2018

It's the end of the world as they know it

(Story)

Feb 27, 2018

Swinging for a fourth title

(Story)

Feb 14, 2018

Comedy to address conflict

(Story)

Feb 13, 2018

Payment is due: Division I athletes should be compensated for their commitment

(Story)

Jan 31, 2018

Students could be the catalyst for change

(Story)

Nov 15, 2017

Dance Company prepares for fall showcase "Revival"

(Story)

Nov 08, 2017

The US can offer help but should not do the dirty work

(Story)

Nov 08, 2017

National anthem protests conversed at Suffolk

(Story)

Oct 31, 2017

Ramifications reverberate across Boston

(Story)

Oct 25, 2017

Media critique: What is newsworthy?

(Story)

Oct 12, 2017

Suffolk panel tackles America's worldwide war on drugs

(Story)

Oct 04, 2017

Kneeling: A form of protest

(Story)

Sep 27, 2017

First down for Suffolk flag football

(Story)

Sep 20, 2017

Students flock to Suffolk from all corners of the globe

(Story)