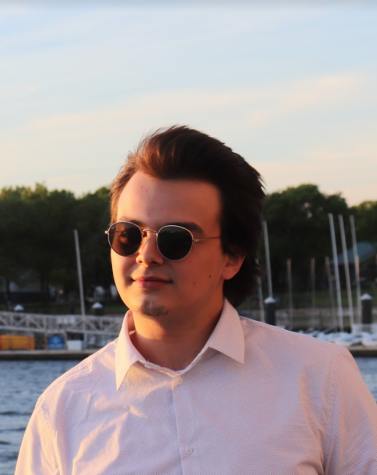 Nick Viveiros is a senior majoring in Politics, Philosophy & Economics and Journalism. Born and raised in Fall River, MA, he began writing for the Journal in the fall of 2016.
Nick works as a Customer Service Representative at Dependable Cleaners, where you can find him stressing about trucks full of clean clothes coming in late. Back home, Nick works as a tour guide at the Lizzie Borden Bed & Breakfast Museum.
Nick published his first book, the poetry collection this new world, during his first semester of college. His second book, Zodiac for Love Fiends, will be released through his own publishing company, Quequechan Press, in late 2019. Nick is also passionate about music, having played trumpet since he was eleven and guitar since his freshman year of high school.
Follow Nick on Twitter @thenickviveiros 
or head on over to his website, nickviveiros.org
Nick Viveiros, Assistant Opinion Editor
Jun 03, 2019

When "Pro-Life" isn't pro-life

(Story)

Mar 27, 2019

More students would vote in student elections if they felt their concerns were being addressed

(Story)

Feb 27, 2019

Democrats anticipate a crowded 2020 primary field

(Story)

Feb 20, 2019

Ralph Northam administration: Politics over core values

(Story)

Dec 05, 2018

Mechanical issues plague MBTA as winter approaches

(Story)

Dec 05, 2018

77th annual tree lighting signifies the beginning of the holiday season

(Story)

Nov 14, 2018

Banding together through jazz: Suffolk Jazz Band plays at "Ramsgiving"

(Story)

Nov 07, 2018

Jamal Khashoggi's death: A national wake-up call

(Story)

Nov 01, 2018

Trump mulls revoking birthright citizenship

(Story)

Oct 24, 2018

Close race as midterms approach

(Story)

Oct 24, 2018

Harvard admissions process on trial

(Story)

Oct 18, 2018

Correia indicted on charges of fraud

(Story)

Oct 10, 2018

Supreme Court Justice confirmed

(Story)

Sep 27, 2018

Kavanaugh could fill the position of an unjust America

(Story)

Jun 01, 2018

Commentary: Korean conflict on the horizon – or not?

(Story)

Apr 24, 2018

Trump has signed a death warrant for the environment

(Story)

Apr 18, 2018

"Traditional journalism is in trouble:"

(Story)

Apr 11, 2018

On the scene: How local reporters covered the Boston Marathon bombing

(Story)

Feb 21, 2018

America, is it finally time?

(Story)

Feb 13, 2018

Does the US need a third political party?

(Story)

Nov 08, 2017

Sexual assault allegations reveal Hollywood has a problem

(Story)

Sep 20, 2017
Apr 26, 2017

Cabaret: Spotlight shines on Rampage show Choir's Cabaret

(Story)

Apr 26, 2017

Commentary: French populism finds its face in Le Pen

(Story)

Apr 19, 2017

Body of Missing Man Found in Charles River

(Story)

Mar 06, 2017

Pope Francis elicits praise, criticism for Trump comments

(Story)

Feb 22, 2017

Suffolk makes a difference for local pediatric cancer patients

(Story)

Feb 15, 2017

The year of the rooster

(Story)

Feb 15, 2017

Local activists lead National Day of Jewish Action for Refugees

(Story)

Feb 01, 2017

Trump gets to work, signs seven executive orders

(Story)

Oct 26, 2016

What locker room does Trump change in?

(Story)

Oct 05, 2016

Suffolk on top: University ranking by WSJ names Suffolk in top 25 percent

(Story)

Sep 29, 2016

Law Dean takes position to bring innovation to legal services

(Story)