Around the NHL: Big Stars Sidelined with Major Injuries
Hang on for a minute...we're trying to find some more stories you might like.
Roy Ben-Joseph  Journal Staff
In January 2011 during the annual Winter Classic game, Pittsburgh Penguins star Sydney Crosby was drilled with a shoulder to the head from the Washington Capitals' David Steckel and suffered a major concussion. Not only did Crosby miss the rest of the 2011 season, he also missed almost the entire 2012 season, returning only on March 14, months after the injury. His line mate in Pittsburgh, Russian forward Evgeni Malkin, was looked upon by his teammates as the one who is going to have to step in to the role of Crosby and lead the team forward. He has more than lived up to expectations. Malkin is the reigning NHL MVP following his career-best performance in 2012 in which he scored 50 goals and assisted on 59, giving him a total of 109 points. With Crosby healthy and back playing with Malkin, it was supposed to be a full strength year for the Pens, until Friday. During a game between the Penguins and the Florida Panthers Malkin lost his balance during a battle for the puck and collided with the boards while his head snapped backwards in a very awkward way. The Penguins diagnosed him with a concussion and placed him on injury reserve without any timetable for return.
Unfortunately for many hockey fans, the reigning NHL MVP is not the only star to sit out due to an injury. In the past off season, the New York Rangers traded forwards Brandon Dubinsky and Artem Anisimov (who himself suffered a concussion last week) plus a top prospect and a first round pick in the 2013 draft to the Columbus Blue Jackets in exchange for their star and franchise player, Rick Nash. Nash was looking great in John Tortorella's line up and didn't seem to have any acclimation problems. But last week, without any notice, the Rangers placed Nash on the injury reserved list with an "undisclosed injury".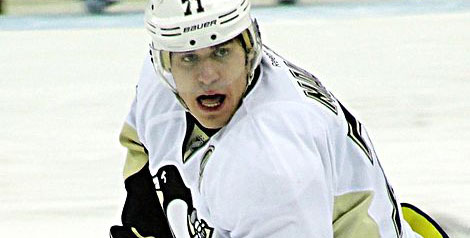 The Rangers are taking a lot of fire from the New York sports media for being so discreet about Nash's condition. Although the Rangers are not confirming any report, many people believe it was a nasty hit from Milan Lucic of the Bruins on Nash that might have caused some kind of an upper body injury, possibly a concussion. The hit occurred in the third period of the Bruins vs. Rangers game in Boston's TD Garden, behind the Rangers net. Nash looked like he was shaken up on the play and the first thing he did after stepping on his skates was to chase Lucic down the ice and try to confront the big bad Bruin forward, something that caused Nash a minor penalty for hooking. Both Lucic and Nash are big guys standing 6'4 and over 220 pounds each. Lucic is a great fighter and is much loved in Boston for the way he stands for his teammates. Rick Nash is one of the most talented hockey players on the planet, his stick and puck handling and quickness are at the highest pro levels. Nash left Columbus as the franchise leader all-time in goals, assists and points. The Rangers have gone 0-2-1 without Nash and have scored only three goals in his absence.
The Ottawa senators have lost their two best players, reigning Norris Trophy winner (defensive player of the year) Erik Karlsson to a lacerated Achilles tendon and center Jason Spezza with broken back. Despite those major losses, the Senators are only one point away from leading their division. It was great coaching by Paul Maclean and players such as Kyle Turris who stepped up to keep Ottawa in the picture.
The only question remaining is if Sydney Crosby will step up for his Penguins team as Malkin did in his absence and will veteran players like Marian Gaborik and captain Ryan Callahan do the same for the Rangers in order to fill in for a very talented and valuable teammate. Hockey fans from both teams can only hope for that result, but the truth has yet to be seen. With that being said, it will be very important for the NHL to get those elite talented players back as soon as possible.