COLLEGEFEST 2012: Orange Soda Edition
The largest back to school event has arrived and departed once again! Collegefest 2012 had yet another year of success at the Hynes Convention Center. Hundreds of exhibitors set up booths with free giveaways for the weekend event. Collegefest 2012 attracted thousands of students with the lure of free stuff and live entertainment. Among the most advertised and prominent faces at the event were musicians Wale, headlining on Saturday, The Cataracs, headlining on Sunday, and of course Kel Mitchell of Nickelodeon's famed Kenan and Kel— host to both days. Each of these entertainers created a fun, energetic, and entertaining environment that resonated throughout the event.
Each day the entertainment lineup changed, and live music was constantly being performed on both a side stage in one isolated room, and a main stage in the other, allowing a constant flow of energy and positive atmosphere available to all attendees throughout the weekend. The headliners, Wale and The Cataracs, were highly anticipated, and they really provided an impressive set of performances.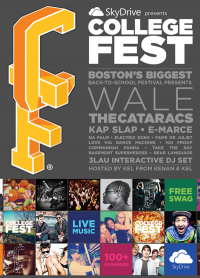 Among the most popular exhibitors were the ones giving away free stuff without much commitment, aside from the occasional email sacrifice. Vendors included Student Universe, Smartcar, Monster Energy, Rockstar Energy, Ready U, Bananagrams, and the main sponsor, SkyDrive. Each of these booths, along with others, had pens, shirts, water bottles, drinks, etc. It is these brands that are most recognized due simply to the fact that students remember how easy it was to get their free items. This is the realistic point of the event: to get exposure for organizations and businesses. It's a very beneficial event to take part in.
One of the most important people at an event like Collegefest is of course, the host. As host, Kel Mitchell provided students with an incredibly energetic wave of excitement. His good-natured persona established the right kind of mood for such an upbeat and large event. There was definite success on behalf of him, and on behalf of Collegefest as a whole.