J. Cole performs to students in Lowell
Hang on for a minute...we're trying to find some more stories you might like.
Melissa Hanson  Journal Staff
J.Cole's current tour featured a stop to perform for the University of Massachusetts Lowell at the Tsongas Center last Friday. The event was sold out to thousands of fans, according to the Tsongas Center website.
The doors opened at 6:30 p.m. for UMass Lowell students, and at 7:00 p.m. for the public, but the lines began at the door long before opening, as fans were eager to see the German rapper.
At 8 p.m., the show kicked off with a performance from Starshell, a member of Mary J. Blige's record label, who performed her hit "Birthday Girl" with two back up dancers. The next pre-show performance was Moufy, who came on stage about a half hour later and gave shout outs to his hometown of Boston between songs. Moufy is a part of the Star Gang and sang a few songs including "Throw My 3s," which allowed him to get the crowd involved with his performance. There was also a DJ present to keep the crowd entertained between the performances.
Just after 9 p.m., J.Cole took the stage and the crowd went wild. The Grammy-nominated rapper began the show with some of his older songs. He was on stage with not only his DJ but also accompanied by a drummer, who according to J.Cole's Twitter, was a new edition to his tour. The first songs performed included "Nobody's Perfect" and "Lights Please," both from his current and only album, "Cole World: The Sideline Story." He greeted the fans by saying how happy he was to be in the "Mill City" and then went back into the music. After the first few songs, J.Cole began to talk about his life, growing up in the south, and then especially about his years in college at St. John's University, which allowed him to connect and interact with the audience. He said that although he studied hard throughout college, music was always his dream, and he had worked so hard until he was finally signed to Jay-Z's record label.
At this point, J.Cole performed some of his more sentimental songs like, "Daddy's Little Girl" and "Lost Ones" which touch on issues like innocence and abortion, which drew emotion from his fans. But it wasn't long before he got back into his upbeat songs like "Nice Watch," to get his fans even more excited. Although many of the songs J.Cole sang were from his current album, he also sang music from his former mix tapes, including "Higher," and "Blow Up." The performance was enhanced by colored lights and strobe lights through all his songs and the crowd was constantly singing along and shouting "Cole World." Before the end of the concert, J.Cole surprised the fans by coming out in a UMass Lowell sweatshirt. He finished the concert with his hits, "Workout," "In the Morning," and "Can't Get Enough."
Suffolk Junior Romulo Reis attended the concert and said, "I thought it was a great show all around, from the crowd to the stage setup. It was exactly what I had expected it to be."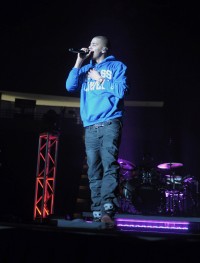 The concert ended at about 10:30 p.m. and fans were looking for an encore. His tour continues and will stop next at the University of Michigan.