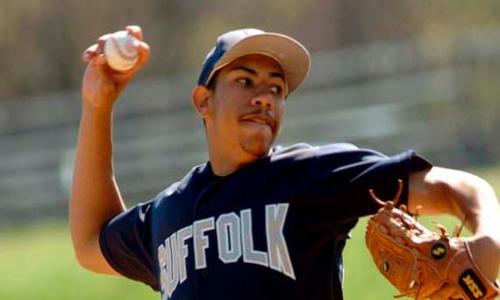 As the weather starts to warm up here in New England, the Suffolk University men's baseball team has been hard at work down in Florida where they have officially thrown out the first pitch and have started the 2012 season.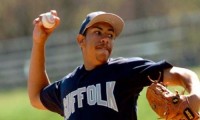 Last season, Suffolk posted a 24-21 record overall, reaching the Eastern College Athletic Conference semi-finals but losing to the top-seeded Endicott College.
This year, the Rams are again looking to make some noise in the Great Northeast Athletic Conference and once again punch their ticket to an ECAC tournament berth.
Head Coach Carey McConnell continues to be the driving motivation for this year's Rams squad. After a victory versus Johnson and Whales during the GNAC tournament last season, McConnell recorded his 400th win as Suffolk University skipper. McConnell was hired in 1996 and has since won five GNAC Coach of the year awards and four GNAC championships.
Last season was also the 13th consecutive year Suffolk has posted a 20 or better win season.
Two freshmen will look to continue their first-season success with the Rams. Devan Jones (SS) and Jake Cintolo (3B) will spend a lot of time next to each other as each play short-stop and third-base respectively. Last season, both players received NEIBA (New England Intercollegiate Baseball Association) second team honors and were two of 52 selected.
Cintolo was impressive at the plate to say the least, breaking the Suffolk University record for hits in a season with 77 (previous record 69).  The third baseman finished the season with a .438 batting average and drove in 31 runs.
Jones finished the 2011 season right where he started, in the three-hole for coach McConnell, a lot of pressure for a freshman. Jones must have enjoyed the pressure as he posted a .361 batting average and led the Rams in RBI's with 45. This freshman also led the team in extra base hits with seven home runs, 12 doubles, and four triples.
McConnell was encouraged by his young right side of the infield.
"Both Devan and Jake had tremendous freshman campaigns and we hope they continue to build on their early accomplishments to have productive successful careers here at Suffolk," said McConnell. "Both players are tremendous workers and are both students of the game, which should bode well not only for them as players but us a program."
In their first 10 contests of the season, Suffolk has found itself in the win column only three times.
Sophomore first baseman Mike Muse has stood out as he leads the team with a .368 batting average, five RBI, and one home run. Sophomore short stop Devan Jones leads all Rams with nine RBI.
On the mound, junior right-hander Jhonneris Mendez has been impressive through two games. Mendez posts a record of 2-0 with a 1.20 ERA. Mendez has also fanned 14 batters in 15 innings of work.
The Rams have returned home from Florida and will play away at Babson this afternoon.
Their next home game will be played on Saturday in a double-header against Rhode Island College.