Women's volleyball hoping to finish strong
Alex Mellion
Journal Staff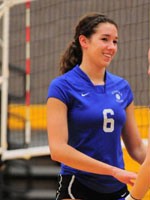 The Suffolk University women's volleyball team eked out a five set victory against Curry on October 20th. The Rams won the first two sets by eleven and ten points respectively, before Curry came back to take sets three and four.  The Rams took the final set 15-7 and improved their record to 10-16.
Senior Melissa Griffin led the Rams with 17 kills and 14 digs, and sophomore Colbey Kennedy recorded a game-high 27 digs.  Against Johnson & Wales on Tuesday, the Rams were simply overmatched, losing in three straight sets 25-16, 25-9 and 25-22.
It has been an up and down season for the Rams, as their record currently sits at 10-17, with a 3-8 mark in the GNAC conference.  The team has two games left, and both will come this Saturday, first against Lasell then against Pine Manor.
Young players have been stepping up for the team however, as sophomores Maggie Hillman and Colbey Kennedy lead the team in kills and digs respectively.
While they certainly won't be competing for a conference title this season, there is a chance that the team could find itself in the thick of the GNAC hunt next season, as the team will only graduate two seniors, and will return the other 12 players for next year.
Leave a Comment