Shooting at Mass. General building leaves one dead
By: Clay Adamcyzk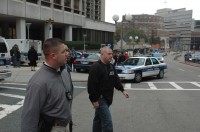 A 37-year-old psychiatric patient was shot by an off duty security guard after repeatedly stabbing his female physician shortly after 2 P.M. Tuesday at a MGH bipolar clinic and research center located at 50 Staniford St., just a block from Suffolk's Ridgway building.
The patient, identified as Jay Carciero, was later pronounced dead at Mass. General Hospital.  The off duty security guard and special officer, fired on Carciero after he refused to drop the knife, according to Boston Police Commissioner Edward F. Davis. He was not identified, and detectives are currently investigating the incident based on forensic and ballistic tests as well as multiple witness accounts, as is procedure for all unnatural or unintended death.  The physician was rushed to MGH in critical condition, but was updated as stable latter in the evening. Though her name is currently being withheld, the Boston Globe, citing a relative, identified the victim as Dr. Astrid Desrosiers.
Staniford St. was closed off for almost an hour as dozens of police descended upon the area and news crews gathered. During this time, employees and visitors of 50 Staniford were asked to remain inside until it was deemed safe to exit and re-open the facility.