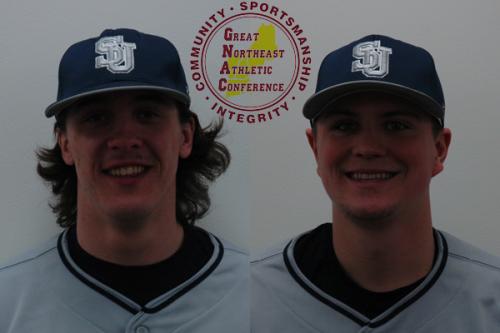 The men's baseball team made their annual trip to Winter Haven, Florida, to kick off the new season on March 11, and in the process won five of their first eight games. With their impressive first week of games also came some accolades from the Great Northeast Athletic Conference. Freshman Devan Jones was named GNAC Rookie of the Week for his monstrous eight-game stretch to start the 2011 campaign. The rookie infielder hit .382 during the team's southern trip, leading the team with five extra base hits. In the Rams' 11-7 victory over Curry College on March 17 Jones hit the go-ahead grand slam in the sixth inning. He also drove in eight runs and totaled 13 hits.
In addition, sophomore Matt Sliney was named to the GNAC Weekly Honor Roll. Sliney, a left-handed pitcher for the Rams, picked up a win and a save during the team's opening stretch of games. During the Rams' 13-7 win over Stevens Institute on March 13 he pitched five innings while giving up three runs. In the Curry win he came out of the bullpen to record his first career save.
The team opens up an important stretch of games against conference opponents on April 2. Having played all their games against non-conference teams so far, their 8-5 record is very respectable. With that said, the team's upcoming four games in two days against Rivier and Emerson will certainly give the team a better idea of where they stand in the GNAC.  With the season stretching all the way until May 8, the team has plenty of time to create an identity for itself. Now is the time to win the important games, and get a leg up on the rest of the teams in their very tough conference. Regardless, the team has to be happy with the early returns, and will look to expand on that success.