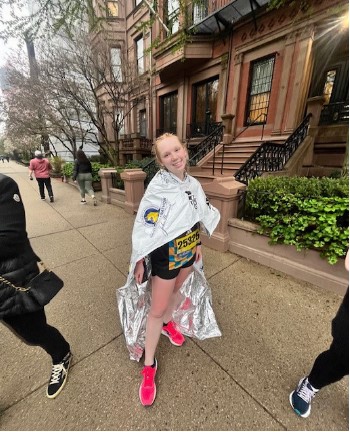 Suffolk University's own Rochelle Casey ran the 127th Boston Marathon April 17. Casey, a junior business management major from Dedham, is a member of the women's soccer team. 
Casey said the tracker in her bib stopped working at mile 13 due to the weather. She is still waiting for the Boston Athletic Association to contact her with her official finish time, but her guess is under 5 hours. Speaking generally about the marathon, she said despite her being sick that week, she thought she did her best.
"I had laryngitis last week, I didn't run what I thought I was going to run," Casey said. "But for the condition I was in, I thought I did well."
Casey said being on the soccer team helped her train for the marathon.
"This spring season we've been doing a lot of conditioning and sprinting, so it's definitely helped with my endurance," said Casey.
Casey's team and coach came to support her, which she said was a huge help. 
"When I was raising money to run, they all donated," said Casey. "They tracked me most of the race until they couldn't find me anymore, they were super supportive."
Casey ran the marathon for Boston Children's Hospital. In 2021, a friend of hers got into an accident and was treated there.
"Unfortunately, he passed away, but I was running in his memory, and to raise money for the hospital he was treated at," said Casey. 
This year was the 10th anniversary of the Boston Marathon bombings, which left three people dead and 281 injured. Casey said her experience at the bombing played a part in her dedication to running this year.
"I actually was at the marathon ten years ago. My mom ran her first Boston Marathon in 2013 and my dad, my two siblings and I were at the finish line when the bombs went off," she said. "In addition to running for my friend I was also running for the ten-year anniversary."
When asked if running the marathon was a one time thing, Casey said that she would do it again, looking back on it now.
"Honestly, before I ran, I said, 'One and done.' As I was running I still thought that, but now I would do it again. It's an incredible experience, and I want to redeem myself, hopefully I'm not sick again when I run it," she said.
Casey encouraged anyone that is thinking of running a marathon to do it, even if you don't think you can do it right now. 
"It's such a rewarding experience, anyone could do it, so you should," she said. 
Follow Tracy on Twitter @tracylacara4