FEATURE: Fall and its reflections
Golds, oranges and reds cover the ground in a brilliantly vibrant collage. It's chilly, the Boston breeze relentless in its blowing, but the sun shines down and warms you. The grocery stores smell like cinnamon, there's apple cider on the shelves and pumpkin spice has made its triumphant return. 
Although pumpkin spice isn't my cup of tea — or coffee — autumn sits securely in its place on top of my seasonal ranking. 
There is something to be said for the way the last throes of summer slip away with an unspoken promise to come again. The world puts on a show, bringing out its best colors to bid summer farewell and welcome winter. The daytime temperatures are near-perfect, the color palette is stunning and there are plenty of activities to do with friends and family. 
I've always been partial to the corn mazes, tree farms and pumpkin patches of eastern Pennsylvania, and the way the rolling mountains explode in an array of colors, if only for a few weeks. 
I remember taking school field trips to go apple picking or carve pumpkins, or to run through the twists and turns of the never-ending corn maze, trying to complete the hole-punch card first in hopes of winning a free slice of apple pie at the end. 
Or the haunted house that I volunteered at for most of my life, tucked away in its own corner of an insignificant town. The creek ran through the woods softly trickling, my boots and jeans were always stained with mud and fallen leaves crunched as people crowded in line. Haystacks lined the wagons and actors wandered around scaring unsuspecting patrons — or better yet, those who thought themselves "too tough" to be scared. 
And later, when the line had died out and it was far past time to go to sleep, the crew would crowd around the bonfire wrapped in jackets and scarves and blankets with hot chocolate or warm cider in hand and share stories from the successful scares of the night. 
My dad and I would rake the leaves in the yard into a pile to rival Mount Everest, and my three younger sisters and I would spend the day scattering them about again, jumping in them and throwing them at each other. We'd find maple tree "helicopters" to spin and watch fall back down to the earth, or peel apart the back of them and stick them to our noses. 
It seems to me that there is something about the season that everyone can find to love, whether it's the flavors of fall, the colors that pop up everywhere, the way the season seems to bring people together, or the return of sports like football, hockey and basketball. 
And, of course, you can't forget the movies that come with autumn. From Hocus Pocus to The Corpse Bride, to full-on horror movies, you're bound to find a favorite. 
Some of my best memories have come during autumn, and I'm looking forward to making more this year. 
Leave a Comment
About the Contributor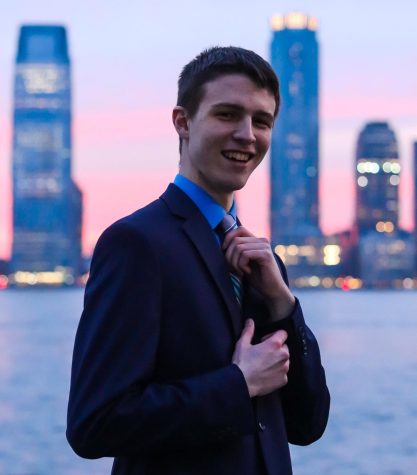 Jamie Taris, Web Editor/Asst. Sports Editor | he/him
Jamie is a junior broadcast journalism major and public relations minor from Pelham, New Hampshire. He has a deep passion for sports, especially hockey and football, and hopes to one day be in the sports media field. When he's not obsessing over the latest sports news, you can usually find Jamie hiking or camping in the White Mountains, or spending time with his friends and family.