Suffolk University's RamCam production club will be releasing their student-created short film "Cigs and Gigs" on April 30. 
The film was written, directed and starred in by senior and RamCam President Hunter Berube, who is also The Suffolk Journal's cartoonist. Berube initially created the project as a series, but realized there was too much content and switched it to a 25-minute short film. 
The film was a project based in love and was done completely outside of class time. Berube utilized his network of college contacts to help realize his dream. Tyler Eld, a Suffolk student and Laura Acero, a Suffolk alumnus, were also directors on the project. 
The premise of the film reflects Berube's real-life experiences as a broadcast major and was inspired by the anime series "Cowboy Bebop," one of Berube's favorite shows.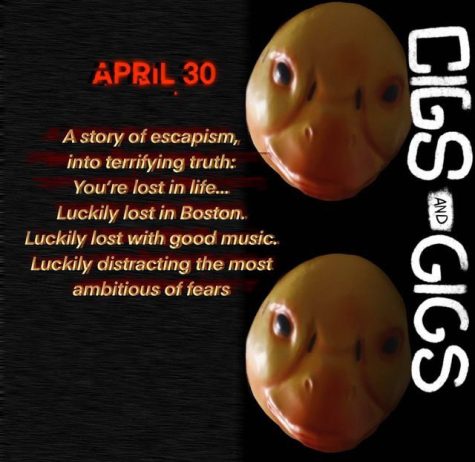 "[The main character] is trying to be in broadcast journalism in a time where it's the roaring '20s, but with much more advanced technology, so instead of everything being on phones it's on virtual reality headsets," said Berube. 
Berube, a huge fan of comedian, actor and filmmaker Seth Rogan's work, wanted to bring Rogan's sense of camaraderie to his set. Berube utilized Rogan's casting of his friends in his films to set a base for his own movie.
"I liked how all the actors are friends in real life and I like how that fed into the performance," said Berube. "That's another reason I casted all my friends as the leads, it's more fun." 
Eld, who will be the president of the film club next year, has been working with Berube on the project for the last two years as his creative partner. 
"I feel that our dynamic has been really, really solid, it's just been a great process to be a part of," said Eld. "He's the creative one and I'm the more critical one. If he has an idea he runs it by me and I point out the strengths and the weaknesses."
Berube also recognizes that the film was created on a college-level film where every person on set was learning as they went. 
"When we were on set, I'd tell everyone 'if you have an idea, tell me,' because in my head, 'Cigs and Gigs' is pretty good but if someone else said 'what if we did this instead?' it just creates a more dynamic piece," Berube said. 
Berube also had musicians from Berklee College of Music, Northeastern University and Suffolk create the musical score for the film as well, including Ishan The Rapper, a former Suffolk student who now studies at Northeastern.
Every aspect of the film was created by students, from the cast to the behind-the-scenes crew. Berube was able to use students not only from Suffolk, but from campuses across Boston. 
The "Cigs and Gigs" team has released a teaser trailer on Instagram and plan to release two more trailers throughout April. The trailers will be free of any and all plot points. 
"Cigs and Gigs" will be released on April 30 on Vimeo and YouTube. There will also be a screening at Modern Theatre on April 30 at 7:30 p.m. 
Follow Berube on Instagram at @hunterberube for more information about the short film. 
Follow Ashley on Twitter @AshleyFairchi14.