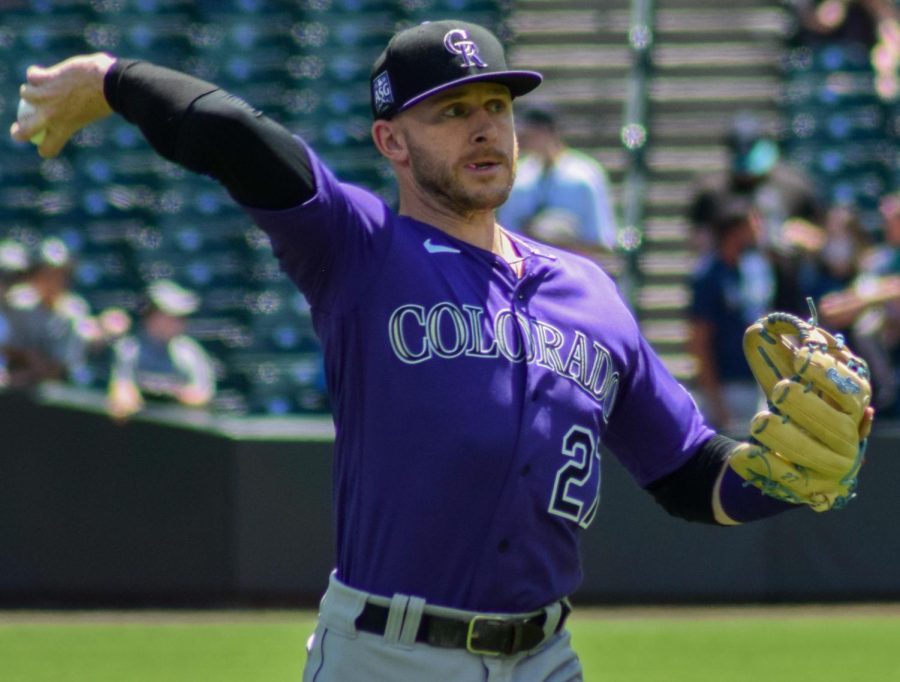 Photo Courtesy of Wikimedia Commons
In the sports world, March Madness encapsulates the eyes of millions of viewers each year. Around the same time that programs with elementary school budgets like St. Peters are taking down giants like Purdue, free agents and general managers in Major League Baseball and around the National Football League are busy making the most of their offseason. Hockey managers all around North America are finalizing their rosters before the endless playoff season begins. Or depending on your squad, if you're a Patriots fan, your team might not be doing much at all.
It's easy to lose track of all the moves being made in the industry. So here's what the Boston sports fan should know.
The Red Sox have upgraded their already stellar infield, adding free agent All-Star infielder Trevor Story, formerly of the Colorado Rockies. Known for his prominence as a shortstop, Story agreed to his six-year $140 million deal knowing that Xander Bogaerts would remain at that position for Boston. Story will now transfer his talents to second base. A career .272 hitter, Story's addition makes the Red Sox lineup a little more dangerous. The presumed 2022 infield is now Rafael Devers, Xander Bogaerts, Trevor Story and Bobby Dalbec. 
Jackie Bradley Jr. will be making a return to a Red Sox uniform this season. He was traded for Hunter Renfroe from Milawkue in December, trading one fan-favorite outfielder for another. The Gold Glove outfielder will look to create more highlight-reel performances, joining Kike Hernandez and Alex Verdugo to form a new dynamic Fenway outfield. 
Joining the Red Sox in the trade game are the Bruins, who acquired defenseman Hampus Lindholm from the Anaheim Ducks before last Monday's trade deadline. A former first-round pick, Lindholm gives much-needed reinforcement to the Bruins' defensive front. General manager Don Sweeney did pay a hefty price, giving up one first round and two seconds, in addition to defensemen Urho Vaakanainen and John Moore. Lindholm's playoff-experienced skates are expected to give the Bruins an extra jolt in the highly competitive Atlantic Division playoffs. 
With the commencement of the new NFL league year, there have already been major shake-ups in rosters around the league. Long-tenured quarterbacks like Matt Ryan and Russell Wilson have found new homes, in Indianapolis and Denver, respectively. Deshaun Watson was traded to the Cleveland Browns, following what seems to be, at least now, the end of his legal troubles surrounding sexual assault and harassment allegations. While Bears fans were put in mental disarray to learn Aaron Rodgers signed a multi-year extension with Green Bay, the Jeopardy star quarterback also lost his number one All-Pro receiver, Davante Adams, in a trade to the Oakland Raiders. The Lambeau faithful may be wondering why their ownership would secure their franchise quarterback who almost walked out the door, only to send away his number-one target.
But at least the Packers are making some movement. New Englanders have not been shy about the Patriot's lack of offseason moves. Unable to collect the necessary cash, the Patriots let star cornerback J.C Jackson walk to the Chargers, who are assembling a dangerous defense. Longtime guard Ted Karras departed for the AFC champion Bengals, joining Brandon Bolden, Gunner Olszewski and Jacob Johnson in free-agent losses. 
Alas, hope is on the horizon. Former first-round pick Jabrill Peppers signed with New England on a one-year deal, where he will join an already loaded safety field. The Patriots brought back longtime locker room leaders Matthew Slater and Devin McCourty for one-year deals after speculation amounted to both their potential retirements. Their return may signal continued faith in the franchise and a certain young quarterback.
Follow JD on Twitter @jdconte617