Anna Delvey's posh story comes alive on screen thanks to star-studded cast
Who is Anna Delvey? "German heiress or flat broke, no one knows," but journalist Vivian Kent is determined to find out no matter what her colleagues or the posh upper class think. This show circulates around the investigation of Anna Delvey and her crimes of fraud and grand larceny.
"Inventing Anna" is a nine-episode Netflix mini-series that aired Feb. 11 and was produced by Shonda Rhimes. 
The series is based on a true story that was made popular by Jessica Pressler, who wrote The New York Times article "How Anna Delvey Tricked New York Party People." Anna Delvey, (played by Julia Garner in the mini-series), is a con-artist who tricked New York City's most elite socialites out of millions of dollars. 
The story also follows Kent (Anna Chlumsky), as she interviews Anna and her supposed friends, trying to uncover the mystery behind the girl who managed to con her way into high society. 
When the first episode begins, Vivian is persistent about pursuing Anna's story, despite her colleagues referring to Anna as just "a dumb socialite." 
However, Vivian was promptly shut down and told to investigate a Wall Street #MeToo story, instead. Showing early on that she is not one to give up so easily, Vivian ignores her superiors' assignment and goes to Anna's court hearing, where she tries to get her first interview with Anna's defense attorney, Todd Spodek (Arian Moayed). 
After being ignored by the attorney, Vivian yet again shows her determination to pursue Anna's story by sending a letter directly to Anna in prison. Only then does she finally make progress in her investigation: a sit-down with Anna Delvey herself.
So far, the show has gotten mixed reviews from viewers. Some find the adaptation of the modern-day Robin Hood exciting, while others believe it focuses too much on Vivian, or just cannot get over Anna's strange accent.
The series is saved by the lead actress and her gifted acting, which left viewers rooting for Anna. While many were caught off guard by the thick and unique accent Garner presents in the series, it is actually quite close to the real thing. Anna's accent is quite unique as she is part German, part Russian, and it has an air of superiority. Other than the accent, Garner is able to present Anna in whatever way the scene requires: confident, vulnerable, arrogant and, well, like an heiress. 
In one particular scene in the second episode where Anna's card gets declined at a hotel, she seems shocked and almost broken, saying that her father has cut her off. However, the audience is left wondering if the display was just another con or if her true emotions are coming to light after bearing so much pressure. 
Moayed is another actor who stood out throughout the series, with his ability to portray the contrasting parts of his character in an entertaining way. While on one hand he plays a loving, goofy father when it comes to his home life, he's able to portray a tough attorney when it comes to the courtroom just as well.
Viewers can find a hidden gem in this show in Alexis Floyd, who plays Neffatari Davis. Her acting skills shine right away in the first episode, as she goes from quiet hotel staff to a fierce defender and loyal friend of Anna. The way she presents her character as confident yet sincere captures all attention when she appears on the screen. 
All that being said, it is interesting to see Anna Delvey's story come alive on screen. Anna could perhaps be thought of as a modern-day Robin Hood, or to some, greedy and arrogant.
"Inventing Anna" is available to stream on Netflix.
Follow Emily on Twitter @emilyrcollins7
Leave a Comment
About the Writer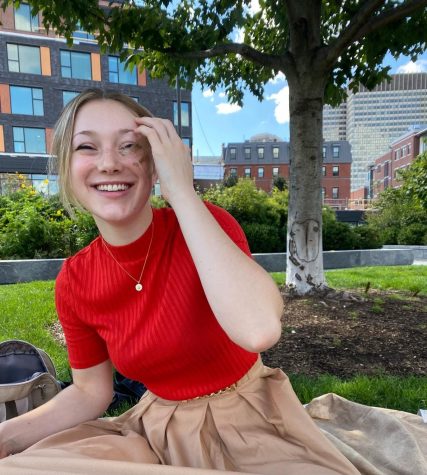 Emily Collins, Staff Writer | she/her
Emily is a senior majoring in print/web journalism and minoring in biology at Suffolk University. If she is not reading or writing, she can be found listening to music or spending time outside. Emily is also a member of Alpha Sigma Alpha and the Ramifications on campus. After college, Emily hopes to work as a wildlife journalist.
Follow Emily on Twitter at
@emilycSUCJN363
.