February Wrapped: Honoring Black excellence in music
Though Black History Month may be over, there is always time to honor Black excellence and Black history. The impact the Black community has made and continues to make on the music industry is undeniable. Between creating the foundation for the blues and maintaining prominence in popular music through R&B and rap, among other genres, the presence of Black artists is powerful. 
To celebrate Black History Month, here are the best new releases from the past month from Black artists. As always, you can listen to all the new music worth trying from this past month here. 
"Twisted Bases" by Crystal Murray
This double-sided EP is a hidden gem from this month's new releases. After it dropped on Feb. 11, the French R&B singer has skyrocketed into the public eye, and has since been featured in Vogue Magazine. 
"Twisted Bases" is double-sided, with each side holding five tracks. Influence from other R&B artists such as Rihanna and Macy Gray is abundantly clear in the backtracks and rhythm of the songs. However, it's the writing that has Murray standing out amongst the rest. 
On tracks "Too Much to Taste" and "EGO," Murray uses relatable lyrics and quirky lines to capture the listener's attention, but maintains a steady beat authentic to the R&B genre. 
"Do We Have A Problem?" and "Bussin" by Nicki Minaj and Lil Baby
Nicki Minaj and Lil Baby have made their return to the charts with two singles, "Do We Have A Problem?" and "Bussin," which were released Feb. 4 and 11, respectively. 
The first single dropped with a matching video launching on YouTube the same day. The end of the "Do We Have A Problem?" video hinted at the collaborators' second single, which delighted fans with its own drop and lyric video the following week. "Do We Have A Problem?" runs circles around "Bussin," with Minaj returning to the rap scene with a bang. Lil Baby is a perfect addition, and his verse and rhythm do not disappoint or take away from Minaj's talent throughout the rest of the song. 
You can't help but feel that Minaj's rhythm sounds a lot like fellow rapper Doja Cat, and this begs the question: is Nicki taking a leaf from Doja's book, or has Doja been modeling after the seasoned rapper from the start? As for "Bussin," it's a fun listen and easy to dance to, but we've seen better from the "Super Bass" chart-topper. 
"Heterosexuality" by Shamir
The "Dear White People" actor Shamir has released his eighth studio album "Heterosexuality." The non-binary artist has released the album as a commentary on his own journey to self-identification and self-expression. Though Shamir shot to fame at 19 with the hit "On the Regular," the artist quickly realized the amount of pressure that comes with being a star, and moved away from the mainstream spotlight.
Shamir tackles various aspects and issues that come with being Queer. Of the song "Cisgender," Shamir said in an interview with NPR. "Being able to take something that I feel very alone in and turn it into something that can resonate with anyone … It helps me, and it helps me feel less alone." 
The album as a whole is beautifully crafted and produced, showing the skills Shamir picked up with all of the independently-released records he put out over the past few years. The songwriting shows Shamir's personal struggles, and provides an insight into these different issues. The overall vibe is reminiscent of Childish Gambino's, but the message and craftsmanship of Shamir's most recent work is far more intense and intimate.
"Magic (feat. Mustard)" by Vince Staples 
This collaboration, released on Feb. 14, is Staples' first drop since his debut self-titled album came out this past July. The single is the first from Staples' second album, "Ramona Park Broke My Heart," which is set to release at some point later this year.
The single has a west coast vibe, much like Social House's "Magic in the Hamptons." Mustard's bass line is a wonderful addition, grounding the song with bright deep tones. The backtrack is simple, but this is where Staples' vocals and lyricism get to take center stage. If this single is any indication of what the up-and-coming indie-rap has to offer on his second album, we're in for a treat-hopefully just in time for summer. 
"Love's Train" by Silk Sonic
Silk Sonic treated fans on Valentine's Day to a cover of Con Funk Shun's original "Love's Train." In their first release since their album "An Evening with Silk Sonic," which produced hits "Smokin' Out the Window" and "Leave the Door Open," the R&B duo of Anderson .Paak and Bruno Mars take on a classic and make it better. 
The original song is a hard one to imitate, but with Mars' out-of-this-world pitch control and .Paak's silky smooth vocals, the pair put their own twist on this favorite love song. In a way, the song is an updated version, with a little bit of Silk Sonic's sexy, 70s flair. The surprise release was a perfect gift to fans for Valentine's Day.
Follow Emily on Twitter @emilyhbeatty.
Leave a Comment
About the Writer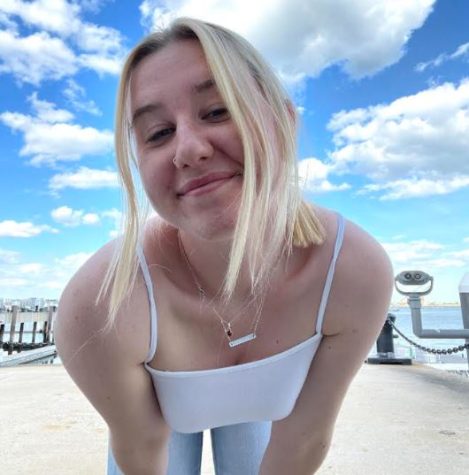 Emily Beatty, Arts & Culture Editor | she/they
Emily is a senior English literature and print/web journalism double-major from Canton, Mass. After joining The Journal amidst a pandemic, Emily can be found writing about all things music and pop culture. When not writing, she can be found working, listening to music (probably Taylor Swift) and with a half empty cup of iced coffee in hand. After graduation, Emily hopes to continue to cover music for local publishers in Boston.