Black Country, New Road says hello and waves goodbye on 'Ants From Up There'
"And though England is Mine/I must leave it all behind" declares Isaac Wood, like a thespian sailor leading his ship into the storm on the track "Chaos Space Marine," Wood's first vocal appearance on the band's sophomore LP "Ants From Up There."  
Since their 2021 debut, Black Country, New Road has become grouped in with the new class of U.K. post-punk, including bands Black Midi, Dry Cleaning, Squid and what seems to be 2,000 more groups featuring post-rock influences and spoken word verses. 
With their newest album, Black Country, New Road sounds so out of this class it's triumphant. It's the most gorgeous record from this wave, thanks to Wood trading his spoken-word character studies and erotic fantasies at Cirque du Soleil to beautiful and rich melodies. Misery has never sounded so glorious.
"I was made to love you…/can't you tell?" Wood dreads on "Concorde," holding his fading pride in his left hand and the microphone in his right as ignores his delusion. 
The song uses the symbol of the Concorde, a European aeronautical project that ended in failure. The aircraft can be found on the album's artwork for reasons unknown, though Wood's sermons seem to point at an analogy in which the feelings of human frailty can feel so colossal. 
"And then Isaac will suffer/Concorde will fly," Wood croons, letting himself fall beneath the landing gear. The song's histrionic build-up, reminiscent of Arcade Fire's "Funeral," lights a flame under the band's triumph. 
The "Funeral" connection isn't a reach either, as the band referenced becoming "obsessed" with Arcade Fire during the recording of the LP. You can hear it in "Good Will Hunting," possibly the band's most serviceable track yet, featuring backup vocals that feel kindred to Régine Chassagne. 
With their sophomore album, the thought that Black Country, New Road are instilling themselves as one of the finest contemporary bands is not unjust. The band is victorious throughout the record, flying above the Concorde and reaching new heights, leading you to believe this is Black Country, New Road's masterpiece, marking their first step into indie-rock royalty.
But you must remember Wood's weighty entrance to the record – "I must leave it all behind"– which feels much more pressing after Wood announced his departure from the band, the week leading up to the album, stating, "I have been feeling sad and afraid too."
It's hard to imagine Black Country, New Road without the songwriting and delivery of Wood. I remember finding my own footsteps in the city's cold air last winter with "Track X" playing on loop.
The hesitance and true fear that can be heard in Wood's voice as he remembers the love he professed in front of Black Midi and the thought of proving his father wrong felt so raw that it stung me a hundred times over and over again, though the sting came with great relief.
We collect these artists over time, using them to write down our journal entries when we don't have the guts to write them ourselves. We long to see our thoughts sung out in verse, letting us no longer feel alone. We indulge ourselves in it in order to make it all seem somewhat comprehensible because before it's written down, it's frightening and shameful. This isn't to escape our pain, but to swim in it. Wood handed us a life jacket so we could safely swim in our agony.
Still, it's hard to not be excited for the next chapter of Black Country, New Road. Though it is incredibly unpredictable, it's wildly exciting, as without Wood, the band still stands. 
"For the first time" felt dependent on Wood's songwriting, but "Ants From Up There" is an ensemble piece, making Wood only an addition to a beautifully trained orchestra of Tyler Hyde (bass), Lewis Evans (saxophone), Georgia Ellery (violin), May Kershaw (keys), Charlie Wayne (drums) and Luke Mark (guitar).
On "Basketball Shoes," the album's closer, Wood speaks of the Concorde flying into his room, tearing his house to shreds. He fears evolution, saying, "We're all working on ourselves, and we're praying that the rest don't mind how much we've changed."
The song is as enormous as the Concorde itself, consisting of three verses intertwined with a glorious composition. Here, Wood lets go of our hand while giving his most outstanding performance yet. 
If "Chaos Space Marine" has Wood sailing his ship right into the storm's wave, "Basketball Shoes" is Wood arriving back onshore, leaving the storm behind him.
"Ants From Up There" is a triumphant ending as well as a beautiful beginning to one of the greatest groups right now. There may be choppy seas out there, but the ride is far from over and trust me, you don't want to miss out.
"Ants From Up There" is now available to stream on all music platforms.
Leave a Comment
About the Contributor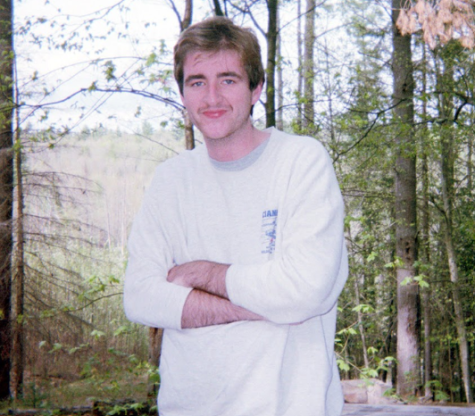 Colin Doherty, Staff Writer | he/him


Colin is a junior English major, concentrating in Public and Professional Writing. His writing stems from his grueling love for all things pop culture, with music as his main focus. Colin loves to spend his time at house shows and arguing over where the best burrito in Boston is.