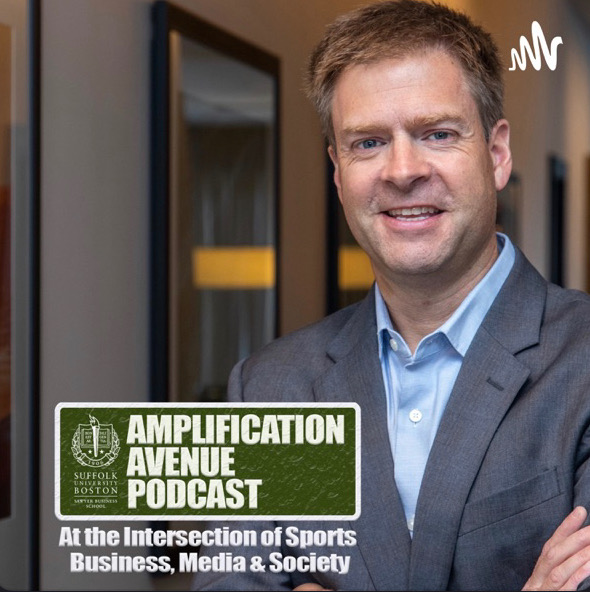 When people think of sports, they typically think of their favorite players and teams and how successful they are, but the Amplification Avenue podcast aims to show viewers the side of sports that isn't always visible: business. 
The Sawyer Business School's Amplification Avenue podcast is hosted by marketing professor Skip Perham and produced by Suffolk University junior, Alex Caruso. 
A potential viewer may ask, "why name a sports podcast 'Amplification Avenue?'" 
"I use this analogy all the time: if LeBron James wants to wear an 'I Can't Breathe' t-shirt during pre-game warmups, every camera's going to catch that and it's going to be news," said Perham. "That's the idea that sports have amplifying properties based on all the media coverage that's already built in." 
Perham believes that people involved in sports use the amplification caused by the media to help promote their brands and products. 
"Leagues, players, teams and sponsors are becoming much more sophisticated in leveraging that amplification to promote their own brands, build their own brands and leverage their own platforms," Perham said. "That's what I mean by 'Amplification Avenue' — it's at that intersection of sports, business, media and society and it's all amplified." 
Perham also notes how sports have a great societal influence when it comes to promoting issues. 
"Sports intersect with society in so many ways. It can lift people up, but it can amplify issues that swim around our culture every day," said Perham. 
Viewers of the podcast can expect to agree and disagree with Perham and his guests, as the Amplification Avenue podcast doesn't shy away from relevant topics that could be controversial to some.
"If one person comes to the front gate expecting to go to a Celtics game, and they've spent $200 for a ticket and they didn't know they needed to be vaccinated, they now are being denied entry. They're mad, they're disaffected, and now the [TD] Garden has to clean up that relationship. It's a billion-dollar business, they have to deal with these macro-environmental forces such as a pandemic and how it affects their business," said Perham.
Perham stresses that they're not covering potentially controversial issues for the sake of controversy, they're covering potentially controversial issues because they're relevant today.
"I don't think we're looking at controversial issues, we're looking at issues that I think are really topical and I think really important," said Perham. 
Perham also noted that he's interested in covering other topics such as the issues transgender athletes face when it comes to being allowed to play the sport they love. 
Despite Perham's history working with companies such as NBC Sports Boston and NECN, "Amplification Avenue" is the first time he's ever done a podcast. 
To help produce a quality podcast, Perham enlisted the help of experienced podcast host, Alex Caruso. 
Caruso works on and hosts his own podcast, titled "The Fresh Fantasy Podcast," where he's produced over 120 episodes since July 2020. 
While the Fresh Fantasy podcast focuses on the numbers on the field, the Amplification Avenue podcast focuses on the numbers off the field.
"We're always talking about big events that happen, whether they're good events or bad events for different sports, and how that affects the business side of things, along with the money involved," said Caruso. 
But as Perham acknowledged, the media side of sports is also a very important aspect talked about in the podcast. 
"If something really bad happens, how is that getting portrayed in the media and how does that look? Where's the money being gained or lost from that?" said Caruso. 
Even though Caruso's the more experienced podcast host, he believes that Professor Perham has taught him a lot while working on the podcast together. 
"With [Perham's] 15 years of marketing experience, I've learned so much from him and I'm constantly learning something new every time that we get to talk," said Caruso. 
Both Caruso and Perham acknowledge that a lot of work goes into a podcast.
"I really worry when I go into an interview, and I just did an interview today with the Olympics writer from Sports Business Journal and a marketing professor, Professor Mujde Yuksel, from Suffolk about the Olympics and Olympics sponsors," said Perham. "My concern going into this interview was that while I know the topic, I don't know the topic and all the details, so there's a lot of research you have to do so you don't look foolish." 
As the producer, Caruso also has to spend a lot of time working behind the scenes to make sure they're producing a quality episode. 
"I'd say there's somewhere between four to six hours of prep between episodes," said Caruso. "Between the prep and the emails back and forth, and everything altogether." 
While this podcast focuses a lot on the business and media side of sports, Caruso thinks that the podcast would be engaging for anyone interested in taking a look behind the scenes of their favorite sports. 
"It's all about people who are interested in the game beyond the game. If you've always wondered what sports are like behind the scenes and how big events affect different events, this is definitely the podcast for you," said Caruso. 
Perham invites potential listeners to check out their podcast, as getting viewers helps the podcast get off the ground. 
"Listen to the podcast! We need more listeners. The biggest challenge is to grow the listener base, because it's not a sports show, and it's not Barstool Sports, which I know is very popular with individuals. We're not going down that road. So I would say listen! We need people to listen because we want to grow it!" said Perham. 
Sawyer Business School's Amplification Avenue podcast can be found on Spotify, Google Podcasts, and Apple Podcasts. 
Follow Joseph on Twitter @JoeDiminoSU