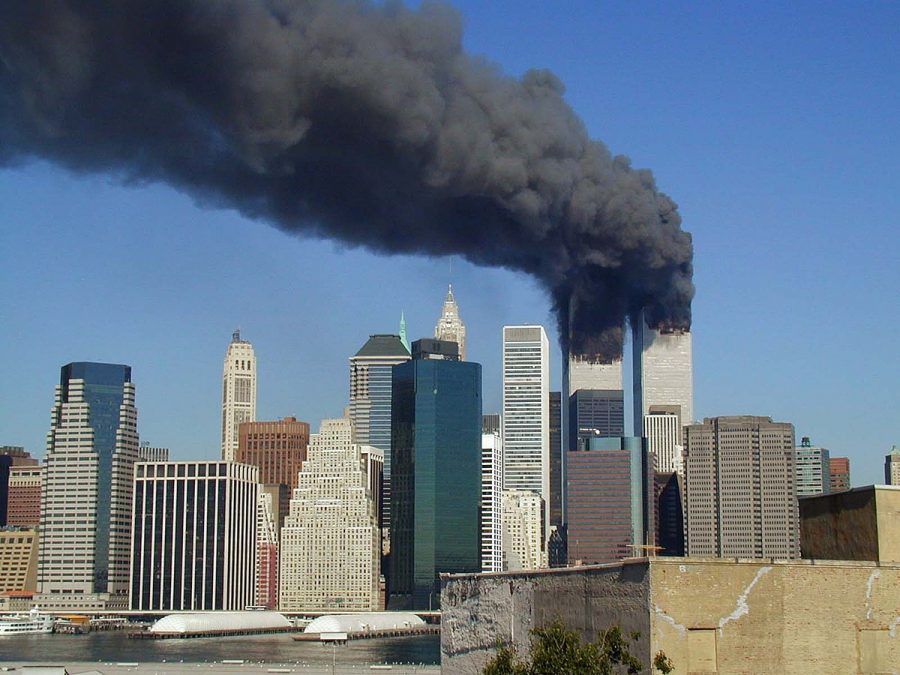 Courtesy of Michael Foran.
On the morning of September 11, 2001, Suffolk University professor Gloria Boone walked across a bridge on the Charles River to meet her partner in Cambridge. 
"I remember it being the most beautiful blue sky ever," Boone said. 
It was the perfect fall day: sunny, warm and seemingly like any other. But the same couldn't be said just over 200 miles away in Lower Manhattan, where clouds of white dust, suffocating smoke and falling debris blocked out what was supposed to be a pleasant fall sky. 
Two Boeing 767s had just crashed into the World Trade Center, killing everyone on board and many more inside the buildings. By the end of the morning, nearly 3,000 people were dead, part of the Pentagon was in ruin and the Twin Towers had collapsed.
Fear and uncertainty grip Suffolk following attacks
Boone figured walking from Suffolk's Ridgeway Building to a spot in Cambridge where her partner could pick her up would be the best way out of the city once classes had been canceled and most public buildings were being evacuated. After all, she didn't know if roads might get shut down, how many people would be clogging up the MBTA trying to get home or if Boston would be the next target of the terrorists attacking the country. 
"It was very tense, very nerve wracking and pretty much everything closed," Boone said. 
Boone first knew something terrible had happened when she walked past a group of construction workers on her way to Suffolk from North Station. 
"They were always engaged in work when I walked by. But on this particular day, these guys looked terrible. They were gathered around a truck where they had the radio on and had pictures of shock on their faces," Boone said. "Obviously, something had happened, and they told me something had struck the World Trade Center." 
She ran to her office on the fourth floor of Ridgeway and called her partner to get a play-by-play of what was happening on the TV. That's how she found out the South Tower had been struck by another plane and the North Tower had fallen. 
"I had to compose myself because I had class at 10 a.m., and there were going to be students there who didn't know what had happened," she said. 
Figuring this must be an act of terrorism, Boone told her students to leave the city once classes were officially canceled. Some students in the room had cars and made plans with their classmates to bring them home, while others called their families. 
Halfway through class, a secretary told them Suffolk's academic buildings were being evacuated. 
"My job that day was really to calm the students down and reassure them that they should get home or try to call somebody," Boone said. 
The Journal reported in its Sept. 12, 2001, edition that about half of the more than 500 students living in Suffolk's dorms fled the city immediately after the attacks. 
One resident whose father worked on the 87th floor of the World Trade Center was picked up by a family member to go back to New York City, while another student from Manhattan hurried home to locate his family and friends, according to the report. 
"It's a tragedy, all these people who are dying," then-freshman Maria LeBlanc told The Journal at the time. "In a day or two, you'll actually realize it was real people who died, and it'll hit you."
Suffolk closed for several days after the attacks. Bob Rosenthal, the current chair of Suffolk's ADPR department and former chair of its CJN department, was on campus the morning of 9/11. He said the university's academic buildings were evacuated that day out of fear that government buildings nearby might be targeted next, and that some students might face discrimination. 
"We had, at the time, a number of students from Arabic nations, particularly from Saudi Arabia…" Rosenthal said. "There was some concern that those students might be in harm's way because of bigoted backlash."
Discrimination against Arabs and Muslims lingers 20 years on
The four planes that crashed into the Twin Towers, the Pentagon and a field in Pennsylvania were hijacked by 19 men who were identified as radical Islamic extremists. 
While the violence perpetrated by these men on 9/11 does not align with the values of Islam, and the attacks were carried out by a specific terrorist organization, Arab and Muslim people were increasingly discriminated against in the US following the attacks. 
The Journal reported in its Sept. 19, 2001 edition that 14 students had withdrawn from the semester a week after the attacks out of fear of being targeted. 
Boone said one of her students was called back home to Saudi Arabia by her parents. 
"She came into my office crying and said her parents were telling her that she has to come home, since they were afraid bad things would happen to Saudi students in the US," Boone said. "She wanted to finish her class, so I made a deal with her that I could email her stuff for the class so she could stay in it."
Then-Suffolk President David Sargent told The Journal at the time that he was "unaware of any threats, attacks or stereotyping due to race occurring at Suffolk" following the attacks. However, The Journal also reported that several students said they did not feel safe going to classes in the Sawyer building because of a Muslim prayer room that was open there. 
"We had one complaint about that," Sargent said then, referring to a phone call he had received from a student who did not want to be in the same building as the Muslim prayer room. "A student was unhappy that there was a group of people that were different from themselves. As a result, we have tremendously increased security everywhere."
While 20 years have passed since the September 11 attacks, discrimination is still widely felt by Muslims in the US. The Pew Research Center reported that assaults against Muslims in the US during 2016 had "easily surpassed" those recorded in 2001 — the previous peak of such assaults in recent history. 
Suffolk sophomore Hanan Tuffaha, a member of the Suffolk Arab Student Association who is also Muslim, said she and her family have felt this discrimination in their own lives. 
"As an Arab Muslim person in America, it does get hard around this time," Tuffaha said. "I understand why people are upset, and my heart goes out to all of the victims and everyone who lost someone, but I personally, as well as my family members, have received threats relating to 9/11."
One of these threats came shortly after the attacks, when Tuffaha's mother was pregnant with her. A screaming man approached Tuffaha's mother and tried to hit her, blaming her for what had happened and demanding that she "go back to her country."
Tuffaha said she has had similar experiences. A man accused her of having a bomb in her backpack around the anniversary of 9/11 last year, and she has been called a terrorist multiple times while living in her mostly white, conservative town, she said. 
"I really hope that people begin to understand that it's not a whole religion or ethnicity's fault that this happened," Tuffaha said. "They expect us to take the blame and to go back to our countries because we supposedly bring so much damage here, when really we're all just trying to create a life here." 
Tuffaha said others should focus less on who was behind the attacks and more on the trauma that many are still trying to grapple with 20 years on. 
"People are always trying to find someone to blame, but I feel like that's not what the 9/11 anniversary is about," Tuffaha said. "It's about reflecting, remembering the people who died and giving their loved ones a chance to heal."
Looking back, and moving forward
Rosenthal watched the attacks unfold on a TV in Ridgeway with other staff members from the CJN department around him early that Tuesday morning. They saw people jump from the top of the towers and smoke billow from the windows, and when the second tower fell, he said a stunned silence fell over the room. 
"There was incredible sadness," Rosenthal said. "Still, when I'm talking to people I choke up about it, thinking about all of those poor people."
He said that sadness was felt in his Easton neighborhood once he got home. 
"That night, everybody just went out of their homes and into the street, looking for community. At a corner near me, a bunch of us gathered. We started to sing God Bless America," Rosenthal said. "There was nothing we could say. And then everyone went home."
Five of Rosenthal's classmates from Boston College perished on 9/11, as did 14 of the parishioners at his brother's church. He said everyone at Suffolk also seemed to know someone or a story of someone who had been at Ground Zero.
Most Americans still have stories of where they were that day, what they felt and, for some, who they lost. Most current students at Suffolk only know September 11 as a page of history, rather than a distinct memory. Because of this, Rosenthal asked his students to "Give a kind thought this weekend for the victims and their families." 
"The thing that you need to understand is that there is resiliency and hope, which beats back hatred, which is why hatred will never win," Rosenthal said. "It may have some victories along the way, but in the end, it will lose the overall war for the human spirit simply because most of us are better than that."
Follow Caroline on Twitter @CarolineEnos.