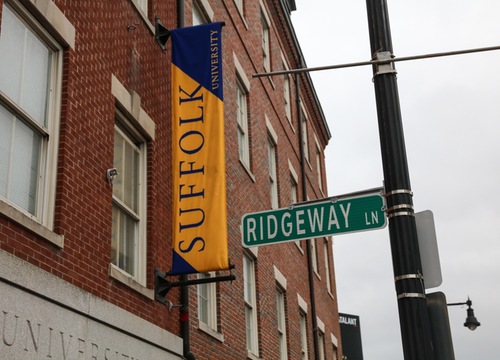 Photo Courtesy of Suffolk Athletics
After almost a year since joining the Commonwealth Coast Conference (CCC), Suffolk spring sports teams will finally get their chance to compete. 
The CCC board of directors approved a return to play plan on March 3 for the spring 2021 season, with the season beginning March 27. This comes several weeks after most winter sports teams also received the green light to compete. 
The release detailed COVID-19 protocols that all schools and programs will follow to keep players and staff safe during play. No spectators will be allowed at any contests, and all players, coaches and officials must wear masks at all times. 
All athletes will also be tested twice a week, and must receive a negative PCR test within 72 hours of competition. These testing protocols "exceed NCAA recommendations," according to the CCC.
Suffolk Director of Athletics Cary McConnell expressed his excitement for the upcoming spring season.
"We're excited. It's been an odd year and we looked forward to competing in the CCC and are really yet to do it," said McConnell. 
This announcement means a long-awaited return to play for Suffolk baseball, softball, men's golf, tennis and women's track and field teams. McConnell said the full spring schedule for baseball and softball is expected to be released later this week. Teams can anticipate playing opponents multiple times in a row for testing and safety purposes. 
"There's basically five game weeks with the same team. So basically, baseball is going to roll in and play Endicott on a Wednesday, and they'll play a doubleheader Saturday or Sunday," said McConnell. "So by the time you get to that fifth game on Sunday those teams are probably going to be ready to kill each other. It could be a fun spring with such competition." 
This will be the first full season that Suffolk teams will get to compete in the CCC. 
Suffolk joined the conference at the end of the 2019-2020 academic year. Since the outbreak of the COVID-19 pandemic, the university's teams have yet to enjoy the benefits of a full season. Fall sports saw no competition, and only in recent weeks have winter sports returned to play after the CCC canceled conference competition for winter athletics. 
"Missing the whole fall season really made me and the rest of the guys eager to get back out there and play some meaningful golf," said Billy Bannon, captain of the men's golf team. "The CCC will be a fun and interesting change, we haven't really seen many of those schools play, and they haven't seen us… I think the community can expect some good competition sometime in the near future when we get going."
The CCC's statement regarding winter sports gave teams flexibility to schedule non-conference competition, which is why Suffolk teams have been able to recently return to play. The CCC's statement regarding spring sports emphasizes that schools still retain autonomy to schedule such events. The CCC is still working on tournament formats for postseason play.
Follow JD on Twitter @jdconte617