'Play in the Gray' a Refreshing, Entertaining Documentary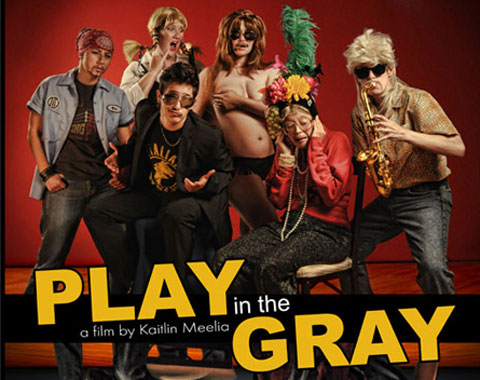 Hang on for a minute...we're trying to find some more stories you might like.
Lexis Galloway
Journal Staff
'Play in the Gray,' (Planted Seed Productions) the first film shown in the new Modern Theatre in close to 40 years, is a documentary that follows an all female theatre group and their exploration into gender and personal identity. A performance group called "All the Kings Men" is followed throughout the film as they journey through experiences in acting and living in the gray area between the male and female genders. The entertaining film provides comedic and thought-provoking footage from the very beginning.
This first feature film from director Kaitlin Meelia debuted in April of 2010 after nearly three-and-a-half years of production. It begins with a somewhat unconventional photo shoot of the cast, six women dressed in various different costumes. Following them as they pass out flyers to their show, dressed as men, grandmas and other characters, the film proceeds to flash back and forth to personal interviews discussing gender specifics.
The documentary is very effective in the sense that it shows a wide variety of aspects relating to the lives of the cast. It could have easily been another typical film chronicling their performances, but "Play in the Gray" goes further to look into their performances and what it means to look beyond the labels and categories regarding gender.
The scenes of the theatre performances and candids of the cast getting ready are humorous, as well as an insight to the creation of different characters both male and female. Its drag meet theatre style is visually shot in a unique, periodic way, switching between footage of emotional interviews, activism, rehearsal and the many complications of their lives.
Nearly two years of filming and thorough research angles are shown in this 80-minute documentary. Constantly progressing scene after scene, the audience is able to gain a sense of personality for each of character and how they feel about living in the gray area of gender.
The film includes the cast members' travels, sit downs with their families, and stories about how they came out and relationships with each other. The film does a really impressive job of creating and showing an array of different moments, even for those who cannot relate out of personal experience.
This incredibly well rounded documentary forces one to consider the idea of just being, instead of fitting into some category, community or gender.
The film was written by Ian McFarland and director Kaitlin Meelia, who became quite close with the cast members of "All the Kings Men." Katie, one of the members, described the troupe's inspiration as a mix between SNL sketch comedy, improvisation, and a ridiculous take on stereotyped genders. The Boston based performance group continues to perform nationally and internationally.
The film is overall more than just an entertaining documentary and is well worthwhile because of its ability to bring about several emotions and show a unique take on the female-male boundaries that exist today.