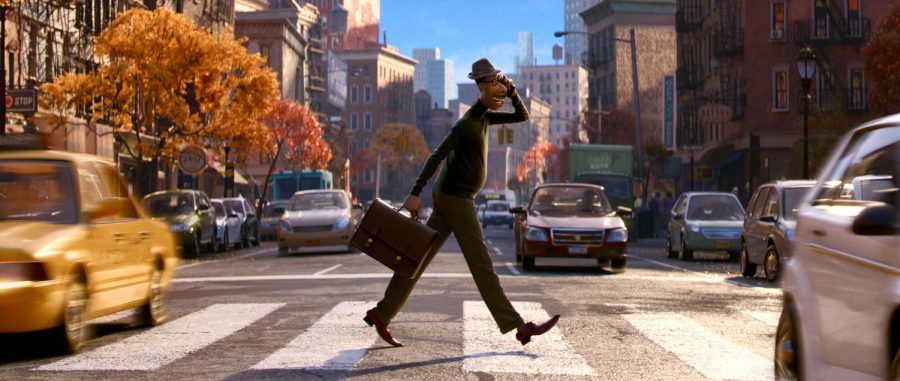 © 2020 Disney/Pixar
When someone thinks about having a purpose in life, finding something that they are passionate about might come to mind. For others, it's finding out who they really are.
Either way, finding a purpose is something people struggle with in their lifetime, including Joe Gardner in the new Disney movie "Soul." 
Directed by Kemp Powers and Pete Docter, the animated film was released on Disney Plus on Dec. 25 and is the latest project from Pixar.  
The protagonist, Joe Gardner, teaches band at a middle school and desperately wants to have a career in jazz music. His mother opposes this idea, as she believes it will not support him financially. Joe is informed about an opening in a band and when he auditions, Dorothea Williams, who is considered a jazz legend, is impressed and offers him a job. 
Just when things start looking up, as Joe is walking home to get ready for his next performance he suddenly falls down a hole and ends up in a place called the "Great Beyond." No longer a human, he is now a soul.
Understandably, Joe panics and tries to escape, but ends up in the "Great Before." There, soul counselors named Jerry work to get unborn souls prepared for life. The unborn souls are basically beings that have not existed on Earth yet. They do not have personalities so they are given numbers and are free to bounce around until they are given personality traits.
Joe pretends to be a soul instructor and gets assigned a character, named 22, who could care less about life. Together the two, go on a wild adventure to find both of their purposes.
This film, like most other Pixar films, tugs at audiences' heartstrings. It depicts a realistic problem humans have, which is being so caught up in finding a purpose that they miss out on the little things in life. 
The animation was absolutely beautiful and it is so interesting to see how much animation has advanced and evolved through the years. When Joe first arrived in the "Great Before," the colors were very soft and bright and looked welcoming. Seeing all the little unborn souls flying around gave the film a more innocent and carefree look. 
There was a scene in particular where Joe goes to the barber to get his hair cut, and there was so much effort and precision going into the characters' hair. It actually looked like a real visit to a barbershop and was so smooth-looking and extremely pleasing to watch. 
It was also refreshing to see Black characters at the center of a story that showcases their depth, instead of them just being side characters. 
The voice acting was spectacular, especially with Jamie Foxx voicing Joe. He brought a lot of humor to his character, but was also able to give an emotional performance and made the audience feel what he was going through. 
If you are looking to watch a movie that has a more lighthearted tone, "Soul" may not be the movie for you. Younger children also may not enjoy this movie as much because of the heavy tone, even though it does have many humorous moments.
The movie deals with death as its main plot point,  since Joe is trying to get back to Earth so he can get to his performance. Death ties into Joe returning to Earth because he feels as though he has not lived up to his full potential. If he actually dies that means he dies without accomplishing anything meaningful, which is what he wanted. 
If you want to watch a movie that gives you a different perspective on life, or maybe you want an interesting look at what happens after death, this movie is perfect.  "Soul" was a fantastic film that can inspire people to try to live life to the absolute fullest.
Follow Brooke on Twitter @brookeh083.