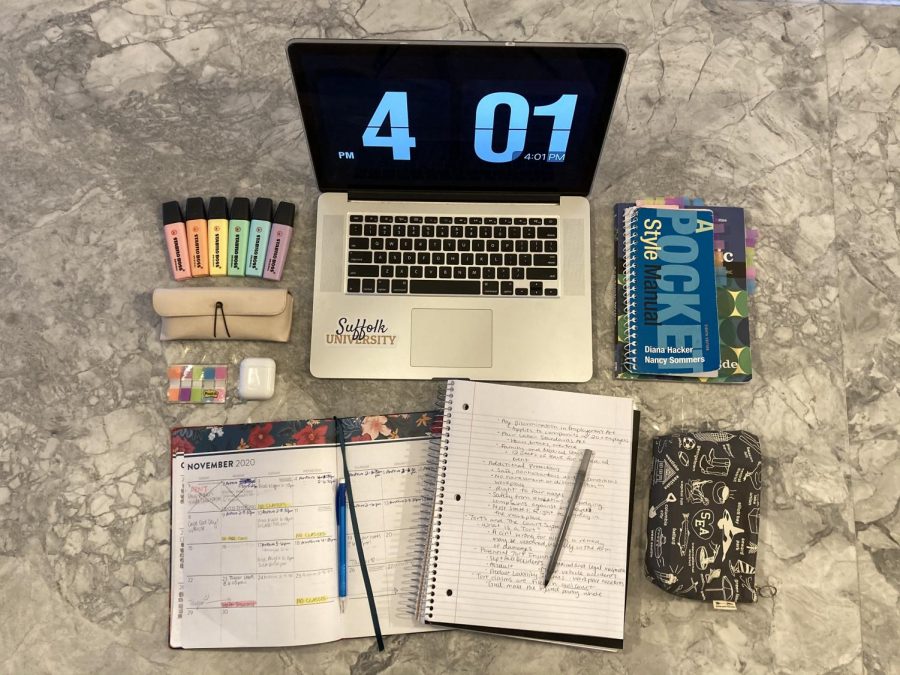 Kaylie Scalze
The pandemic has brought on a lot of new challenges for students; the biggest perhaps is finding a good place to study outside of campus. Here is a comprehensive guide to the best "COVID-approved" study spaces across Boston when moving from the desk to the kitchen counter just won't cut it. 
Trident Booksellers & Cafe – 338 Newbury St. 
This hidden gem is one of Boston's best-kept secrets and is located right on the busy Newbury Street. It's a bookstore and a fully-operating cafe all in one two-story building, a hungry academic couldn't ask for more. 
Since reopening its dine-in operations in July, the Trident team has done a great job of ensuring everyone is both safe and comfortable. Tables are spaced 6 feet apart, ordering and payment are all done through QR codes on the table, and finding a seat is easy – just sit where the books aren't! 
Trident offers a full breakfast, lunch, and dinner menu with an amazing and delicious variety of drink options as well. 
Courtney Flynn, Vice President and Manager at Trident suggests the chicken strip basket for a long night of studying along with her favorite tea, rooibos. A personal favorite is the Cape Codder – a crunchy sandwich full of turkey, bacon, melted provolone and cranberry mayo. 
Once a bustling place packed to the brim with students, couples, friends and family, Trident is looking a little different since the pandemic hit back in March. Although many students are still coming in to study a few things have noticeably changed. 
"The difference this year is that we have a lot fewer places [that] people can sit because our tables are at least 6 feet apart from one another. We also aren't able to serve at our bar which was a very popular study spot," said Flynn. 
Despite the smaller turnout and the difficulties that COVID- 19 has brought, Flynn fondly recalls several uplifting instances since the pandemic began. 
"The best moments are the little ones that no one thinks make a difference. It's when I overhear someone walk into the store and say something like, 'it's so good to be back!' or 'this is my favorite place!' It makes all the struggles and difficulties over the last months worth it," said Flynn. 
Open until 9 p.m., Trident is the best spot on the list for late-night studying. A hot tip – try to get a seat upstairs, there is more space and fewer people creating the perfect atmosphere to grind away on that term paper.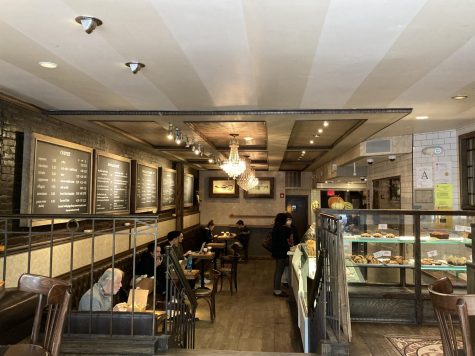 Thinking Cup – 85 Tremont St., 236 Hanover St. and 85 Newbury St. 
Stumptown fans unite! Studying and coffee go hand in hand, so why not have some great coffee? Thinking Cup proudly serves Stumptown Coffee which is sourced ethically and fairly, making their coffee not only taste great but feel great too. 
With three locations in Boston, Suffolk University students have their choice of scenery. The closest location is on Tremont Street less than a one minute walk away from Smith Hall. This location offers great window seating, perfect for the avid people-watcher. 
With archival directions galore, jazz music softly playing across the cafe, and the quiet hustle and bustle of the baristas hard at work, Thinking Cup locations offer the perfect white-noise ambiance essential for a good study session. 
Due to COVID-19, the inside seating in each location is limited in order to spread guests out the required 6 feet. Despite the colder weather, outside seating at both the Newbury Street and Hanover Street locations is still available to provide extra room for guests. Shorter hours have also been enforced to allow for proper cleaning. 
Aside from the great coffee, they offer delicious food as well at insanely cheap prices. If you're looking to feed your brain with the right "smart foods," a snack with protein in it is ideal. Try the egg, ham and cheese breakfast sandwich for about $8, it's a tasty and cozy comfort your mouth and mind are likely to never forget. 
Caffè Nero – 10 Summer St. and more locations across Boston

The biggest coffee chain on the list, Caffè Nero hands-down wins the best setting and scenery for study locations, especially at its Downtown Crossing location, a convenient four-minute walk from Sargent Hall.
Operating hours have changed slightly since COVID-19 began to ensure proper cleaning and maintenance of the store, the latest you can grab a quick bite on a weekday is 7 p.m. and weekends at 8 p.m.
Tables are spaced 6 feet apart and food and drinks are all prepared to-go now. However, you can feel free to stick around and enjoy your purchases. 
Floor-to-ceiling bookshelves and eclectic furniture and seating set the mood for a cozy morning full of studying. The unique fixtures and seating arrangements allow the mind to escape to a place of calm, cozy comfort and let the intellect flow. 
If you're still hoping to satisfy that growling stomach with something a little more substantial than Italian coffee, don't fret, Caffè Nero also offers a food menu as well. As the seasons change once again and the air grows chilly, try the Italian wedding soup, a traditional Italian soup that is sure to make your insides warm. 
Moakley Law Library – Sargent Hall 
In need of some inspiration? Head up to the sixth floor of Sargent Hall and step into the Moakley Law Library. With views of the State House, the Boston Common and sharp legal minds everywhere, this space is sure to provide a touch of motivation during these trying times. 
Social distancing guidelines have been put into place and masks must be worn at all times.
To reserve a space simply log on to the SU On the Go App, scroll down to "Student Services," and under the "Library" tab, you can make a selection of location and times.
Reservations can also be made on Suffolk's website. Thanks to a push from the SGA, reservation times have been extended from the previous one-hour limit.