Schitt's Creek wins nine Emmys because it is simply the best
September 29, 2020
Canadian sitcom, "Schitt's Creek" made history on Sept. 20, by taking home nine Emmy awards out of the 15 nominations it recieved for the last season of the beloved show. 
The show won Outstanding Comedy Series, Lead Actor (Eugene Levy,) Lead Actress in a Comedy Series (Catherine O'Hara,) Supporting Actress in a Comedy Series (Annie Murphy,) Supporting Actor in a Comedy Series (Dan Levy,) Outstanding Writing for a Comedy Series, Outstanding Casting for a Comedy Series, Outstanding Directing for a Comedy Series and Outstanding Contemporary Costumes.
The father-son duo, Eugene and Dan Levy, created and starred in six seasons of "Schitt's Creek," a show that started off with a small following in 2015, but slowly won hearts all over the world. The show itself is such a success due to the all-inclusive and unproblematic LGBTQ+ messages that it spent six seasons building. 
The witty show begins with a wealthy family losing all of their assets and moving to a town purchased by Johnny Rose, played by Eugene Levy, as a joke for his son David, played by Dan Levy. The fall of the family and the journey it takes them on was unexpected and unprecedented throughout the series.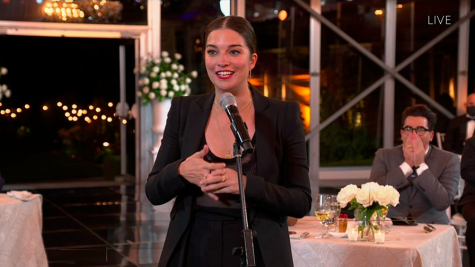 With a cast of front-runners such as Eugene Levy, O'Hara, who plays the zany matriarch Moira Rose, Chris Elliot, who plays the town's Mayor and begrudging friend to the Rose family and Murphy, who plays the spoiled Alexis Rose, there was little doubt the show had the tools to be a success. 
No other show has put in the work to accept characters for their flaws or given them the room to grow as "Schitt's Creek" did for the Rose family and their side characters.
A major moment in the "Schitt's Creek" world was when David explains pansexuality, a sexual, romantic or emotional attraction towards people regardless of their sex or gender identity, something that is not generally discussed on television shows, especially in such a straightforward manner. 
David uses wine bottles to describe his preferred sexuality, "I like the wine, not the label. Does that make sense?"
For the first time for many viewers, it did. 
The writers and cast on "Schitt's Creek" promote an overall sense of acceptance. The show features Dan's character (David)  meeting, dating and falling in love with another man, Patrick, who had only dated women before he found David. 
David and Patrick's relationship in the show is undoubtedly one of the most lovingly crafted relationships shown not only on "Schitt's Creek," but in today's media. David accepts Patrick's past, while Patrick accepts and adores the personality of someone who has struggled to be loved, even in difficult moments. From Patrick serenading David to an acoustic rendition of Tina Turner's "The Best," to David receiving a happy ending on their wedding day, the couple is one to look up to. 
The show is subtle in its messaging at times. This is the case when viewers see parents accept children for who they are and who they love, a town that is accepting and fully supports a gay-owned business, characters falling in and out of love and loving relationships ending because the characters simply needed to go on their own journeys. 
This poignant ending to a series that showcased a variety of relationships, in such a positive light, will be greatly missed. 
"Schitt's Creek" Emmy wins were well deserved. They won because of their message. A message sent to people who are struggling and to people who needed to see LGBTQ+ content promoted and normalized.  
"Schitt's Creek" may have ended, and went out on top, but it will always remain in the hearts of those it spoke to and for. The show, creators and actors are simply the best.
Follow Ashley on Twitter @AshleyFairchi14.