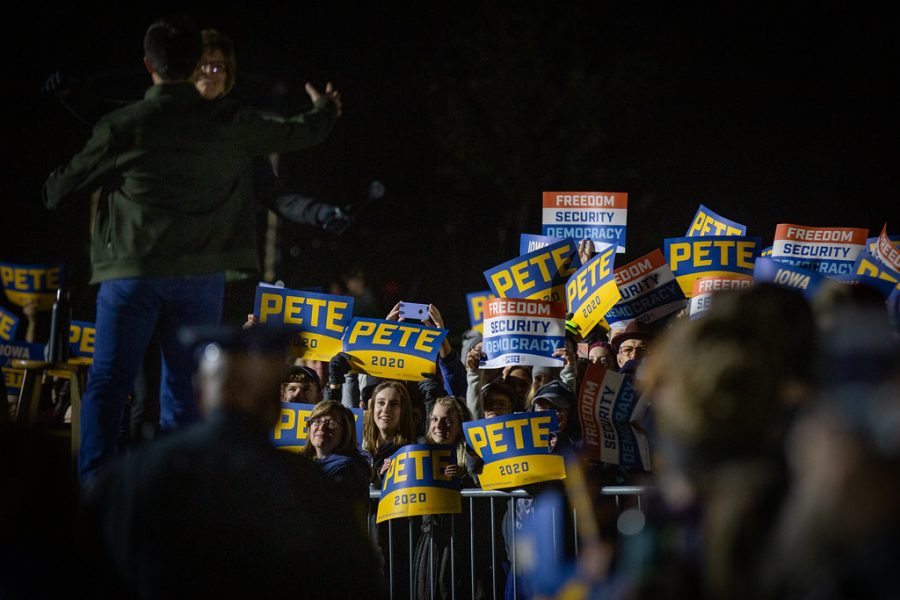 Courtesy of Phil Roeder
The Iowa caucuses came to a screeching halt Monday, Feb. 3, on a night shrouded in confusion and scrutiny toward the Iowa Democratic Party.
Months, even years, of anticipation for last Monday night were further delayed after an app used to report the result of the caucuses had a technical glitch. Close to complete results did not come until Thursday, when 100% of results, which are still in question, left the caucuses without an official winner.
"I was up until 1:30 a.m. waiting for these results, and they had the audacity to not even release all of them," said Avery Gallagher, class of 2023 English major, about her experience waiting for the results last Monday night into Tuesday morning.
A caucus is a meeting of local members of a political party where members register their preference for a candidate. The Iowa caucuses feature multiple rounds of caucusing called alignments. A candidate must receive votes from at least 15% of those participants present in the first alignment in order to remain viable for second, usually final alignment.
If a chosen candidate falls short of the 15% mark, their supporters are free to join another candidate's corner for the second alignment, while the supporters of those who initially reached the viability threshold stay locked in.
The night ends with state delegates going to candidates based on the number of people who caucused for each.
The actual results of the Iowa caucus are fairly inconsequential, with only 41 delegates coming from the state. The big thing about the Iowa caucuses is that it creates momentum for the candidates who do well there.
In past elections, Iowa has been a springboard for candidates to not only attract attention from voters, but from donors and the media. A win in Iowa in some cases can make or break a campaign, as it determines a campaign's health moving forward in the primary season. Every Democratic candidate who has won Iowa in the past five elec- tions has also won the party's nomination.
Iowa polls before the caucuses showed mixed results, with most polls showing former Vice President Joe Biden or Vermont Senator Bernie Sanders in the lead. A USA Today/Suffolk University poll had Biden polling at 25%, with Sanders and former South Bend, Indiana Mayor Pete Buttigieg polling at 19% and 18% in a poll from late January. On average, Biden and Sanders were both polling at 22%, with Buttigieg trailing at 18%, according to The New York Times.
The highly anticipated Des Moines Register poll had its results abruptly canceled Feb. 1, just a few days before the caucuses. The Buttigieg campaign also raised concerns about Buttigieg's name being left out of at least one polling phone call, according to The New York Times; an early sign of the chaos and confusion that was soon to come.
The results of the caucuses were due to be released Monday, Feb. 3 around 8:00 p.m. EST. A technical glitch, as well as inconsistencies and confusion caused by an ill-tested app used by the Iowa Democratic Party, which many party volunteers were unfamiliar with, caused results to be delayed almost a full day, according to The New York Times.
In the midst of the con- fusion, all of the major candidates gave pseudo victory speeches as their goodbyes to Iowa at 5 p.m. on Tuesday.
Feb. 4, with the candidates already shifting focus onto New Hampshire, the Iowa Democratic Party released 62% of precincts results, which saw Buttigieg lead Sanders by a slim margin of 26.9% to 25.1%, followed by Massachusetts Senator Elizabeth Warren at 18.3%, Biden at 15.6% and Minnesota Senator Amy Klobuchar at 12.6%, according to The New York Times.
The results that slowly came in over the next few days were called into question after Democratic National Committee chair- man Tom Perez called for a "re-canvas" of the results Thursday.
Sunday night, the Iowa Democratic Party released a statement that Buttigieg would take 14 pledged delegates to the Democratic
National Convention to Sanders' 12. Sanders had declared victory in Iowa earlier in the week, as it was evident he won the popular vote by more than 2,000 votes.
Chair of Suffolk's government department, as well as Washington Post Contributor, Rachael Cobb said, the final results are "a wash," since Buttigieg and Sanders can both say they did well.
Cobb's article advocates for getting rid of caucuses, as she explains they are run mainly by party volunteers with no oversight from a government entity, when most primaries do receive government oversight. She said in the article that the elimination of caucuses will expand the electorate, make results more representative and eliminate challenges associated with caucuses.
Cobb also said that early primary states like Iowa and New Hampshire are small and unrepresentative of much of the Democratic party's racial demographics in general, and therefore are not true gages of a campaign's strength.
"Caucuses are unrepresentative and have all these problems with inclusion, which is a big issue for the 'party of inclusion,'" Cobb said, referring to the Democrats.
Despite all the con- fusion, Buttigieg had a surge in polling in New Hampshire after his strong performance in Iowa, as the Boston Globe/WBZ/ Suffolk University poll had Buttigieg polling at 22% with Sanders at 24% Saturday. However, Buttigieg dropped to 19% against Sanders 27% after the final N.H. primary poll from the Boston Globe/ WBZ/Suffolk University poll was released Sunday night.
Cobb said she is not sure how long lived this momentum will be for Buttigieg, due to his poor polling in states further down the primary schedule.
The Iowa caucuses is the rear view mirror now. Candidates, voters and most of the media have moved on, their focus drawn away by the State of the Union last Tuesday, the New Hampshire Democratic debate this past Friday and the New Hampshire primary Tuesday.
Follow James on Twitter @james_bartlett8.