Students overseas share perspectives on Suffolk Madrid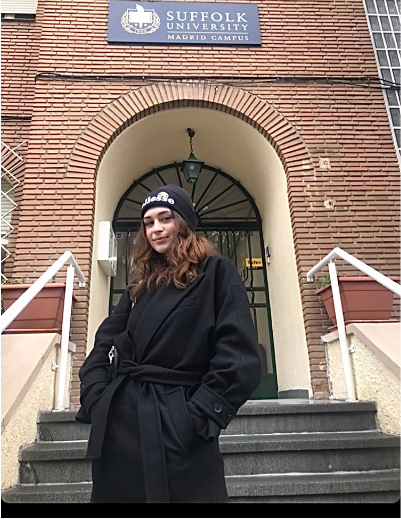 Cultural diversity and passionate professors are some of the things that students value about Suffolk University's Madrid Campus (SUMC), while underfunding and lack of communication are areas that could be improved, according to some students.
Dominique Cyr, a junior at SUMC, has been exposed to many opportunities during her three semesters abroad — one being the chance to explore Europe both through SUMC and on her own time.
Classes at SUMC end each week on Thursday, giving students the opportunity to travel during their long weekends. This has allowed Cyr to travel to countries such as Ireland, Germany, France, Hungary and Italy. Cyr explained that she prefers studying in Europe over the United States after attending SUMC.
"It's very holistic here, it's not all about work and a profit. If you're late to work, it's not that big of a deal. People work to live, they don't live to work. People also make time to eat — and eat well," said Cyr.
In addition to the exceptional cultural experience she has gained from studying in Madrid, Cyr feels delivering a strong education is a priority for the university.
"The Spanish program and staff here are really great," said Cyr, "Education is definitely difficult especially because you are only allowed to miss two classes."
Cyr explained that she has benefitted from the relationship between professor and student. Professor Greenan who is especially excellent in his course on Spanish language, was a teacher that Cyr praised. She talked about how passionate he was about his work, and how well he taught. While Cyr believes the educational aspect of SUMC is exceptional, she thinks the communication between the Boston and Madrid campus is flawed.
When Cyr was trying to change her major, she found it to be very difficult.
"I was originally a business major, but now am looking into interior design. I had a very hard time contacting the Boston campus and now have to take an extra year of schooling because of a lack of communication," said Cyr.
Some have attributed the lack of communication overseas to the 6 hour time difference. The lack of communication is mostly caused by the time difference, and also happens when students have questions about the Boston campus and the Boston campus does not get back to them. However,  Cyr is not the only one facing this problem.
"When students have questions about Suffolk and their majors they get bounced around between different administrations," Cyr said, "It might have to do with the time difference, but it still should be improved."
Another junior at the campus, Camille West, has had troubles with the lack of communication on the campus, but gets by with help from her professors.
"There is a lot less resources than the Boston campus, but if I need help I know where to get it. Professors have been helpful in tracking things down or communicating with the Boston campus," said West.
Other aspects about the Madrid campus that students struggle with include the actual facilities and resources available to them. Cyr discussed that the campus itself should be more of a priority to Suffolk and should be highlighted and funded more.
"I think that the Madrid campus is truly a hidden gem, I mean it is a foot in the door to Europe. I think that Suffolk should really expand on this and value this. There needs to be more money going into this program, and better communication," said Cyr.
Due to the large number of freshmen admitted into her class, there were not enough resources to provide them counseling on their courses and majors. There also are not as many courses offered at the Madrid campus which Cyr found to be challenging for students.
"Scholastic resources are more limited because class selections are also limited due to the small size, but that's something I had to give up in order to study abroad and it's worth it," said West.
While more funding could be put into the program, overall Cyr has warm regards for the campus and her experiences in Spain. She feels that the campus gives students a unique opportunity to experience a different culture and a chance to thrive.
"Going to Suffolk Madrid has changed the course of my life forever," said Cyr.
Cyr will be coming to the Boston campus in the Spring of 2020 and is feeling bittersweet. While she will miss Spain, she is excited for a new adventure and more resources available to her.