Caribbean Student Network to raise $20,200 for Bahamas relief in "Dressing with Purpose" event
Student groups from all across campus collaborated last Thursday in Sargent Hall with music, food and unyielding hope to help raise $20,200 for those impacted by Hurricane Dorian in the Bahamas through the Caribbean Student Network's (CSN) "Dressing with Purpose" event.
On Sept. 1, Hurricane Dorian struck the Bahamas in what turned out to be one of the worst natural disasters ever experienced in the country. The storm caused great damage in the islands of Abaco and Grand Bahama. This caused the destruction of infrastructures, dozens of power outages and the disappearance of over 400 people, with 60 being confirmed dead.
"62,000 people would need clean drinking water, 60,000 would need food assistance. Sharks are swimming in the homes of residents of the Abaco Islands, 60 people have been confirmed dead, and there is an extensive list of unreported deaths," said CSN Secretary Sydney Watson at the start of the event. "60 fathers, mothers, sisters, cousins, game-changers, givers to the community, 60 people. Tonight I implore you all to donate what you can."
"Dress with Purpose" was the first in a series of events CSN plans to organize this year in order to reach their $20,200 fundraising goal. All of the proceeds will go to Hands for Hunger, a charity voted on by CSN for its devotion to helping the people of the Bahamas.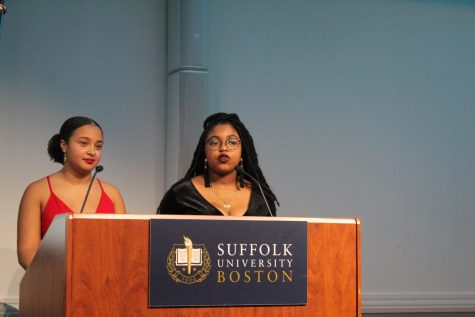 The donations will be used for food rescue and distribution, education and other innovative solutions aimed at achieving national food security, according to Hands for Hunger.
By raising awareness of this issue, CSN aims to provide a little hope for the people of the Bahamas who have endured so much these past few weeks. This fundraiser was just one part of the efforts by CSN to help combat this tragedy.
Nearly 70 community members gathered in the first floor function hall of Sargent Hall, eager to participate and support the cause.
The dim blue ceiling lights, decorative table set-ups, classy cocktail attire and talented Suffolk Jazz Band set the scene for an extravagant, yet emotional evening.
The evening's performances included an impressive routine featuring Suffolk's Latin dance team Pasion Latina, a moving A Capella performance by Soulfully Versed and two captivating vocal performances by Suffolk alumna Rebecca Zama.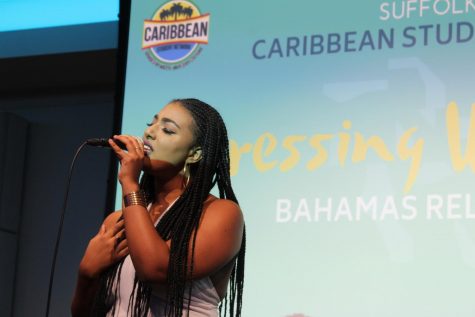 Throughout the fun of the evening, CSN stayed focused on the issue at hand: raising money for the people affected by Hurricane Dorian in the Bahamas.
While the short term goal of CSN is to reach their fundraising goal, the group also wants the people of the Bahamas to know they will continue to help however they can, explained CSN President John Gathua.
"Divided by water but united by culture," said Gathua. "We will continue to do everything we can to help."
Because natural disasters have impacted people all over the world, many tend to downplay their consequences and go about their lives shortly after they happen.
"At this point, I feel its human nature, if you don't see it and feel it because you are not in it then it is something you don't have to worry about," said CSN Vice President Lynnou Modestin.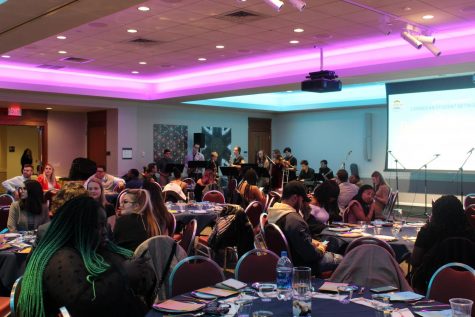 The devastation these hurricanes brought to the islands, buildings and people of the Bahamas will not be restored in a few weeks.
Similar to what happened to the people of Haiti after the earthquake that struck in 2010, this natural disaster has caused the people of the Bahamas an extraordinary amount of damage and will take years to recover from.
CSN turned a tragedy into an opportunity for the people of Suffolk and beyond to make an actual difference. CSN leaders explained that any small amount of donation to Hands for Hunger is crucial in helping to restore what Hurricane Dorian destroyed in the Bahamas. CSN expressed how crucial it is to keep this issue at the forefront of our minds because it certainly will not stop being an issue for the people of the Bahamas any time soon.
"We can't let go, there are people who need our help," said Modestin.