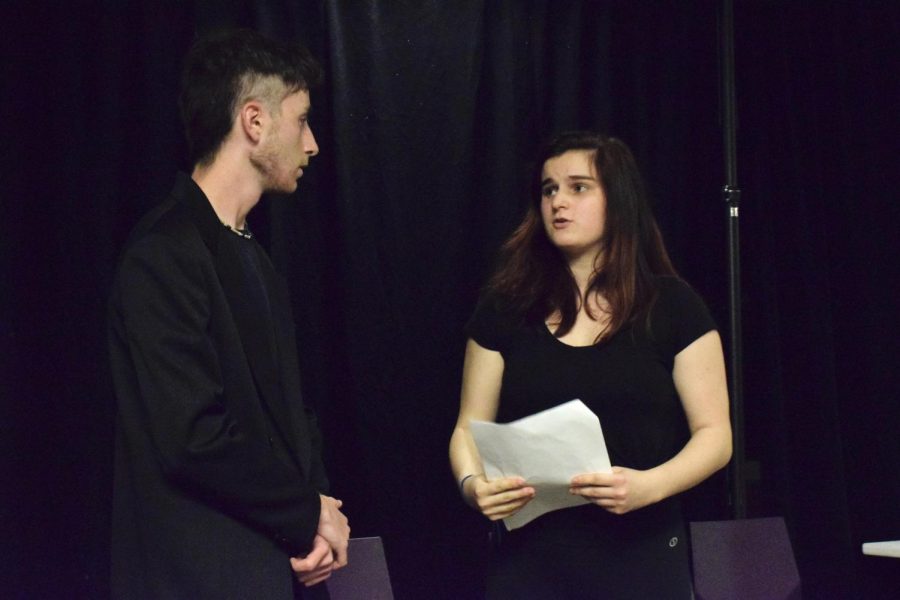 Morgan Hume / Arts Editor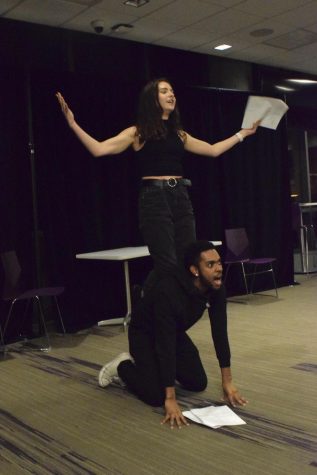 Suffolk University's sketch comedy troupe Who's Askin' got the ball rolling this season with a performance of 15 original skits inside the Samia building cafe on Sunday night, their first performance of the semester.
Who's Askin' performed a collection of recycled skits that were debuted at previous shows, like their "The Last Laugh" performance in April at the Improv Asylum comedy club. Although the group wrapped up auditions on Sept. 24 and had been together for less than two weeks, they formed an hour long show that kept the crowd laughing all the way through.
The group kept a casual vibe by staying on book, letting themselves laugh off any stutters or nervous jitters with the ease of having the script in their hands. The 14-person troupe welcomed seven new members after auditions, so this show  was their opportunity for an icebreaker.
"I thought it was comforting because [the older members] understand the whole nerve part of it," freshman psychology major and new Who's Askin' member Sarah Davids said in an interview with The Suffolk Journal after the show. "They kind of helped us calm down and told us how it was going to go and how we were going to feel."
New members were already familiar with some of the sketches they performed on Sunday because they were used during auditions, as sophomore broadcast journalism major and new Who's Askin' member Kayla Dalton explained.
Dalton said she remembered reading from "Fruit Up," a sketch about two people energetically yelling about fruits they are craving, before she was officially accepted into the group. She was later cast in the sketch alongside actor Ma'chel Martin.
Both the experienced and new comedians were unafraid to crack jokes about a variety of topics, letting their different senses of humor and styles of acting fuse together.
"I was just hoping that people would laugh," Dalton said in an interview with The Journal. "I was nervous that nothing was going to translate because obviously we had heard [the sketches] a few times, so we know it's funny, but we're not laughing at it anymore out loud."
Sketches began with a girl who could not stop mispronouncing words, not matter how common they were. Later, actors showed the audience the fatal difference between a five-star rated and a one-star rated Uber driver. By the end, the crowd watched as a group of unpopular people took a class on becoming "less trash human beings" and how to avoid social awkwardness in everyday scenarios.
Who's Askin' met twice to go over skits prior to the Slam Dunk show, making sure not to overdo rehearsal time. The cast is still building chemistry with each other, but they are doing so naturally and will keep bonding throughout the season.
As Who's Askin' continues working this semester, they plan on debuting more original sketches. New members said that they are looking forward to diving into the writing process and creating skits for future performances.
"I have a couple cool ideas that I think are going to go over well," Davids said.
Who's Askin' will have its next performances on Oct. 25 and 26.