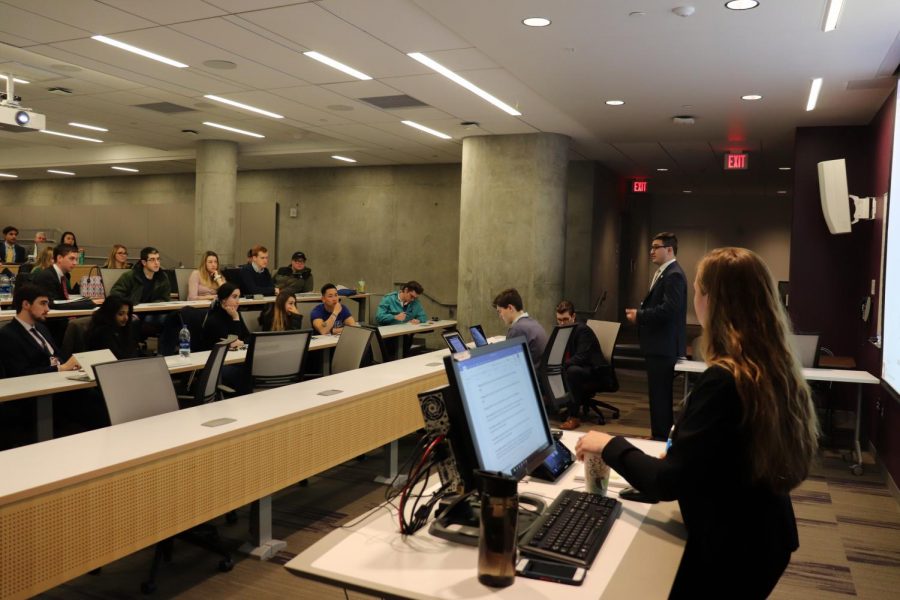 Ryan Arel / Opinion Editor
Correction: an earlier version of this article refers to Capt. Jim Connolly as Tim Connolly. The online version has been corrected to Jim.
In a 23-11 vote Thursday, the Student Government Association (SGA) passed a non-binding resolution that recommends sworn officers of the Suffolk University Police Department (SUPD) carry firearms. Security officers and dispatch officers would not be armed, as reported by The Suffolk Journal in February.
The vote marked the first time SGA has taken a collective stance on whether SUPD should be armed.
SGA's resolution serves as a recommendation to the university's Board of Trustees, but the board will write and vote on its own motion, Suffolk University President Marisa Kelly told The Journal on Tuesday.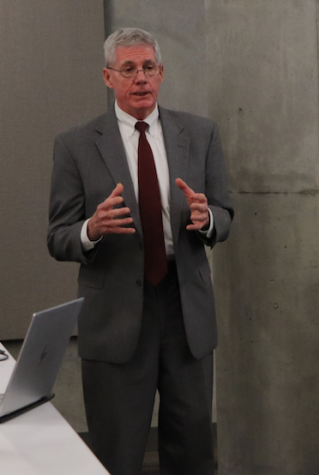 The Board of Trustees plans to vote in June whether or not to arm SUPD, depending on if board members feel they have enough information to make a decision, Kelly said in an email to The Journal on Monday.
"We will continue to gather community input on the arming question (and of course the SGA vote is one important piece of feedback) and continue to discuss the issue," Kelly said in her email. "If the Trustees feel they have sufficient information and there have been sufficient discussions, they will then vote on this matter at the June Board Meeting."
SGA President Morgan Robb will present the resolution to Kelly and a faculty committee in the coming weeks.
"I think that since the administration did note that they would be moving forward with the decision that it was important for SGA to have a stance on this issue," Robb told the Journal on Thursday, following the SGA vote. "I also think it shows that, very importantly, this was not a unanimous vote. So I think that we did absolutely what we could to represent the concerns that we heard and those were made known today."
Suffolk Chief of Police and Security Gerard Coletta was invited by Robb to attend Thursday's SGA meeting to address concerns about the resolution before it went to a vote.
Commuter Student Senator at Large Lukas Phipps proposed an amendment during the discussion to address student concerns about the "potential misconduct of Suffolk University sworn police officers," according to the revised resolution.
The amendment states, "Be it further resolved, Suffolk University work to further publicize existing mechanisms available to students in order to report the misconduct of Suffolk University sworn police officers."
The resolution's author, SGA Class of 2021 Senator Kostas Loukos, believes SUPD should be armed because, according to Coletta, SUPD officers cannot respond to situations involving lethal weapons as effectively as they could if they were armed.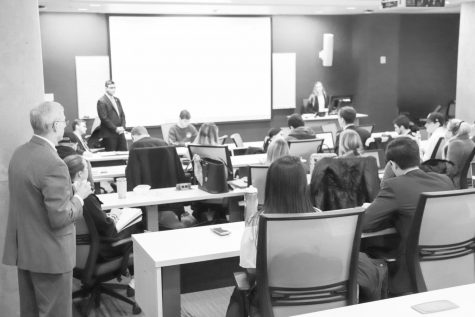 In the past, SUPD has responded to stabbings in Downtown Crossing, the Boston Common and various surrounding areas close to Suffolk's campus by calling the Boston Police Department (BPD), according to SUPD officials in SGA's campus safety forum in February.
Loukos said he believes that arming SUPD would better protect both officers and the Suffolk community.
"When our officers are walking from [Smith Hall] or 10 West to the rest of our campus, there is the possibility that somebody wants to do harm to a police officer or will try to hurt one of our officers," said Loukos. "At the end of the day, I believe arming SUPD will save lives."
Currently, SUPD officers carry batons and Mace, both of which are considered non-lethal weapons. They are also authorized to use lethal force when lethal force is being used against them or anyone else according to Coletta.
"Because [using lethal force] is such a huge undertaking [and] such a huge risk and such a huge responsibility for law enforcement and the department, we take these things very seriously," said Coletta.
Every time any type of force is used by SUPD officers, including if they used a baton, Mace or directly put their hands on an individual, SUPD conducts a full investigation of the situation and interviews every individual who was there when the force was used, including the officer and the person whom the force was used on, according to Coletta.
If SUPD finds the use of force was warranted, Coletta said the department still has a discussion with the officer about what was done right in the situation and what could have been done better.
"We make a determination on whether that force was not only lawful but within our policies," said Coletta during Thursday's SGA meeting. "If it's not, then we take disciplinary action. We have to do that; we have to make sure that the community knows that we take that seriously."
During the meeting, Coletta also said that since he came to Suffolk in 2013, there have been five instances in which SUPD officers have used force. He said the most recent instance was last year, when an officer used Mace on a student, and that none of these instances were found to have been inappropriate uses of force.
During Thursday's meeting, some senators said they are concerned about SUPD carrying firearms within the residence halls.
SGA Class of 2020 Senator Yasir Batalvi, who voted against the resolution, said he believes having firearms in the residence halls is unnecessary, could intimidate students and affect them in a negative way when responding to incidents.
"Only if a situation in a residence hall necessitates it, should armed police officers respond," said Batalvi in an email to The Journal. "All in all, the university will arm the police department if they find it necessary, but they shouldn't do it without first rethinking the role and responsibility of a police department at our university."
Batalvi also voiced his concern that currently there is no independent agency or faction within the university that can evaluate reports of misconduct by SUPD officers and decide what type of discipline should be enforced on those officers.
Following the SGA vote, several students took to Twitter to voice their discontent.
"If anyone needed ANY indication that Suffolk University couldn't care less about their students of color and what they have to say," Kayla Maloney, a junior theater major at Suffolk, tweeted in response to the Journal's breaking news tweet about the passing of SGA's resolution.
Maloney said she and her friends have voiced their concerns at several panel events and forums over the past year that arming SUPD would make people of color on campus feel more marginalized. She also said she believes there is nothing SUPD could do to make students of color feel safe around armed officers.
"The history between armed officers and black and brown people is too deep-seated for any one protocol or policy to bring us any comfort," Maloney said. "It will always be at the back of our minds, and it will always provide another source of stress and anxiety on top of being a student of color at a predominately white institution."
Maloney said she believes SGA and SUPD did not make enough of an effort to talk to students of color on campus about the resolution.
"SGA has a habit of not involving the voices of Suffolk students in general but especially black and brown students," Maloney told The Journal. "I am disappointed by SGA passing this resolution because SGA is supposed to be an organization on campus tasked with representing the student body. To add validity to a decision that many Suffolk students, especially [students of color], are so vehemently against is extremely unfortunate and makes us feel less represented than we already are."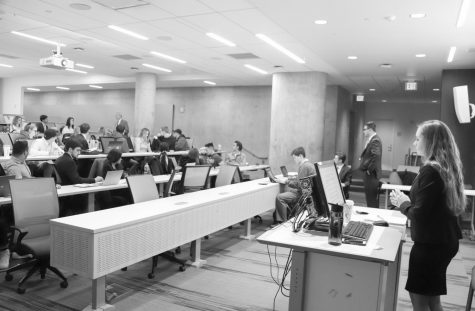 If The Board of Trustees votes to arm SUPD, "it will be a very strict regimen in terms of how [armed officers] handle a weapon," Coletta said during Thursday's meeting. "We want our officers to only take the weapon out in the event that there is an imminent threat of deadly force being used against them or one of our community members."
Currently, all SUPD officers are required to receive bias trainings and have undergone a psychological evaluation. SGA's resolution recommends that if armed, officers should undergo a psychological evaluation every two years to ensure that they are fit to carry a firearm and should continue to regularly receive bias trainings.
Coletta said during Thursday's meeting that SUPD officers are trained to de-escalate situations with communication first.
"We train our officers to use their communication skills to avoid having to use physical force," said Coletta. "We teach our officers … de-escalation, communication skills, recognizing bias, implicit bias, how to deal with biases, procedural justice, and to treat every individual the same way regardless of their background, their financial background, their race, their gender — anything like that."
If a current SUPD officer were to be deemed unfit to be armed as a result of a psychological evaluation or if the officer failed to successfully complete both a firearm training and certification program, the officer "would be relieved from police duties and would be terminated or allowed the opportunity to be employed with the department as an unarmed, non-sworn security officer or dispatch officer," said Coletta in a February interview with The Journal.
In February, SUPD's second-in-command, Capt. Jim Connolly, said SUPD will be armed only with handguns, not "long rifles," due to safety concerns of bullets breaking through walls or hitting bystanders.
On Thursday, Coletta said SUPD officers would not be permitted to take the firearms home, and that they would be stored in a secure location.
Many university police departments have moved to arm their sworn officers in past years, including several in the Boston area.
"It's really the historical transition from a security operation to a police operation in general in campus public safety. Over the past 20 to 25 years, campus police operations [in general] have become more professional than they ever have been," Coletta told the The Journal in January. "We've transitioned into much more like a municipal police department."
In the spring of last year, Suffolk University hired Margolis Healy, a campus security consulting firm, to examine campus safety trends on Suffolk's Boston and Madrid campuses.
According to the firm's campus safety study, released on January 28, two-thirds of Boston-area schools have armed their campus police departments, including Boston University and Northeastern University. Both schools have semi-automatic rifles in their arsenals for specific officers to use if they deem it necessary.
The police departments of University of Massachusetts Boston, Massachusetts Institute of Technology and Tufts University are also armed, according to USA Today.
Suffolk's neighbor, Emerson College, does not have an armed police force, the Journal reported in February. The Board of Trustees at Massachusetts College of Art and Design voted to not arm its police force early this year.
On Tuesday, Kelly emphasized that the board will continue to gather data and listen to feedback from the Suffolk community about this issue before they vote whether or not to arm sworn officers of SUPD.
"We appreciate that the Student Government Association has engaged in this very important issue," Kelly said in her email to The Journal after Thursday's SGA vote. "We have been gathering and continue to gather input from across our community on the question of whether or not to arm Suffolk sworn police officers. It is my commitment that the Board's consideration of this important issue be informed by the perspectives of the members of our community, including today's SGA vote."