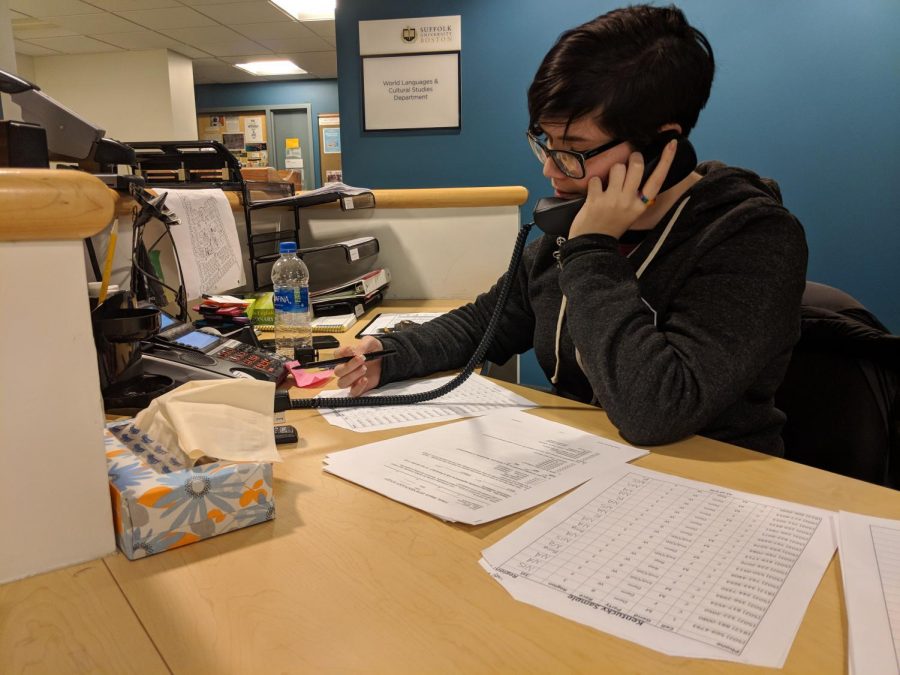 Kyle Crozier / News Editor
Director and founder of the Suffolk University Political Research Center (SUPRC) David Paleologos led his students in a unique opportunity to shape political opinion and receive national attention.
This project was meant to give students in Paleologos' survey research class real-world experience in every part of the polling process, from choosing the region, selecting which questions, and deciding what demo- graphic to poll.
The process mirrored techniques Paleologos has used to garner respect and attention with newspapers across the country, including USA Today and The Boston Globe.
"I say to them, this question you've added, might be a question that piques my curiosity, might be a question I put on a national poll," said Paleologos in an interview with The Suffolk Journal. "At what other college in this area does a student like you have an opportunity to put a question on a national poll or a class poll that could get picked up by another pollster?"
Over this past week- end, students began calling for the poll they created in Paleologos' class. With general elections in Kentucky looming, students prepared 30 questions for residents
Suffolk graduate student Marissa Dakin calls one of hundreds of phone numbers to complete the class survey
Suffolk graduate student Marissa Dakin calls one of hundreds of phone numbers to complete the class survey
who plan to vote that they narrowed down from a list of over 150.
"With the questions, you're just trying to cut down, cut down," said senior and politics, philosophy and economics major Tyler McGrath to The Journal. "It's like build- ing a sculpture, you're just trying to chip away at the fat to get the actual sculpture."
Sacrificing 12 hours of their weekend, students called on Saturday and Sunday in six-hour shifts while learning the rewards and difficulties faced by professional polling companies. Students worked diligently, the university also outsourced a professional call center to poll their survey in order to top off their results. Each student was tasked with calling over 600 Kentucky phone numbers, with the goal of completing just 10 surveys.
"I don't get outside of the box questions from my own head all the time, I get them from the students here at Suffolk because they don't think like I do," said Paleologos.
In recent years, the poll- ing efforts of Paleologos and Suffolk have gained national traction due to outlier surveys that have shocked the polling world. In 2008, during the Democratic primary elections, the only poll that showed Hillary Clinton beating Barack Obama in New Hampshire came from Suffolk.
"We caught lightning in a bottle in 2008, Suffolk had two bellwether polls showing Hillary Clinton beating Barack Obama," said Paleologos. "We were the laughing stock of the polling world, I thought Suffolk's polling days were over and my personal poll- ing days were over."
When Clinton's victory was announced, Paleologos was immediately swarmed by media members that had gone from asking him questions out of pity, to demanding to know when the next poll would be released from Suffolk. Paleologos returned to campus, canceled his vacation and met with then President David Sargent and secured funding for further polling.
Since stepping into the spotlight, SUPRC has continued to stray from the mundane and has explored different polling universes that others have ignored. In 2017, Suffolk made headlines again for one of their polls.
"Two years ago, we did a poll of French voters, no other college or university in the country polled the French election," said Paleologos. "Macron beat Le Pen, and we put that together and got international press for our France poll that set Suffolk apart from every other college
and university." Paleologos is known to take great pride in his students, having complete confidence in hiring motivated individuals that have excelled in his class.
"This is something you could do tomorrow, I could do this at home. Our professor told us he employs students from Suffolk that have taken the class," said McGrath. "This is something that is very practical, and it seems to be lucrative."
With the idea of keeping this tradition of unique and diverse polling synonymous with the university, this year the SUPRC has its eyes on a new set of data.
In 2019, they will poll the Latinx community on upcoming elections.
"This year we are doing a Latinx poll, only Latinos and Latinas in the country, whether they are registered or not registered, citizens or not citizens," said Paleologos. "No other college or university has done that and Suffolk is going to separate itself again on an international level."