Dean Lewis satisfies fans during sold out concert at Royale
Hang on for a minute...we're trying to find some more stories you might like.
Up-and-coming musician Dean Lewis did not disappoint on Sunday night when he gave an exceedingly energetic performance to a sold-out crowd at Royale, putting on a memorable show for his biggest stop on tour.
Lewis is a rising Australian singer-songwriter most famous for his hit song "Be Alright," which he described on stage as the song that changed his life six months ago and peaked on the Billboard Music Charts at No. 30.
The singer kicked off the show with the uptempo track "Lose My Mind," sending the excited crowd into a dancing frenzy. The venue electrified as the beat dropped and the chorus began, igniting the lively mood that would only grow stronger throughout the night.
"Stay Awake" was the second song in Lewis set, which will be included on his upcoming album "A Place We Knew." Before diving into the track, the musician explained that despite its cheerful sound, it is not a happy song due to its dejected lyrics about losing someone you love.
In between tracks, Lewis explained that he is in an awkward spot in his musical career because he only has a handful of songs, but is asked to perform for upwards of an hour. Although his discography is limited, he had a great set list. Lewis sang well-known songs fans were anticipating as well as unreleased tracks that will be coming out in the near future.
Lewis' charming smile and passionate stage presence radiated through Royale, along with his strong and clear vocals. Regardless of whether or not the crowd knew the words, they were enthused by every track and were always eager to hear more.
The dedicated fans only needed to hear the first few chords of every song to know which one Lewis was playing next. As he dove into popular tracks like "Chemicals," "Let Go" and "7 Minutes," the crowd immediately realized he was playing their favorite tunes and they jumped in exhilaration.
Lesser known songs like "You Got A Hold On Me" and "Tumble" were unfamiliar to the crowd, but everyone in the venue still clapped or danced along to the irresistible rhythm. No matter what melody came out of Lewis' vocal chords or guitar, the audience was satisfied.
All of Lewis' songs flow seamlessly from one track to the next because he sticks to his distinct sound. His honest, raw individual style of music is consistent.
The most powerful song Lewis sang was "Half A Man." The poetic lyrics in this track struck a chord with listeners as it discusses the importance of learning how to love yourself before loving someone else. His thoughtful and heartbreaking message is relatable to those who have struggled in romantic relationships due to their own low self-esteem, personal conflicts or as Lewis describes it, feeling like "a sinking ship that's burning." Lewis takes the intense feelings of heartache we all experience and conveys them through words that most people are unable to express.
Lewis made use of the stage by switching from standing with his acoustic guitar to seated behind the keyboard. He also engaged with the audience, trying to connect to the concert goers as much as possible by taking breaks to explain the backstory behind several of his songs. Whether the song was cheerful or emotional, the singer gave every ounce of energy he had into this performance.
Lewis' tour will end in Phoenix, Arizona on March 17 and his latest album "A Place We Knew" will be released on March 22.

About the Contributors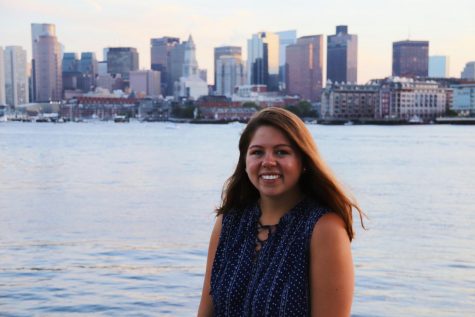 Morgan Hume, Arts Editor
Morgan is a native of Troy, New York and the Arts and Culture Editor for The Suffolk Journal. She is a rising majoring in print/web journalism and minoring in history. When she isn't scribbling into a notebook, she can be found drowning herself in cups of coffee, singing too loudly in the shower and exploring Boston, the historic city that has quickly become her home.